Ähnliche Artikel wie Manpriya B Ruby & Rose Cut Diamond 18K Gold Classic Fleurs De L'Inde Earrings
Mehr anzeigen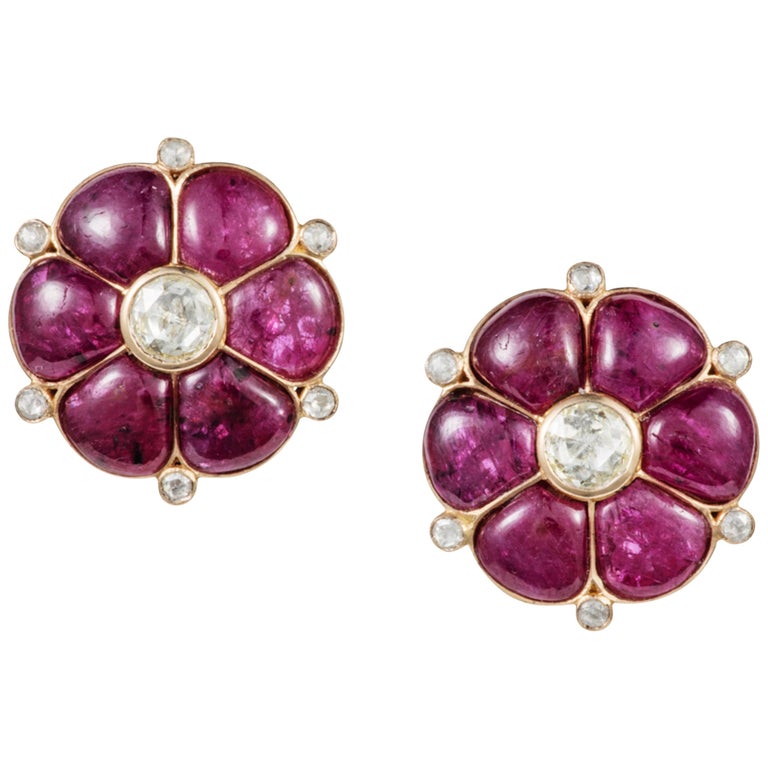 1 von 6
Manpriya B Ruby & Rose Cut Diamond 18K Gold Classic Fleurs De L'Inde Earrings
Beschreibung
Gross weight: 14.150 grams Gold weight: 11.170 grams Diamond: 0.74 carats Ruby: 13.68 carats The Fleurs de l'Inde Collection is inspired by the floral motifs of traditional jewellery worn by Rajasthani royalty. Designed in the shape of blooming clover, which heralds the arrival of Spring in India, Manpriya B's 18 karat gold earrings feature a glittering rose-cut diamond surrounded by petal shaped cabochon rubies, interspersed with diamonds. Wear them for evening, keeping them in focus with a chic updo.
Details
Hersteller

Im Stil von

Herkunft
Herstellungsjahr

Zeitraum

Steinschnitt
Zustand

Abmessungen

W 0.71 in. x D 0.71 in.

W 18 mm x D 18 mm

Länge
Gewicht

Verkäufer-Standort

Referenznummer
Unser Versprechen an Sie:
Falls Sie nicht glücklich sind, wie ein Artikel angekommen ist, arbeiten wir mit Ihnen und dem Verkäufer, um zu einer optimalen Lösung zu kommen.
Mehr erfahren
Versand, Retouren & Zahlung
Preise variieren je nach Ziel und Komplexität

Versandmethoden basieren auf der Artikelgröße, Typ, Zerbrechlichkeit und spezifischen Eigenschaften.

Versandkosten basieren auf den Lieferantenkosten, Lieferentfernung und Komplexität der Verpackung.

Der Artikel kann innerhalb von 3 Tagen ab Lieferung zurückgeschickt werden.

Detailansicht
1stdibs akzeptiert die folgenden Zahlungsarten
Verkäufer bei 1stdibs seit 2017
Vielleicht gefällt Ihnen auch
Warum bei 1stdibs einkaufen?
Nur geprüfte, professionelle Verkäufer
Voll versicherter weltweiter Versand