Ähnliche Artikel wie Beistelltisch Caldas Tubular mit Portugiesischen Fliesen
Mehr anzeigen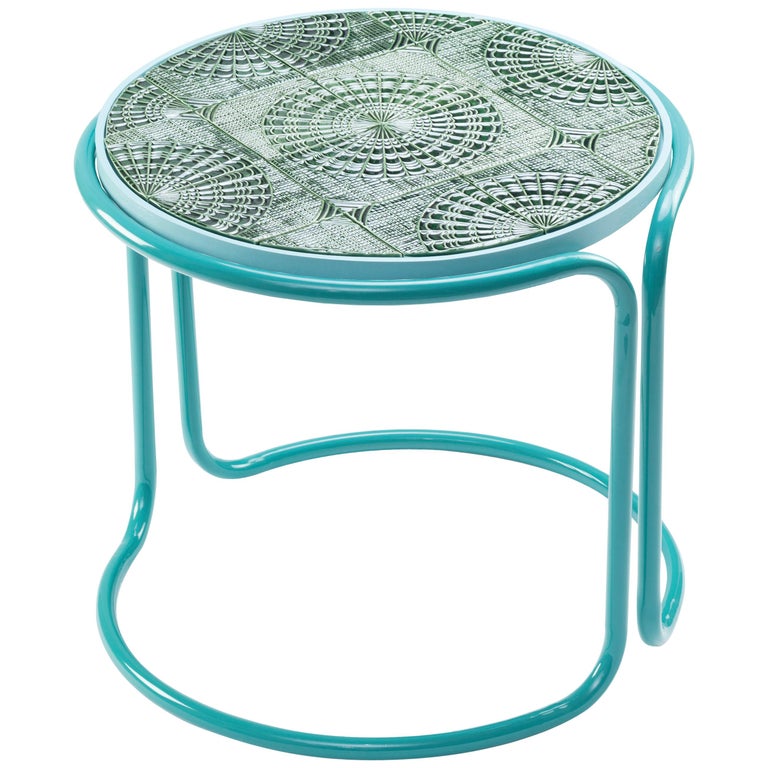 1 von 3 Bildern
Beistelltisch Caldas Tubular mit Portugiesischen Fliesen
Geschätzte Herstellungsdauer
6-7 Wochen
Beschreibung
Well-known for its ceramics tradition, Portuguese tiles production dates back to 16th century. Inheriting this rich crafts knowledge, the table tops of Caldas tables are made with handmade ceramic tiles in new and unique creative patterns and colors. When added to the sleek frame and lacquered metal feet, the result is a functional and individual piece. Rhythm, color and freshness arrive with each Caldas table.  
Zusätzliche Optionen
Choose from 3 combinations: - Emerald Pattern Tiles and Mint lacquered base - Cobalt Pattern Tiles and White lacquered base - White Pattern Tiles and White lacquered base
Details
Hersteller

Mambo Unlimited Ideas (Designer)

Produktionsart

Produktionsdauer

Es wird 6-7 weeks dauern, diesen Artikel fertigzustellen

Im Stil von
Herkunft

Herstellungsjahr

Zeitraum

Materialien und Techniken

Lackiert

Metall,

Glasiert

Fayence
Zustand

Abmessungen

H 21.66 in. x Abm 25.6 in.

H 55 cm x Abm 65 cm

Durchmesser

Verkäufer-Standort
Referenznummer
Unser Versprechen an Sie:
Falls Sie nicht glücklich sind, wie ein Artikel angekommen ist, arbeiten wir mit Ihnen und dem Verkäufer, um zu einer optimalen Lösung zu kommen.
Mehr erfahren
Versand, Retouren & Zahlung
Preise variieren je nach Ziel und Komplexität

Manche Artikel könnten einen besonderen Umgang oder Verpackung erfordern. Fordern Sie ein Versandangebot an um zu sehen, welche Optionen für Ihre Versandadresse verfügbar sind.
1stdibs akzeptiert die folgenden Zahlungsarten
Über den Verkäufer
Neu bei 1stdibs
In den letzten sechs Monaten beigetreten.
Verkäufer bei 1stdibs seit 2018
Warum bei 1stdibs einkaufen?
Nur geprüfte, professionelle Verkäufer
Voll versicherter weltweiter Versand