Ähnliche Artikel wie George III Coromandel Lacquer, Gilt Brass-Mounted Serpentine Commode
Mehr anzeigen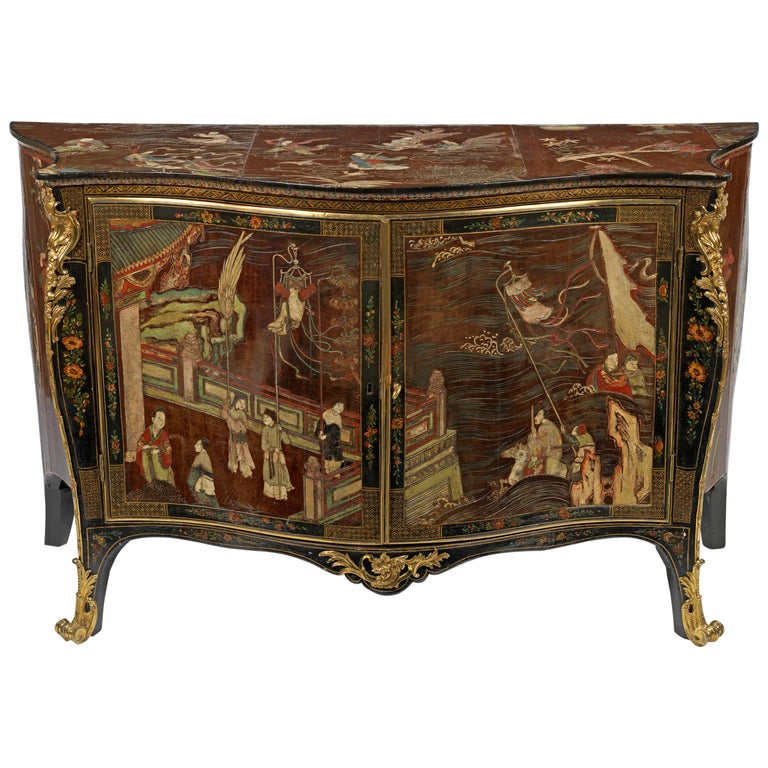 1 von 5
George III Coromandel Lacquer, Gilt Brass-Mounted Serpentine Commode
Beschreibung
Diese Artikelbeschreibung wurde ursprünglich in englischer Sprache geschrieben.
A George III Coromandel lacquer, gilt brass-mounted serpentine commode, attributed to Pierre Langlois, the mounts possibly supplied by Dominique Jean The top decorated with a series of figures in various pursuits amongst cloud swirl motifs, peacocks, a crocodile and plants including prunus flowers. The pair of doors on the left depict various dignitaries with attendants holding standards aloft in the forecourt of a palace. The right side with an approaching mounted horse and further standard bearers, all within alternating trellis and floral borders, each side with a prunus filled vase above smaller containers with vertical dragon borders to the rear of the sides; all surrounded by outer conforming floral and diaper decorated borders; the interior with three long graduated drawers outlined with bandings; the serpentine front corners applied with gilt-brass, leaf-cast mounts headed by pierced anthemions; on splayed bracket feet with scrolled sabots divided by a shaped apron with a central rocaille mount, bearing a paper ink manuscript label to the underside 'This commode came from Hampton House, August 5th...'. Provenance: ??Probably supplied to Sir John Goodricke, 5th Bt ( 1708-1789) of Ribston Hall, ?Nr Knaresborough, Yorkshire. ?Sir Henry Goodricke 6th Bt. (1765-1802) ?Then to his wife Charlotte Fortesque (1842) of The Manor House, Hampton, ?Middlesex. ?Then to her brother-in-law, George Francis Barlow (1776-1847) of Bryanston Square, London. ?Then to his wife Maria Barlow (1853) ?Then through his maternal grandmother Cecilia Arabella Barlow to George James Howard 9th Earl of Carlisle (1843-1911), of Castle Howard ?Then to his wife Rosalind Frances Carlisle (1845-1921) ?Then to their daughter Cecilia Maude Roberts (1869-1947) ?And thence by decent and on loan to Castle Howard from the 1950's, in the Gold library until sold, Sotheby's London, 29th November 2002, lot 53. ?A private English Collection of a Noble a family. ? Related Literature: ??Furniture History, Nicholas Goodison, 'Shorter Notices', 1965, vol. 1, p. 62 and Pls. XIIa-XIIb. ?Furniture History, Nicholas Goodison, 'Langlois and Dominique', 1968, pp. 105-106. ?The Connoisseur Magazine, Peter Thornton and William Rieder, 'Pierre 'Langlois, Ebéniste', Part 1, , December 1971, pp. 283-288. ?The Connoisseur Magazine, Peter Thornton and William Rieder, 'Pierre Langlois, Ebéniste', Part 2, 1972, pp. 105-112. ?The Connoisseur Magazine, Peter Thornton and William Rieder, 'Pierre Langlois, Ebéniste', Part 3, March 1972, pp. 176-187. ?The Connoisseur Magazine, 'More on Pierre Langlois', September 1974 ?Geoffrey Beard and Christopher Gilbert, Dictionary of English Furniture Makers 1660-1840, Leeds 1996, pp. 526-527. ? Sir John Goodricke, 5th Bart (1708-1788) of Ribston Hall:??This commode was probably acquired by Sir John Goodricke for Goodricke Hall shortly after 1773 when he became the beneficiary of his wife's substantial inheritance through her father, the 2nd Lord Bingley. Following this Goodricke resigned his diplomatic posting in Northern Europe and embarked on a neo-classical remodelling of the 17th century building, reputedly under the direction of John Carr, the leading York based architect. Unfortunately it has not been possible to substantiate this conjecture as there are no surviving family records or inventories relating to the Ribston furniture in the 1770s (See Gervase Jackson-Stops, 'Ribston Hall, Yorkshire II, Country Life, 18 October 1973, p. 1142). Following Sir John's death in 1788 Ribston decended to Sir Henry Goodricke, his grandson who was a parson, noted for his devotion to horse racing. He produced an heir Harry, through his marriage to Charlotte, daughter of the Right Hon. James Fortesque of Ravensdale Park, Ireland. Ribston was inherited by Harry aged four, following his father's death in 1802 when his estate was run under the guardianship of Dame Charlotte. It was at this point that ownership of the commode must have been transferred to Charlotte and hence out of the Goodricke collection. The Goodricke title expired on the death of Sir Harry in 1833 after which Ribston became the property of Sir Joseph Dent. ?? George Howard 9th Earl of Carlisle and the Hampton Bequest: ??A Label to the underside of the commode 'This commode came from/ Hampton House/ August 5th' (see illustration) provides the link between the Goodricke's and the Howards. It refers to the 9th Earl of Carlisle's (1843-1911) substantial inheritance of furniture and paintings from George Francis Barlow (1776-1847). Barlow was related to the 9th Earl through his maternal grandmother Cecelia Arabella Barlow. Francis himself had inherited the commode in 1842 as part of the Goodricke Collection from his sister-in-law Dame Charlotte Goodricke, widow of Sir Henry Goodricke. This inheritance was known as the 'Hampton Bequest' after Dame Charlotte last home, The Manor House, Hampton, Middlesex, where she resided for the ten years preceding her death. ??George James Howard, 9th Earl of Carlisle was the son of Charles Howard, the fifth son of George Howard the 6th Earl of Carlisle. Born In London in 12 August 1843, George Howard's talents included politics and painting. Educated at Eton and Trinity College Cambridge, George Howard showed a great passion for painting and had as his teachers Alphonse Legros and Giovanni Costa. He became a member of the Etruscan school of painters and became firm friends and patron to many artists including a number of artists of the Pre-Raphaelite Brotherhood. He was particularly close to Edward Burne-Jones and William Morris and His passion for painting and art patronage can be seen with commissions he raised for designs by Philip Webb and wallpaper by William Morris at his residence at 1 palace green, Kensington and Castle Howard. ?The 9th Earl married Rosalind Frances Stanley in 1864 and supported her in the temperance movement. He also became involved with politics and rose to become the Liberal party member of parliament for East Cumberland from 1879-1880. He succeeded to Earldom in 1889 on the death of his uncle the 8th Earl William Howard. He was made a trustee of the National Gallery and died on16th April 1911. ?? Inventories recording the commode: ?The first reference to the commode in the Howard collection is in 1853, amongst some family papers with the heading 'Things brought from Hampton in 1853'. It is recorded as '1 Indian worked commode with doors and drawers' in the Garden Room at one of the family's homes, Ampthill Park House, Berkshire. (Castle Howard archives, NRA24681 Howard 'Inventories of effects belonging to the Barlows 1853' H2/8). In 1872 a booklet ' written by the 9th Earl's Wife, Rosalind Carlisle 'Furniture and China belonging to Mr Barlow at Hampton House, left to George Howard 1853 & kept at 56 Park Street or Ampthill under the care of Baron Parke, Lt Wensleydale 'till Geor. Howard married'. Here the commode is referred to as '1 japanese commode, 3 inside drawers, brass corner mounts'. Other furniture in the inventory is of a similar opulence, such as two lacquered cabinets, a tortoisehell and ebony cabinet, an inlaid satinwood commode, a large folding screen and a 16th century marquetry cabinet. (Castle Howard Archives op. cit. 'Things from Hampton' H2/6/1). By 1898 the commode had moved to The Oak Parlour at Naworth Castle, the 9th Earl's primary residence following his marriage to Rosalind Frances Stanley in 1864. (Castle Howard Archives op. cit.'List of furniture from Naworth Castle' H2/6/11). After George Howard's death in 1911, his wife Rosalind left Naworth and alternated between Castle Howard and Boothby a house near Naworth where the commode was recorded in 1914 in the Tudor Room as 'A Japanese commode, 3 inside drawers, old, from Hampton, 2/9 high' (Castle Howard Archives op. cit.' An Inventory illustrated of things brought from Naworth to Boothby' H2/6/12 and H2/6/14). Rosalind Howard died in 1922, leaving the commode to her second eldest daughter Cecilia Maude Roberts and it decended through her family until sold Sotheby's, 29 November 2002, lot 53. The commode moved to Castle Howard during the 1950s on loan where it was located in the Gold Library. ? Coromandel Lacquer: ?Large amounts of Coromandel incised lacquer was imported from the East during the 17th century. Originally known as 'Bantam' work, the term 'Coromandel' was more commonly adopted in the 19th century after the 'Coromandel' coast of India through which the panels were imported to Europe. The first instance of it being referred to as 'Coromandel' seems to date from 1782 when it appears described as such in a Parisian auction catalogue (see C. Gronkowski, Le gout chinois en France: les paravents en laque de Coromandel, Renaissance de l'art francais no.5, 1919, p.491). This form of lacquer originates from Wenzhou (Zhejiang Province) in South China where it was referred to as 'Kuan cai' This lacquer was frequently used in interior decoration and in 1692, Gerrit Jensen was paid £141 for decorating the Japan Closet at Chatsworth, Derbyshire which Celia Fiennes described as 'wainscoted with hollow burnt Japan (incised lacquer) intersected by mirror glass at each corner'. Jensen's bill also includes an item:'for frameing, moulding and cutting the Japan for the closet, and joining in into panels and finishing it', F.Thompson, A History of Chatsworth, London 1949. Although the Japan Closet at Chatsworth was dismantled circa 1700, there remains at Chatsworth three chests which are thought to have been made up of fragments of the closet. Coromandel lacquer remained at the forefront of fashion for only a short time and by 1688, while the fashion for the Orient remained strong, John Stalker and George Parker wrote rather sweepingly in their 'Treatise on Japanning' that coromandel lacquer was 'now obsolete and out of fashion, out of use and neglected', although this would actually pre-date the introduction of the Japan Closet at Chatsworth and reflects that it remained popular with certain individuals. The fashion continued in some form in the early 18th century and Moss Harris, idib.,p69 records the import of such panels which 'were described in old bills of lading as 'Japan' or 'Lacquer boards', quoting articles from the Daily Journal, of April 1728, where it was recorded: To be disposed of '24 Right India Boards, ninefoot long, fit for hangings' and of September 4, 1731, 'A Drawing Room lined with pannels of India Japan Boards'. ?The panels arrived in Europe either in the form of single panels or as screens which were then cut to manufacture smaller items or to line walls. In China, twelve fold screens were a luxury item often produced as birthday gifts for high-ranking officials and the imported panels remained within the reach of only the very rich. Furniture assembled from lacquer panels or screens, particularly smaller items, can result in a strange flow of subject matter. This was famously described by Stalker and Parker in their 1688 Treatise: ?'that in these things so torn and hacked to joint a new fancie, you may observe the finest hodgpog and medly of Men and Trees turned topsie-turvie and instead of marching by land you will find them taking journey through the Air, as if they have found out Doctor Wilkinson's (sic) way of travelling to the Moon... in a word they have so mixed and blended elements together... that if it were like anything, beside ruin and deformity, it must represent to you the Earth, when Noah's Flood was overwhelming it'. The use of Coromandel lacquer in England to make up pieces of furniture remains relatively rare particularly in the mid 18th century. Outside England the panels were in demand in Europe with the French marchand-merciers encouraging it's re-use during the 18th century. A group of English commodes re-using earlier coromandel lacquer panels include a pair supplied to the 1st Marquess of Hertford for Ragley Hall, Warwickshire and sold Christie's, London 4th July 1996, lot 300 and one mounted with coromandel panels formerly in the collection of Sir Anthony Compton-Thornhill, Bart which was sold Sotheby's New York, 23 January 1993, lot 255. ?? Pierre Langlois:?? The limited biographical information available concerning Langlois suggests that he may have been related to a family of Paris-based cabinet-makers sharing his name, who traded in the Faubourgh Saint-Antoine district towards the end of the 17th century. Fittingly it is believed that they specialised in furniture imitating 'fort bien les meubles de la Chine'. Conjecture surrounds another possible link with Pierre-Eloi Langlois (1738-1805), who also worked in Paris, becoming a matire menuisier in 1774. The similarities between the marquetry of Jean-Francois Oeben and that of Pierre Langlois has also given rise to However as was the practice of most furniture makers, Langlois probably out-sourced the supply of his mounts which are traditionally believed to have been provided by his father-in-law Dominique Jean. ??speculation that the former may have trained in Oeben's Paris workshop. It is known however that Langlois had established his business by 1759 trading from 39 Tottenham Court Road, London. His Patrons included Horace Walpole, the 4th Duke of Bedford, the Earl of Coventry and other fashionable figures such as the Duke of Montagu, Lady Louisa Connolly of Castletown, County Kildare and her sister, Caroline Lady Holland. ?Langlois was able to exploit the limited importation of French furniture into England during the war with France, by producing cabinet-work of overtly Gallic inspiration. However his main concession to English fashion was the substitution of marble tops with veneered, inlaid or lacquered work exemplified by the Howard Commode. The distinctive floral marquetry featured on much of Langlois' furniture, revived a style prevalent during the reign of William and Mary. As already indicated, Langlois is likely to have developed his skills as a marqueteur under the auspices of Oeben and possibly also Jean-Pierre Latz who had been exponents of this technique at an earlier date in France. Other techniques at which Langlois also excelled other than lacquer and marquetry work, were brass and tortoiseshell inlay of a type previously associated with Andre-Charles Boulle. Another characteristic of furniture linked to the workshop of Langlois was the use of particular patterns of gilt- bronze mounts which relate to those used by Oeben and his circle. ?However as was the practice of most furniture makers, Langlois probably out-sourced the supply of his mounts which are traditionally believed to have been provided by his father-in-law Dominique Jean. ?? The following transcriptions in French and English from Langlois' ?trade card in the Heal collection at the British Museum describe the range of furniture he supplied. Significantly the card illustrates a design for a commode which appears to have been his speciality as his workshop was located at the 'sign of the commode tables' as noted in Matthew Boulton's Diaries (See Nicholas Goodison, Langlois and Dominique, Furniture History, 1968, pp. 105-6). Interestingly the French text is more elaborate in its description, giving a greater insight into the types of furnishings and decorative techniques available: ??'Pierre Langlois CABINET MAKER in Tottenham Court Road near Windmill Str. Makes all sorts of Fine Cabinets and Commodes made & inlaid in the politest manner with Brass & Tortoiseshell, and likewise all rich Ornamental Clock Cases, and inlaid work mende with great care, Branch Chandeliers, & Lanthorns in Brass at the lowest Prices.' ??Pierre Langlois Ebeniste. Dans Tottenham Court Road Proche Windmill Str. Fait toutes Sortes de Commodes, Secretaires Encoignures et autre meubles Incrustez de fleurs en Bois et Marqueteries garnies de Bronze dorez. Boetes de Pendulles en Vert en Ecaille et Marqueteries garnies de Bronzes. Bras Lustres Lanternes raccomode les Vielles Ouverages de Marqueteries et les remet a neuf le toute a juste Prix.' ?? Dominique Jean:? Jean, like Langlois was almost certainly of French origin and the earliest record of him operating in England was 1764. He remained in business for over forty years as a bronze caster and gilder, producing mainly ornaments and furniture mounts. Other than Langlois for whom he is thought to have been the main if not only supplier of ormolu mounts typified on the present lot, Jean was also commissioned by other leading London cabinet-makers such as Christopher Fuhrlohg and possibly John Linnell who were specialists in marquetry. Having married Langlois' daughter in 1764, Jean took on his son Daniel Langlois as an apprentice in 1771 before acquiring Pierre's premises in 1781 (see Goodison op. cit. 1968, pp. 105-6 and Nicholas Goodison, Shorter Notices, Furniture History, 1965, vol. 1, p. 62 and pls. X11a and X11b). In addition to working for the trade Jean was patronised by prominent members of the nobility including Lord Howard de Walden at Audley End, Essex between 1786 and 1790, the Duke of Northumberland at Syon House in 1775 and the Prince of Wales who employed him at Carlton House from 1783-6 and again in 1807. ? Related Commodes:?? Another comparable coromandel lacquer commode of the same shape and dimensions, with provenance from the collection of Sir Anthony Compton-Thornhill Bart, Sold Sotheby's New York, 23 January 1993, lot 255. A further related pair of commodes in the same medium supplied to the 1st Marquess of Hertford for Ragley Hall, Warwickshire, sold Christie's London, 4 July 1996, lot 300. A pair of marquetry commodes of similar configuration, probably delivered by Langlois for William 6th Baron Craven, sharing near identical corner mounts and sabots, sold Sotheby's London, 30 November 2001, lot 96 (£400,000).
Details
Zeitraum

Herkunft

Herstellungsjahr
Zeitraum

Materialien und Techniken

Zustand
Abnutzung

Wear consistent with age and use.

Abmessungen

H 33 in. x W 54 in. x D 22 in.

H 83.82 cm x W 137.16 cm x D 55.88 cm

Verkäufer-Standort
Referenznummer
Unser Versprechen an Sie:
Falls Sie nicht glücklich sind, wie ein Artikel angekommen ist, arbeiten wir mit Ihnen und dem Verkäufer, um zu einer optimalen Lösung zu kommen.
Mehr erfahren
Versand, Retouren & Zahlung
Preise variieren je nach Ziel und Komplexität

Manche Artikel könnten einen besonderen Umgang oder Verpackung erfordern. Fordern Sie ein Versandangebot an um zu sehen, welche Optionen für Ihre Versandadresse verfügbar sind.

Der Artikel kann innerhalb von 3 Tagen ab Lieferung zurückgeschickt werden.

Detailansicht
1stdibs akzeptiert die folgenden Zahlungsarten
Verbände: The British Antique Dealers' Association
Verkäufer bei 1stdibs seit 2018
Vielleicht gefällt Ihnen auch
Warum bei 1stdibs einkaufen?
Nur geprüfte, professionelle Verkäufer
Voll versicherter weltweiter Versand