Ähnliche Artikel wie Zeitgenössische Wandleuchte in Tulpenform, Wandleuchte in Weißem Gips, Hannah Woodhouse
Mehr anzeigen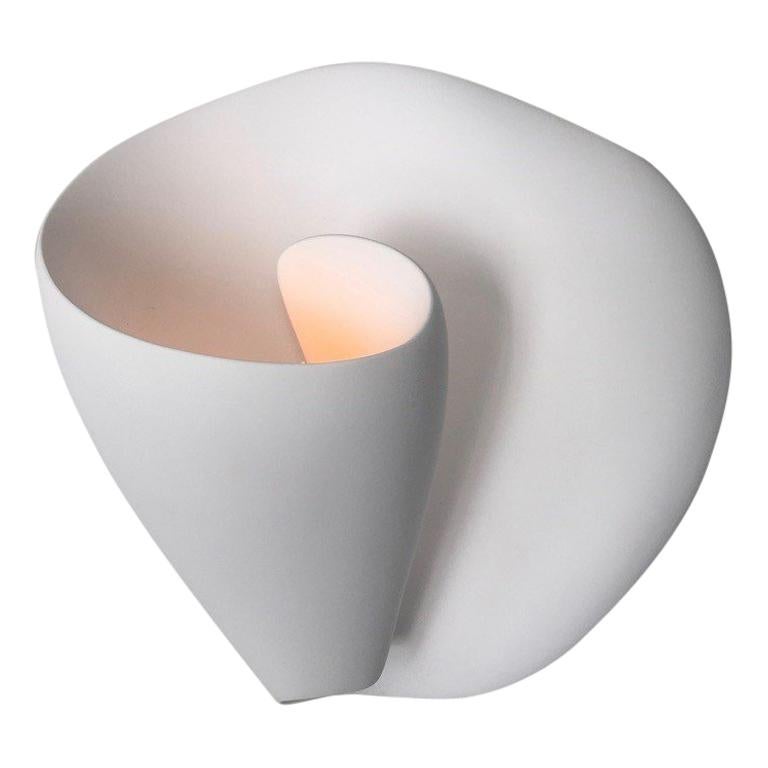 1 von 20 Bildern
Zeitgenössische Wandleuchte in Tulpenform, Wandleuchte in Weißem Gips, Hannah Woodhouse
Geschätzte Herstellungsdauer
5-6 Wochen
Beschreibung
Diese Artikelbeschreibung wurde ursprünglich in englischer Sprache geschrieben.
Handmade Tulip wall light or sconce, in silky smooth white plaster, created by artist Hannah Woodhouse in her London studio. Contemporary design inspired by nature and midcentury European sculpture. The Tulip wall sconce not only provides soft ambient illumination, but is also a beautiful sculpture. Uplighter with one bulb. IP20 (interior use) (can be converted to IP44 use). Height 11.8" (30 cm). All our plaster wall sconces can be custom colored to a color of your choice if you supply a paint color reference, at an additional charge is $140 per light fitting. If you do not request our color service, the lights are shipped in our trademark calm white color. Tulip Wall Sconce © Hannah Woodhouse/2006 (date of design). We run plaster casting workshops in our London studio during which participants can cast maquettes (small artist models) of our iconic wall sconces Shell, Tulip and Ovoid. Testimonials We are delighted to launch our products on 1stdibs. Being new to 1stdibs, we don't yet have client feedback reviews. Many of our clients are high-end interior designers and please find below some client testimonials. We have been creating and selling our lights to discerning clients all over the world for 20 years and we hope these tesimonials will show you that we have an excellent level of client service. I just wanted to drop you a quick email to let you know that we are delighted with the wall lights. They look wonderful! We will definitely be in touch for future projects. Rachel (Rachel Winham Interiors) Quite the most exquisite wall lights that I have ever used! They are utterly gorgeous and look totally stunning. Perfect for a chalet in every way and they will go top of my list when specifying the next one. Nicky (Nicky Dobree Interior Design Ltd) We have worked with Hannah on several yacht projects. Each time she has made us lamps with great style and presence and they've all been hugely admired. We love the process of working with Hannah; experimenting with patina and finishes to create something very individual. It's working with a proper artisan. Dickie Bannenberg (Bannenberg and Rowell Design) Hannah Woodhouse and her team are superb. Their customer service is great. They respond very quickly and their installation instructions are well prepared and very easy to understand. And they make great products! Patric Brännbacka (Baltic Yachts) Perfection! Thank you so much for the ravishing wall lights – the bronze color was perfect, and I am sorry that so much effort went into the stitching of the lampshades, but I can't tell you stunning they are – that added detail just makes those wall lights sing in the space and really pulls out scheme together – they do say it's all in the details!! Thank you again, and it was so lovely to work with you again. Ros (Roslyn Keet, Associate Director, DAVID COLLINS STUDIO) I met Hannah many years ago and had been waiting for the right project and opportunity to work with her. I wish I had found that opportunity sooner because she is fabulous and inspirational to work with and will enhance any project with passion, integrity and creativity. Hannah immersed herself in the Inukshuk sailing yacht project wanting to understand the design brief and direction of the project fully before putting forward creative ideas and working together with me to exceed the client's expectations in every way. She far exceeded my own expectations in the degree of authenticity she brought to the project. For the finishes and patinas, Hannah worked with and enhanced the color scheme I had already established for the interior. She designed and made custom wall and table lamps with incredible attention to detail. Each table lamp had a small stand-alone switch housing cast in the same material so as not to ruin the purity of the lamp base itself. She provided robustly designed lamp shades using minimal and elegant materials to avoid "wobbly shade syndrome". She made everything with hidden solidity appropriate to withstand the slamming of a light-weight carbon fibre performance sailing yacht in a heavy sea. Her finishes and the protective coatings were applied with the marine environment in mind. I also wanted bedheads which resembled stone with lichen growing on them as a feature for the cabins. After trying a number of expert paint effects artists, I asked Hannah whether she could help me. She applied finishes to light-weight bedhead panels that not only looked like stone with lichen growing on them, by making her own natural pigments from berries which were sourced from the owner's favourite region of North America, she provided a physical connection in her art. Hannah really went the extra mile. Hannah's attention to detail, communication and timely delivery made her a most valuable addition to the design and build team. I have no hesitation in recommending Hannah and I look forward to working with her again and again. Adam Lay (Adam Lay Studio Limited).   
Zusätzliche Optionen
This wall sconce is made in plaster, and shipped in our trademark 'calm white' colour. Alternatively you may specify any colour of your choice and for this we will need a RAL paint colour reference. There is an additional charge of $140 for our bespoke colour service. This light is also available in a bronzed (dark brown), ebony (black) or gold leaf finish.
Details
Produktionsart

Produktionsdauer

Es wird 5-6 weeks dauern, diesen Artikel fertigzustellen

Zeitraum
Herkunft

Herstellungsjahr

Zeitraum
Materialien und Techniken

Zustand

Abmessungen

H 11.8 in. x W 11.8 in. x D 7.5 in.

H 29.98 cm x W 29.98 cm x D 19.05 cm
Verkäufer-Standort

Referenznummer
Unser Versprechen an Sie:
Falls Sie nicht glücklich sind, wie ein Artikel angekommen ist, arbeiten wir mit Ihnen und dem Verkäufer, um zu einer optimalen Lösung zu kommen.
Mehr erfahren
Versand, Retouren & Zahlung
Preise variieren je nach Ziel und Komplexität

Versandmethoden basieren auf der Artikelgröße, Typ, Zerbrechlichkeit und spezifischen Eigenschaften.

Versandkosten basieren auf den Lieferantenkosten, Lieferentfernung und Komplexität der Verpackung.

Der Artikel kann innerhalb von 7 Tagen ab Lieferung zurückgeschickt werden.

Detailansicht
1stdibs akzeptiert die folgenden Zahlungsarten
Verkäufer bei 1stdibs seit 2018
Warum bei 1stdibs einkaufen?
Nur geprüfte, professionelle Verkäufer
Voll versicherter weltweiter Versand