Ähnliche Artikel wie "Rainbow" Wall Lamp in Brass, hand-silvered glass Handmade in Tuscany
Mehr anzeigen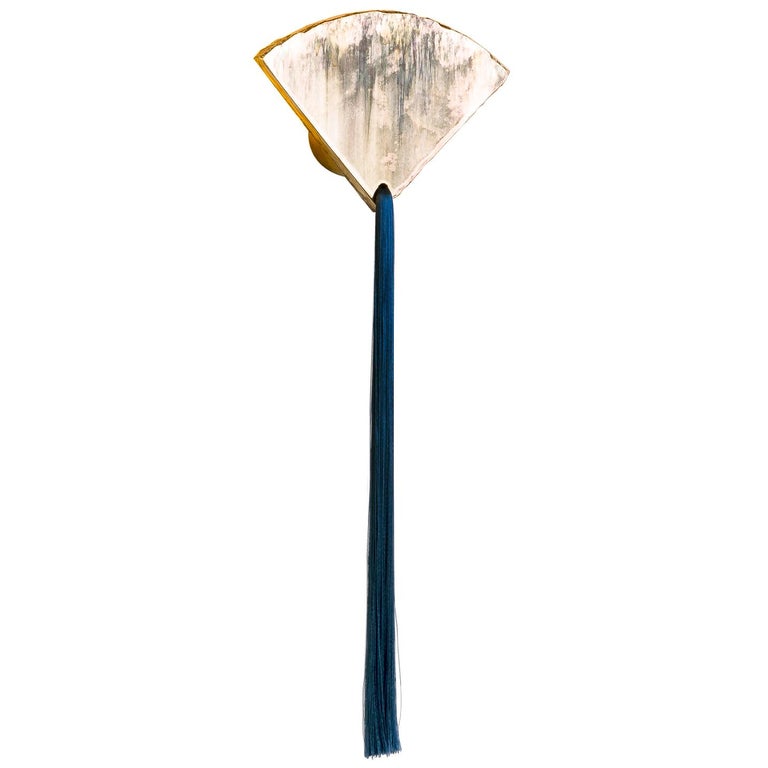 1 von 10 Bildern
"Rainbow" Wall Lamp in Brass, hand-silvered glass Handmade in Tuscany
Geschätzte Herstellungsdauer
3-4 Wochen
Beschreibung
Diese Artikelbeschreibung wurde ursprünglich in englischer Sprache geschrieben.
This wall sconce is a contemporary piece, entirely made in Tuscany and manufactured in an artisanal way. A rainbow of colors, the shape of a free kite in flight, a golden waterfall flowing This fine workmanship light object has a wall-mounted brass base brushed entirely by hand. On this brass structure is mounted the gem of silvered glass by the creator Sabrina Landini, following an exclusive and unique procedure invented and refined by her. At the bottom is hooked a faceted drop of silvered crystal or a velvet silk drop. The glass treatment gives elegance and brightness to the object and is the leitmotif of the whole artist's body of work. Each piece can be considered unique because of this processing that creates objects that are always different from each other. This object is a sophisticated lamp that can give an elegant touch to any wall of a houses or an hotel, next to a bed or a mirror, in a corridor or a staircase. one bulb E14 lamp holder, led light, The lamp is electrified according to US, EU and international standards. packaged in wooden case.  
Details
Hersteller

Produktionsart

Produktionsdauer

Es wird 3-4 weeks dauern, diesen Artikel fertigzustellen
Im Stil von

Herkunft

Herstellungsjahr
Zeitraum

Materialien und Techniken

Zustand
Abmessungen

H 17.33 in. x W 10.63 in. x D 3.94 in.

H 44 cm x W 27 cm x D 10 cm

Verkäufer-Standort

Referenznummer
Unser Versprechen an Sie:
Falls Sie nicht glücklich sind, wie ein Artikel angekommen ist, arbeiten wir mit Ihnen und dem Verkäufer, um zu einer optimalen Lösung zu kommen.
Mehr erfahren
Versand, Retouren & Zahlung
Preise variieren je nach Ziel und Komplexität

Versandmethoden basieren auf der Artikelgröße, Typ, Zerbrechlichkeit und spezifischen Eigenschaften.

Versandkosten basieren auf den Lieferantenkosten, Lieferentfernung und Komplexität der Verpackung.

Der Artikel kann innerhalb von 7 Tagen ab Lieferung zurückgeschickt werden.

Detailansicht
1stdibs akzeptiert die folgenden Zahlungsarten
Verkäufer bei 1stdibs seit 2015
Standort: Pietrasanta, IT
Vielleicht gefällt Ihnen auch
Warum bei 1stdibs einkaufen?
Nur geprüfte, professionelle Verkäufer
Voll versicherter weltweiter Versand