Ähnliche Artikel wie Zeitgenössische "Crepuscule' Stehleuchte von Material Lust, 2015
Mehr anzeigen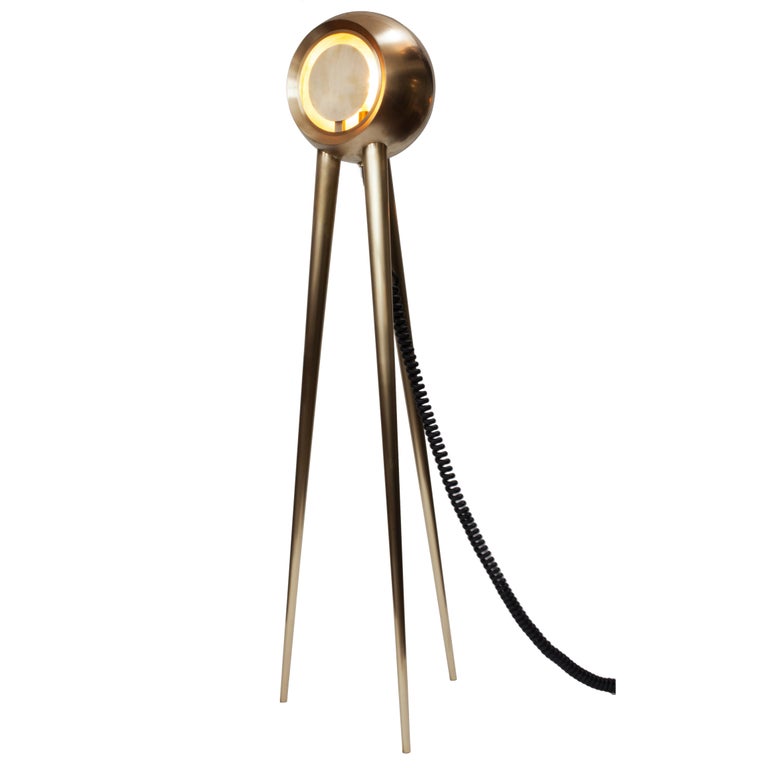 1 von 9 Bildern
Zeitgenössische "Crepuscule' Stehleuchte von Material Lust, 2015
Beschreibung
Diese Artikelbeschreibung wurde ursprünglich in englischer Sprache geschrieben.
The Geometry is God line is driven by a fascination with Pagan and Alchemical symbolism and ancient geometries. With this series, we have attempted to reinterpret these markings without losing the potency of their primary aesthetic. The goal is to make furniture that is symbolically dense and as a result the collection could be described as functional sculpture. Crepuscule Floor Lamp, 2015 Shown in blackened brass with brushed brass interior. Available in brushed brass. Measures: 58" H x 15" W x 13" D. UL Approved Holds (1) Candelabra Bulb E12 / Type B Lamp 7W Max *LED Bulb Recommended Made to order. Lead time 8-12 weeks. Each piece is meticulously handmade by a family of master artisans - the grandfather, father and son - one at a time in Florence, Italy and New York. Trade net price available upon request. This piece is currently in stock in Los Angeles and New York City.
Details
Hersteller

Produktionsart

Produktionsdauer
Zeitraum

Herstellungsjahr

Zeitraum
Materialien und Techniken

Zustand

Details zum Zustand

This product is meticulously handmade by artisans one piece at a time. It is therefore quite difficult, if not impossible to make identical items. Any natural blemishes or irregularities should not be misconstrued as flaws.
Abmessungen

H 58 in. x W 15 in. x D 13 in.

H 147.32 cm x W 38.1 cm x D 33.02 cm

Verkäufer-Standort

Referenznummer
Unser Versprechen an Sie:
Falls Sie nicht glücklich sind, wie ein Artikel angekommen ist, arbeiten wir mit Ihnen und dem Verkäufer, um zu einer optimalen Lösung zu kommen.
Mehr erfahren
Versand, Retouren & Zahlung
Preise variieren je nach Ziel und Komplexität

Versandmethoden basieren auf der Artikelgröße, Typ, Zerbrechlichkeit und spezifischen Eigenschaften.

Versandkosten basieren auf den Lieferantenkosten, Lieferentfernung und Komplexität der Verpackung.
1stdibs akzeptiert die folgenden Zahlungsarten
Über den Verkäufer
Neu bei 1stdibs
In den letzten sechs Monaten beigetreten.
Verkäufer bei 1stdibs seit 2018
Warum bei 1stdibs einkaufen?
Nur geprüfte, professionelle Verkäufer
Voll versicherter weltweiter Versand