Dieser Untitled ist nicht mehr verfügbar.
Ähnliche Artikel anzeigen
Mehr anzeigen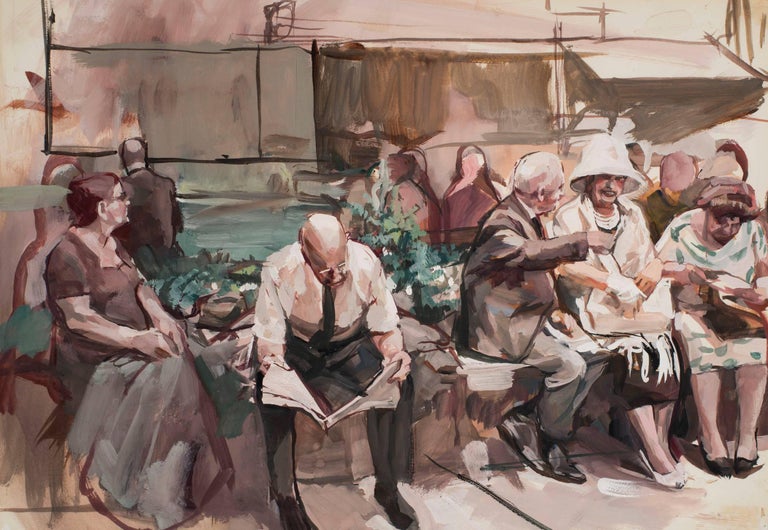 1 von 7 Bildern
Beschreibung
Diese Artikelbeschreibung wurde ursprünglich in englischer Sprache geschrieben.
RICHARD ESTES (b. 1932, Kewanee, Illinois) Richard Estes is one of the foremost Photo Realist painters who was given his first solo exhibition at the Allan Stone Gallery in 1968. Estes was greatly influenced by the realist paintings of Edgar Degas, Edward Hopper, and Thomas Eakins when he studied at the School of the Art Institute of Chicago. Estes moved to New York City in 1959 and worked as a graphic designer at magazines and advertising agencies, and painted in his free time. Many of Estes' works from the 1960's feature city life and people engaged in every day activities. He gradually evolved to painting storefronts, glass windows, and reflected images on these windows. Estes used photographs to aid in his hyper realistic paintings, capturing different types of natural and artificial light. Although he predominantly portrays the urban settings of New York City and its people, he avoids including famous landmarks, and most of his works feature a particular kind of isolation or dreamlike quality, like Hopper's work. Estes was born in Illinois in 1932, and moved to Chicago where he grew up. He attended the School of the Art Institute of Chicago from 1952-1956, and moved to New York soon after. He worked as a graphic designer for a number of magazines and advertising agencies until 1966. Estes is the recipient of a National Council for the Arts fellowship and is a member of the National Academy of Design. His work is in the collections of the Museum of Modern Art, New York, the Metropolitan Museum of Art, the Whitney Museum of American Art, and the Solomon R. Guggenheim Museum, among others. He lives in New York and Maine.
Details
Künstler

Richard Estes (1932, American)

Herstellungsjahr

Material
Kunstbewegung & Stil

Zustand

Details zum Zustand
Abmessungen

H 9.75 in. x W 14 in.

H 24.77 cm x W 35.56 cm

Galerie-Standort

Referenznummer
Verkäufer-Referenznummer
Unser Versprechen an Sie:
Falls Sie nicht glücklich sind, wie ein Artikel angekommen ist, arbeiten wir mit Ihnen und dem Verkäufer, um zu einer optimalen Lösung zu kommen.
Mehr erfahren
Versand, Retouren & Zahlung
Preise variieren je nach Ziel und Komplexität

Versandmethoden basieren auf der Artikelgröße, Typ, Zerbrechlichkeit und spezifischen Eigenschaften.

Versandkosten basieren auf den Lieferantenkosten, Lieferentfernung und Komplexität der Verpackung.
1stdibs akzeptiert die folgenden Zahlungsarten
Verkäufer bei 1stdibs seit 2015
Verbände:
Art Dealers Association of America
Warum bei 1stdibs einkaufen?
Nur geprüfte, professionelle Verkäufer
Voll versicherter weltweiter Versand