Ähnliche Artikel wie OLYMPIA - framed charcoal drawing
Mehr anzeigen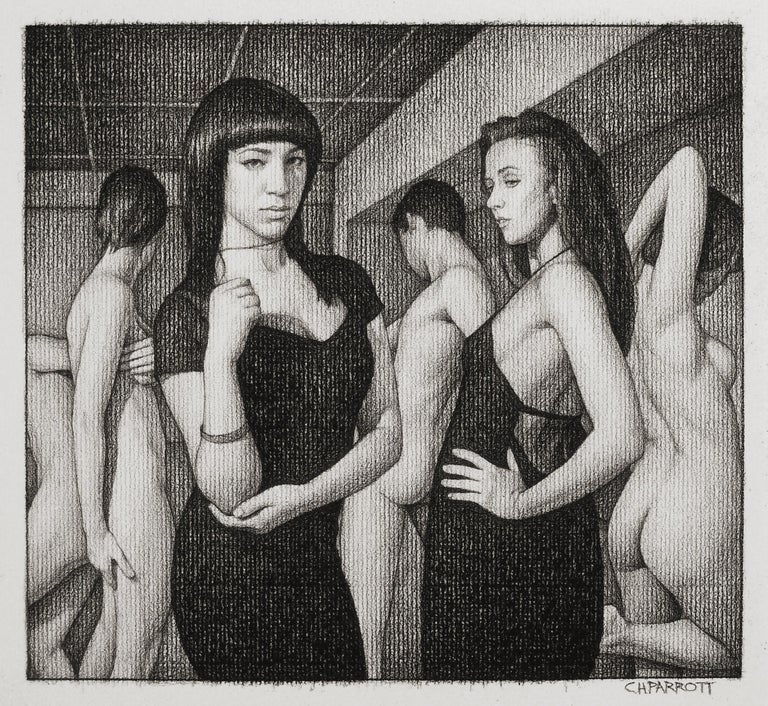 1 von 2 Bildern
Christopher Parrott

OLYMPIA - framed charcoal drawing

2018
Beschreibung
Black and white, nude, charcoal. Realism. Contemporary realist Christopher Parrott (b.1974) offers a subversive take on classical art, a decadent reinterpretation of traditional painting and drawing. Seeing art history as a treasure trove of source material, he appropriates old forms and re-purposes them in a contemporary context. Themes of folly, personal obsession, and disconnection are common in Parrott's overarching framework, which he describes as a postmodern Garden of Earthly Delights. The works are set in an art gallery, where figures are flanked by a fictional body of work. While these background works reinforce traditional master narratives, the action in the gallery space emphasizes the disintegration of those narratives. The figures, many of whom are channeling preexisting archetypes, often play out incompatible storylines. Critics have said that Parrott "reinvents realism" (Cullum, Atlanta Journal-Constitution) and "his combination of exhibitionism and voyeurism feels like a mirror held up to the relentlessly self-surveying Facebook generation" (Feaster, The Atlantan Magazine). His work has been reviewed and featured in such publications as Art Papers, The Oregonian, Modern Luxury, The Atlanta Journal-Constitution, and New American Paintings, among others. Parrott has shown throughout the United States in numerous solo and group shows beginning in 1992 and has work in collections in the U.S., Europe, Canada, and Australia. He was educated at Pratt Institute, Pacific Northwest College of Art, Kansas City Art Institute, and the Pennsylvania atelier Barnstone Studios.
Unser Versprechen an Sie:
Falls Sie nicht glücklich sind, wie ein Artikel angekommen ist, arbeiten wir mit Ihnen und dem Verkäufer, um zu einer optimalen Lösung zu kommen.
Mehr erfahren
Versand, Retouren & Zahlung
Preise variieren je nach Ziel und Komplexität

Versandmethoden basieren auf der Artikelgröße, Typ, Zerbrechlichkeit und spezifischen Eigenschaften.

Versandkosten basieren auf den Lieferantenkosten, Lieferentfernung und Komplexität der Verpackung.

Der Artikel kann innerhalb von 3 Tagen ab Lieferung zurückgeschickt werden.

Detailansicht
1stdibs akzeptiert die folgenden Zahlungsarten
Über den Verkäufer
Neu bei 1stdibs
In den letzten sechs Monaten beigetreten.
Verkäufer bei 1stdibs seit 2018
Warum bei 1stdibs einkaufen?
Nur geprüfte, professionelle Verkäufer
Voll versicherter weltweiter Versand