Ähnliche Artikel wie Love Story
Mehr anzeigen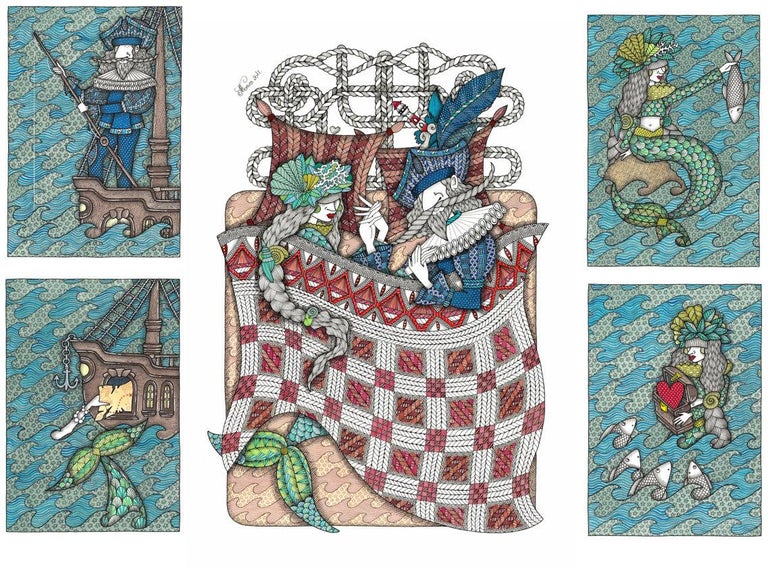 1 von 7 Bildern
Beschreibung
Diese Artikelbeschreibung wurde ursprünglich in englischer Sprache geschrieben.
Love story is a five parts drawings work that tells the story of unexpected love that happened at the Sea. When the Sailor met Mermaid and it concludes in explosion of emotion and outbursts of turquoise, dark red and blue colors. All the depiction is very detailed and give an opportunite to become a passionate viewer of this true love story. Alisa Fomina, 1989, Minsk (Belarus). Born in an environment with artistic traditions, raised in Andalusia and currently residing in Madrid, Spain. Graduated in Advertising and Public Relations, University Rey Juan Carlos, 2013 (Madrid, Spain). Since childhood, influenced by these traditions and dedicated to drawing with results of prizes won from a short age like the First Prize at the XI Christmas Card Contest (2004) and First Prize at the XII Contest in 2005, Marbella. Her work, mostly paintings and drawings are made for private collectors. However she has been participating with different brands like the Spanish brand 'Citrique Sunglasses'. In 2016 a collaboration with the "Italian Institute of Culture" in the lectures of the writer Giorgio Caproni with an illustration of the writer. As well, the participation in the project of the Italian writer Alessandro Ferraro in the book '' The secret galleries of the soul. Giorgio Caproni '', for Ediciones Complutense with the portrait of Giorgio Caproni, 2019. A collaboration with the Spanish newspaper 'El Pais' with an illustration in one of his reports of the singer Nick Cave. In November 2016 made a deck designed exclusively for 'Correos España', the national postal service, in the "Generations Collection", whose originals are exhibited at the Galería Cartel of Málaga in April and May 2017. The illustrations have a graphic technique with the use of materials such as acrylic paint, watercolor pencils and felt-tip pens. Influenced by the children's world taking as reference the old cartoons, their stories and fantasy with very small details and always with vivid colors. FAIRS AND EXHIBITIONS ·Participation in the collective exhibition in Gallery "Art Enfant" (Moscow) 2013. · Exhibition in "Sánchez y Juan Gallery" (Elche, Spain) January 2014. · Exhibition at "Galería Sánchez y Juan" (Elche, Spain) from January 2015 to December 2016. · Periodic sale in the "Alexander Luxury Home Collection" since 2014 (Marbella, Spain). · Exhibition in "Galería Cartel" (Málaga, Spain) 2015. · Exhibition in "Galería Cartel" (Málaga, Spain) from April to May 2017. · Collective exhibition in "Want Art Gallery" (New York, USA) in May 2017. · Participation in the art fair "Affordable Art Fair" with Want Art Gallery(New York, USA) in 2017.· Participation in the art fair "Art New York" International Contemporary + Modern Art Fair with Want Art Gallery(New York, USA) From May 3 to 6, 2018. · Participation in the art fair "Reveal" International Contemporary Art Fair with Want Art Gallery (New York, USA) From August 3 to 5, 2018.
Unser Versprechen an Sie:
Falls Sie nicht glücklich sind, wie ein Artikel angekommen ist, arbeiten wir mit Ihnen und dem Verkäufer, um zu einer optimalen Lösung zu kommen.
Mehr erfahren
Versand, Retouren & Zahlung
Preise variieren je nach Ziel und Komplexität

Versandmethoden basieren auf der Artikelgröße, Typ, Zerbrechlichkeit und spezifischen Eigenschaften.

Versandkosten basieren auf den Lieferantenkosten, Lieferentfernung und Komplexität der Verpackung.

Der Artikel kann innerhalb von 7 Tagen ab Lieferung zurückgeschickt werden.

Detailansicht
1stdibs akzeptiert die folgenden Zahlungsarten
Über den Verkäufer
Neu bei 1stdibs
In den letzten sechs Monaten beigetreten.
Verkäufer bei 1stdibs seit 2019
Vielleicht gefällt Ihnen auch
Warum bei 1stdibs einkaufen?
Nur geprüfte, professionelle Verkäufer
Voll versicherter weltweiter Versand