Ähnliche Artikel wie Embedded Slave - After Michelangelo, Sculpture Half Embedded in Clear Resin
Mehr anzeigen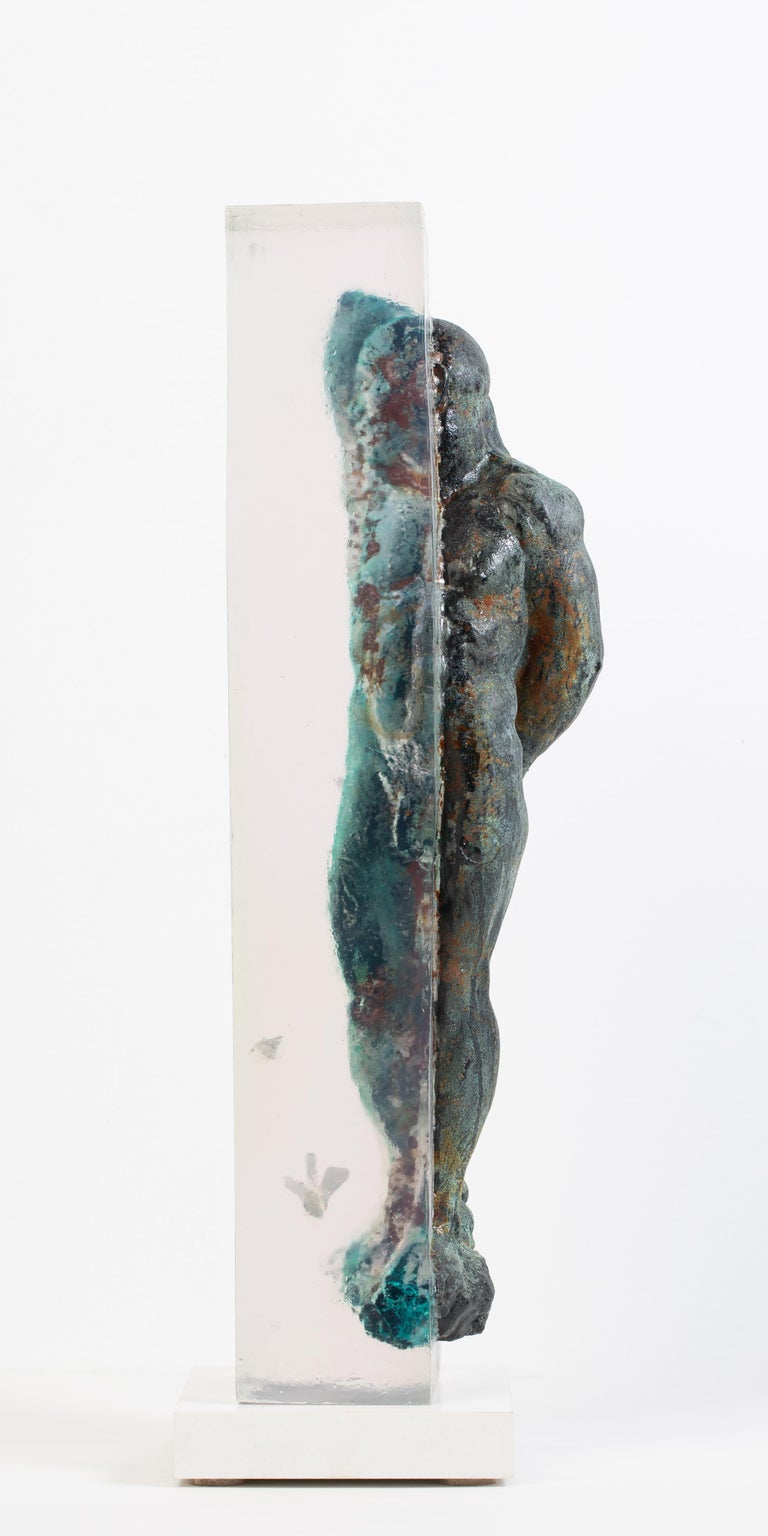 1 von 20 Bildern
Dean Kugler

Embedded Slave - After Michelangelo, Sculpture Half Embedded in Clear Resin

2018
Beschreibung
Diese Artikelbeschreibung wurde ursprünglich in englischer Sprache geschrieben.
Biography I became interested in the human form while studying kinesiology in college. I changed my major to art the last year of my schooling and finished with a BFA in sculpture and drawing from Western Illinois University. After graduation I started a design/build company and was focused on building the business and raising my kids. In 2010, I returned to painting and sculpting, eventually partnering with two friends in order to start a studio that linked our artistic spirits as well as creating an outlet where we could share that creativity. That endeavor eventually became "Bereskin Fine Art Gallery and Studio" where I started showing work. Upon returning to art, and given the type of projects that my company does, I found that I prefer to work on a monumental scale. My smaller sculptures and drawings are usually studies for larger pieces that range from 7' to 21' tall. Additionally, I have been in the top 25 at ARTPRIZE the last two years out of 1500 artists from all over the world. Artist statement I am an artist that focuses on the beauty I find within our species. I have always been motivated by the human figure and the intricacies associated with it. There is a shared experience between the artist and the viewer that better allows me to convey thoughts, feelings and emotions than with any other subject matter. Additionally, I try to use scale and the juxtaposition of disparate elements, in order to engage and challenge the viewer. Elements such as strength and weakness or beauty and damage can be experienced simultaneously within the same piece of work to create a tense energy. I also mix the technical skill of tight rendering with the dynamism of abstraction. It is this energy that I am looking to use to bring additional excitement and intrigue to my work. Dean Kugler (b. 1970 – )
Details
Künstler

Dean Kugler (1970, American)

Herstellungsjahr

Material
Kunstbewegung & Stil

Zustand

Abmessungen

H 24.5 in. x W 6 in. x D 6 in.

H 62.23 cm x W 15.24 cm x D 15.24 cm
Galerie-Standort

Referenznummer

Verkäufer-Referenznummer
Unser Versprechen an Sie:
Falls Sie nicht glücklich sind, wie ein Artikel angekommen ist, arbeiten wir mit Ihnen und dem Verkäufer, um zu einer optimalen Lösung zu kommen.
Mehr erfahren
Versand, Retouren & Zahlung
Preise variieren je nach Ziel und Komplexität

Versandmethoden basieren auf der Artikelgröße, Typ, Zerbrechlichkeit und spezifischen Eigenschaften.

Versandkosten basieren auf den Lieferantenkosten, Lieferentfernung und Komplexität der Verpackung.

Der Artikel kann innerhalb von 7 Tagen ab Lieferung zurückgeschickt werden.

Detailansicht
1stdibs akzeptiert die folgenden Zahlungsarten
Verkäufer bei 1stdibs seit 2017
Vielleicht gefällt Ihnen auch
Warum bei 1stdibs einkaufen?
Nur geprüfte, professionelle Verkäufer
Voll versicherter weltweiter Versand