Ähnliche Artikel wie Fade In (Abstract Blue Gradient Three Dimensional Wood Wall Sculpture)
Mehr anzeigen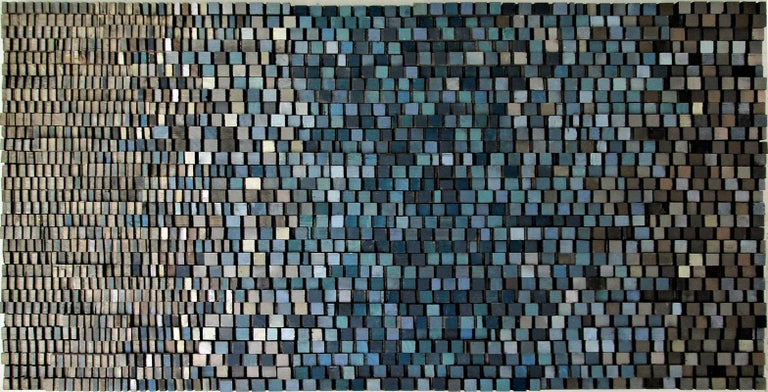 1 von 4 Bildern
Stephen Walling

Fade In (Abstract Blue Gradient Three Dimensional Wood Wall Sculpture)

2019
Beschreibung
Three dimensional abstract blue, black, grey and white wood wall sculpture Dyed and painted wood on panel 24 x 48 inches Can be orientated vertically or horizontally This abstract, modern three-dimensional wall sculpture was made by sculptor, Stephen Walling, in 2019. The artist created the work by intricately incising strips of wood with graphic square and rectangular patterns that were then dyed and painted before being adhered to a solid wood panel backing. The sculpture pairs well in any decor, especially with a mid-century modern aesthetic. The tops of the wood were painted and dyed in shades of blue, grey, black and white to create a blue gradient effect. There is sturdy wire on the back of the piece to ensure easy installation. About the artist and work: Stephen Walling demonstrates a trained eye with wall relief sculptures of colorfully painted wood strips and blocks, intricately carved and composed into graphic arrangements. Although Walling's sculptures are crafted around a dedication to color and shape, his newest body of works reveals a shift in inspiration and evolution in studio process. In earlier work, the artist took his cues from nature; representational forms based on the shapes of trees, slopes of the Catskill mountains and even aerial views were most prevalent. He also experimented with photo-collage, pasting images of back lit forests on varying heights of wood. More recently, Walling has found increasing comfort in the possibilities of abstraction. Walling now follows a kind of 'mind-map', influenced by almost anything and everything, when creating a new sculpture. The premeditated image leads Walling to the selection of all colors, shapes, and arrangements. Recent work demonstrates a fascination with light and shadow. Individual pieces of intricately carved wood unite to create various shadows that work to create a dazzling optical illusion. Ranging depths of wood are often enhanced with color painted on different sides of each block. This hint of color encourages the viewer's eye to travel throughout Walling's surfaces as perspective reveals transitions in palette and shadow.
Details
Künstler

Herstellungsjahr
Material

Kunstbewegung & Stil
Zustand

Abmessungen

H 24 in. x W 48 in. x D 2 in.

H 60.96 cm x W 121.92 cm x D 5.08 cm
Galerie-Standort

Referenznummer
Unser Versprechen an Sie:
Falls Sie nicht glücklich sind, wie ein Artikel angekommen ist, arbeiten wir mit Ihnen und dem Verkäufer, um zu einer optimalen Lösung zu kommen.
Mehr erfahren
Versand, Retouren & Zahlung
Preise variieren je nach Ziel und Komplexität

Versandmethoden basieren auf der Artikelgröße, Typ, Zerbrechlichkeit und spezifischen Eigenschaften.

Versandkosten basieren auf den Lieferantenkosten, Lieferentfernung und Komplexität der Verpackung.

Der Artikel kann innerhalb von 3 Tagen ab Lieferung zurückgeschickt werden.

Detailansicht
1stdibs akzeptiert die folgenden Zahlungsarten
Verkäufer bei 1stdibs seit 2013
Vielleicht gefällt Ihnen auch
Warum bei 1stdibs einkaufen?
Nur geprüfte, professionelle Verkäufer
Voll versicherter weltweiter Versand