Ähnliche Artikel wie Dale Chihuly Wild Poppy Persian Set Contemporary Glass Art
Mehr anzeigen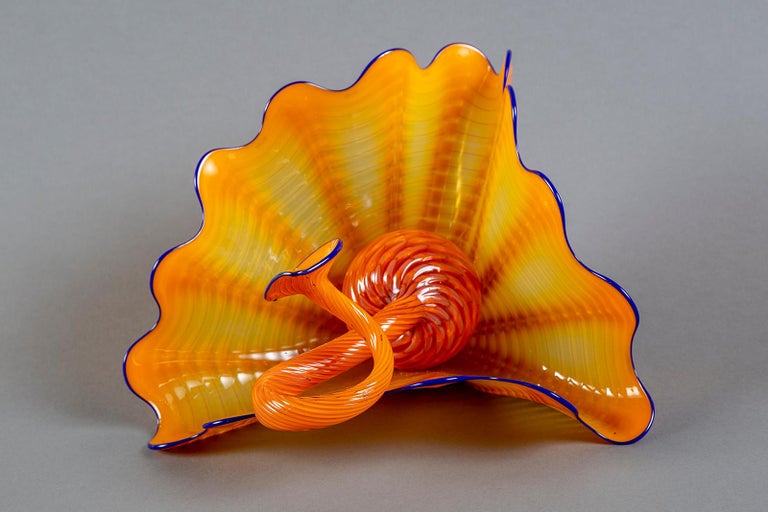 1 von 9 Bildern
Dale Chihuly

Dale Chihuly Wild Poppy Persian Set Contemporary Glass Art
Beschreibung
Diese Artikelbeschreibung wurde ursprünglich in englischer Sprache geschrieben.
Dale Chihuly – Parrot Green Persian Set, 2001 Hand Blown Glass Size: 7 x 11 inches Signed and dated by the artist Certificate of Authenticity included The work of Dale Chihuly embodies a range of different influences in a contemporary way. Searching for new forms, he created the acclaimed series Persians, which combines a vast array of cultural impulses, from Classical Greece, Persia, Byzantium, the Islamic world, and Venice to the art nouveau style. The result is the series of exotic vessels characterized by unusual forms. Demonstrating the artist's inventive approach to glassblowing, Persians are created in a range of lustrous colors and undulating forms. Their main characteristics are the swirling body wraps which act as decorative ribbons of color, only highlighting the exotic forms of these delicate pieces. To create these unusual vessels, the artist would place the molten glass into ribbed optic molds, transforming bubbles into the most unexpected shapes through the power of human breath only. The work "Parrot Green Persian Set" is a wonderful example of this remarkable series. It is comprised of two elegant glass pieces which create a harmonious composition. Vessels are created in a sparkling green color vibrating with swirling spirals in a darker shade. Resembling an entity that could be found in nature, a smaller vessel is delicately placed inside the gaping form of the bigger one. The opening of both of these vessels is delineated with a contrasting lip wrap in red. This work embodies the richness of Chihuly's creative vision. The piece comes in professional, safe packaging. Certificate of Authenticity included. Free shipping. Collect art in a smart way! Select our Best Offer option to propose a price. The first bidder to meet the bottom line price wins. About Dale Chihuly One of the most famous contemporary glass artists in the world, Dale Chihuly is best known for his monumental sculptures and installations. He is the name behind the spectacular ceiling at the Bellagio's flower garden in Las Vegas and the creator of the Rotunda Chandelier at the Victoria and Albert Museum in London. Glass works of Dale Chihuly are considered some of the most desired collectibles between the decorative arts devotees today. Despite his initial indifference towards education, Chihuly has spent a lot of time in school, obtaining both scientific and artistic degree in sculpture from prestigious graduate schools. He displayed a proclivity for interior design and craft early on, but his true passion was always in the glass. He was a Fulbright Fellow in the late 1960s and an apprentice at the Venini Glass Factory in Venice. Mastering the art of Murano glasswork, he continued the experiments with glassblowing and thus became one of the people who brought the ancient art of glassblowing back into the spotlight on an international scale. Monumental and small-scale artwork of Dale Chihuly is present in over 200 most renowned decorative art collections today, while the artist holds twelve honorary doctorates! The most illustrious series in his work are Cylinders and Baskets he created in the 1970s; Macchia, Venetians, and Persians from the 1980s, Niijima Floats and Chandeliers created in the 1990s; and a more recent one, Fiori from the 2000s. For over 30 years, Dale Chihuly has been acting as an artistic director of his team of craftsmen, since he was incapacitated in two accidents, which left him blind in one eye and incapable of holding the blowing tube. This change allowed him to see the possibilities of glass work on a broader scale, while still maintaining his recognizable style.
Details
Künstler

Material

Kunstbewegung & Stil
Zustand

Details zum Zustand

Ausgezeichneter Zustand, museander Zustand, Stück ist illustriert und Farben sind mutig.

Abmessungen

H 7 in. x Abm 11 in.

H 17.78 cm x Abm 27.94 cm
Durchmesser

Galerie-Standort

Referenznummer
Weitere Editionen & Größen

Tabac BasketPrice:

13.500 $
Unser Versprechen an Sie:
Falls Sie nicht glücklich sind, wie ein Artikel angekommen ist, arbeiten wir mit Ihnen und dem Verkäufer, um zu einer optimalen Lösung zu kommen.
Mehr erfahren
Versand, Retouren & Zahlung
Preise variieren je nach Ziel und Komplexität

Versandmethoden basieren auf der Artikelgröße, Typ, Zerbrechlichkeit und spezifischen Eigenschaften.

Versandkosten basieren auf den Lieferantenkosten, Lieferentfernung und Komplexität der Verpackung.

Der Artikel kann innerhalb von 14 Tagen ab Lieferung zurückgeschickt werden.

Detailansicht
1stdibs akzeptiert die folgenden Zahlungsarten
Über den Verkäufer
Neu bei 1stdibs
In den letzten sechs Monaten beigetreten.
Verkäufer bei 1stdibs seit 2018
Standort: Minneapolis, MN
Warum bei 1stdibs einkaufen?
Nur geprüfte, professionelle Verkäufer
Voll versicherter weltweiter Versand