Ähnliche Artikel wie Billboard Walking Girls
Mehr anzeigen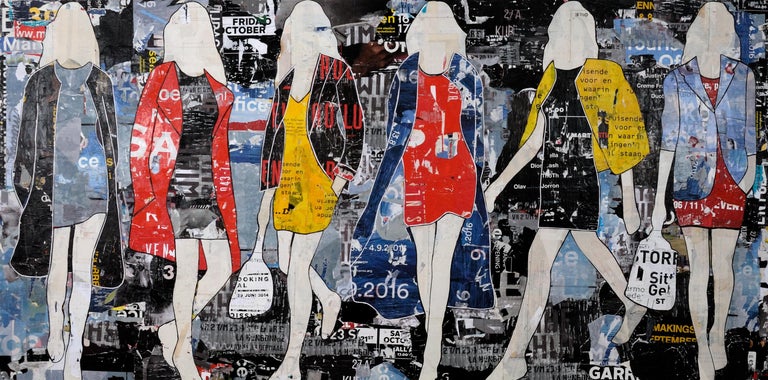 1 von 5 Bildern
Beschreibung
JANE MAXWELL Billboard Walking Girls Mixed Media with Resin on Panel 60 x 120 inches THE ART OF FASHION: In conjunction with New York Fashion Week, JoAnne Artman Gallery is proud to announce the opening of The Art of Fashion, featuring recent works by Jane Maxwell at the gallery's New York location. Assorted works by artist Pedro Bonnin will also be on display in the gallery's Projects Space. NYFW is a semi-annual, week-long, celebration of fashion and style where international fashion collections are shown to buyers, press, and the general public. Mixed Media artist Jane Maxwell and Photorealist painter Pedro Bonnin create work that emphasizes the movement of the human figure through space, including defining elements of fashion, style and design. Though Maxwell and Bonnin work in vastly different stylistic approaches and mediums, both artists find inspiration in the human form touching on universal themes of identity and perception through the lens of fashion. For Jane Maxwell, it is the suggestion of the figure and the space that it occupies which is the primary focus in many of her compositions. The ideas of personal agency, the feminine ideal, and body image are explored through Maxwell's study of the body in motion. The silhouette is the primary mode of portrayal as the figures stride through undefined space, emphasizing line and movement. Maxwell utilizes found paper ephemera such as posters, prints, and other printed materials in her compositions, collaging on wood panels in an organic accumulation of color and texture. Remnants of particular phrases, letters, and dates are left intentionally whole, allowing for interpretation through juxtaposition of image and text. In several instances, Maxwell utilizes the found printed matter in ways which imitate the hard-edged graphic look of branded apparel featuring logos or other signifying insignia, navigating the politics of identity, fast fashion, and advertising.
Details
Kunstbewegung & Stil

Zustand
Zeitraum

Abmessungen

H 60 in. x W 120 in. x D 3 in.

H 152.4 cm x W 304.8 cm x D 7.62 cm
Galerie-Standort

326 N Coast Hwy. | Laguna Beach, CA

Referenznummer
Unser Versprechen an Sie:
Falls Sie nicht glücklich sind, wie ein Artikel angekommen ist, arbeiten wir mit Ihnen und dem Verkäufer, um zu einer optimalen Lösung zu kommen.
Mehr erfahren
Versand, Retouren & Zahlung
Preise variieren je nach Ziel und Komplexität

Versandmethoden basieren auf der Artikelgröße, Typ, Zerbrechlichkeit und spezifischen Eigenschaften.

Versandkosten basieren auf den Lieferantenkosten, Lieferentfernung und Komplexität der Verpackung.
1stdibs akzeptiert die folgenden Zahlungsarten
Verkäufer bei 1stdibs seit 2013
Standort: 326 N Coast Hwy. | Laguna Beach, CA
Vielleicht gefällt Ihnen auch
Warum bei 1stdibs einkaufen?
Nur geprüfte, professionelle Verkäufer
Voll versicherter weltweiter Versand