Ähnliche Artikel wie Collage on Panel Titled: "PDP844ct17"
Mehr anzeigen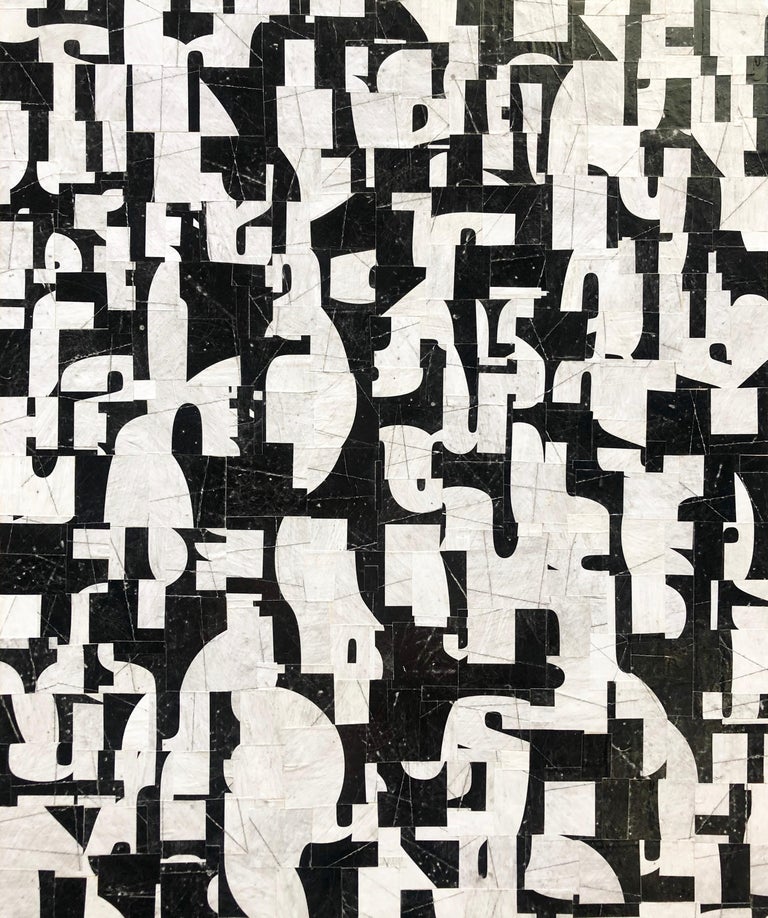 1 von 11 Bildern
Cecil Touchon

Collage on Panel Titled: "PDP844ct17"

2017
Beschreibung
Diese Artikelbeschreibung wurde ursprünglich in englischer Sprache geschrieben.
signed verso Cecil Touchon Born 1956 Austin, Texas is a contemporary American collage artist, painter, published poet and theorist living in Pagosa Springs, Colorado. Co-founder of the International Post-Dogmatist Group, Touchon is director of the group's Ontological Museum, Founder of the International Museum of Collage, Assemblage and Construction and founder of the International Society of Assemblage and Collage Artists. In 2005 an exhibition was held in Cuernavaca, Mexico entitled "Cecil Touchon - Thirty Years of Fluxing Around" in which art works and scores dating as early as 1975 were exhibited showing the fluxus tendency in Touchon's work over the last thirty years. Touchon has never been formally associated with the Fluxus group until the year 2000 with his participation in the Fluxlist - an email group where the current generation fluxus artists interact and collaborate. In 2002 Touchon, with a number of other artists from the Fluxlist established the Fluxnexus - a group of artists working together on various new Fluxus projects including a new Fluxus performance workbook. In 2006 Touchon established the FluxMuseum in order to assemble and archive samples of works by contemporary 21st Century Fluxus artists. The central focus of the Fluxmuseum has been the creation of Fluxus related publications and curating and mounting international exhibitions of Fluxus art called Fluxhibitions. Touchon co-founded the International Post-Dogmatist Group (IPDG) in 1987. Primarily an alternative to a post-modernist view of the world, the group's writings suggest that creativity and artistic pursuits must be based in a recognition of the spiritual underpinnings of all human activities. The IPDG addresses itself to the art world through a presentation of itself as the 'official avant-garde' creating an elaborate bureaucratic structure of outlandish sounding offices through which the various members communicate simulating 'the establishment' as a form of parody. Touchon's works are included in the permanent collections of the Museum of Modern Art, New York, NY, the Museum of Contemporary Art, Chicago, IL, the Tate Modern, London, UK, The Getty Research Institute, Los Angeles, CA, the Walker Art Center, Minneapolis, MN, the Fogg Museum of Art Archive, Cambridge, MA, Archivo Francesco Conz, Verona Italy, and the Glasgow School of Art Library, UK.
Details
Künstler

Herstellungsjahr
Material

Kunstbewegung & Stil
Zustand

Abmessungen

H 24 in. x W 20 in. x D 1.63 in.

H 60.96 cm x W 50.8 cm x D 4.15 cm
Galerie-Standort

Referenznummer
Unser Versprechen an Sie:
Falls Sie nicht glücklich sind, wie ein Artikel angekommen ist, arbeiten wir mit Ihnen und dem Verkäufer, um zu einer optimalen Lösung zu kommen.
Mehr erfahren
Versand, Retouren & Zahlung
Preise variieren je nach Ziel und Komplexität

Versandmethoden basieren auf der Artikelgröße, Typ, Zerbrechlichkeit und spezifischen Eigenschaften.

Versandkosten basieren auf den Lieferantenkosten, Lieferentfernung und Komplexität der Verpackung.

Der Artikel kann innerhalb von 7 Tagen ab Lieferung zurückgeschickt werden.

Detailansicht
1stdibs akzeptiert die folgenden Zahlungsarten
Verkäufer bei 1stdibs seit 2014
Standort: West Palm Beach, FL
Warum bei 1stdibs einkaufen?
Nur geprüfte, professionelle Verkäufer
Voll versicherter weltweiter Versand