Dieser A Bay Horse in a Landscape by John Nost Sartorius. ist nicht mehr verfügbar.
Ähnliche Artikel anzeigen
Mehr anzeigen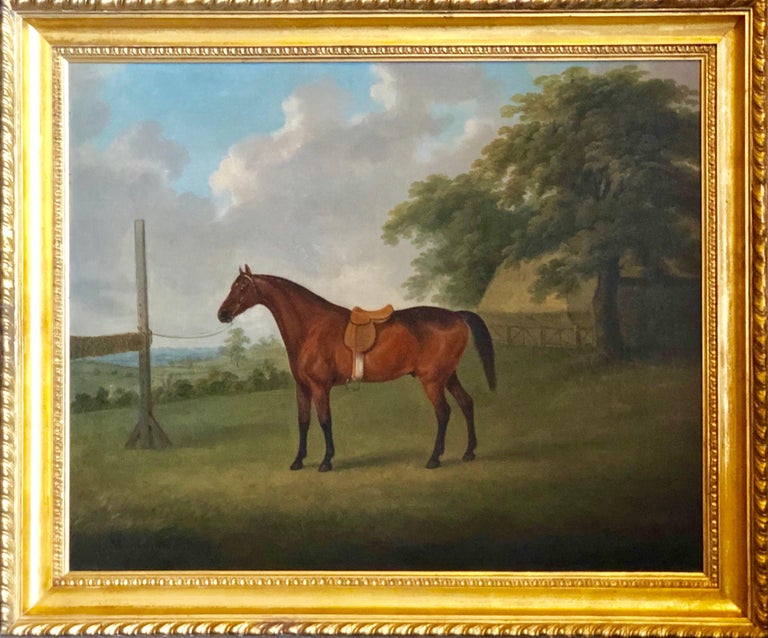 1 von 9 Bildern
John Nost Sartorius

A Bay Horse in a Landscape by John Nost Sartorius.

1814
Beschreibung
Diese Artikelbeschreibung wurde ursprünglich in englischer Sprache geschrieben.
A BAY HORSE IN A LANDSCAPE - BY JOHN NOST SARTORIUS. A fine and highly detailed early 19th century study of a Bay Horse in a Landscape signed John Nost Sartorius Pinxt 1814. This lively painting of an attractive animal, has a good depth of colour and attention to light and shade. The elegant bay horse is set within an unusually detailed and evocative English landscape. Expertly conserved and presented in an antique gilt raking knull frame, this sensitively rendered and highly decorative painting is ready to hang and enjoy. John Nost Sartorius (1755–1828) The artist was an English painter of horses, horse-racing and hunting scenes, and he is considered the best-known and prolific of the Sartorius family of artists. The son of horse-artist Francis Sartorius and the grandson of John Sartorius, John Nost was patronised by the leading sportsmen of the day, such as the Prince of Wales, the Earl of Derby, Lord Foley, Sir Carkes Bunbury, and many others, and his pictures (some of them of large size) were found in many country houses. He preferred to be known as John N. Sartorius Jr. to distinguish himself from his father and grandfather. From 1781-1824 his name appeared as an exhibitor in the catalogues of the Royal Academy, and a list of the 74 pictures which he showed there can be found in Walter Gilbey's "Animal painters of England from the year 1650, volume 2. The Sporting Magazine from 1795-1827 contained many engraved plates from his works by J. Walker, J. Webb, and others. Some of his best known pictures were portraits of the racehorse "Escape", belonging to the Prince of Wales, Sir Charles Bunbury's "Grey Diomed", a Mr. Robson's trotting mare "Phenomena", and the famous thoroughbred "Eclipse", from a drawing by his father. "A Set of Four Hunting Pieces" after his pictures, was published in 1790 by J. Harris, the plates being engraved byPetro William Tomkins and James Neagle (1760?-1822). John N. Sartorius died in 1828. Of his sons John Francis Sartorius was also an equine artist while the younger, Francis Sartorius Jr. ("the Younger") was a marine artist. Higher resolution images on request. Worldwide shipping available. Canvas : 17" x 21" / 43cm x 54cm. Frame: 20.5" x 24.5" / 52cm x 62cm. Internal Ref: 00073
Details
Künstler

John Nost Sartorius (1759 - 1828, English)

Herstellungsjahr
Abmessungen

H 20.5 in. x W 24.5 in. x D 3 in.

H 52.07 cm x W 62.23 cm x D 7.62 cm

Galerie-Standort
Referenznummer

Verkäufer-Referenznummer
Unser Versprechen an Sie:
Falls Sie nicht glücklich sind, wie ein Artikel angekommen ist, arbeiten wir mit Ihnen und dem Verkäufer, um zu einer optimalen Lösung zu kommen.
Mehr erfahren
Versand, Retouren & Zahlung
Preise variieren je nach Ziel und Komplexität

Versandmethoden basieren auf der Artikelgröße, Typ, Zerbrechlichkeit und spezifischen Eigenschaften.

Versandkosten basieren auf den Lieferantenkosten, Lieferentfernung und Komplexität der Verpackung.

Der Artikel kann innerhalb von 2 Tagen ab Lieferung zurückgeschickt werden.

Detailansicht
1stdibs akzeptiert die folgenden Zahlungsarten
Verkäufer bei 1stdibs seit 2017
Standort: London/Yorkshire, GB
Vielleicht gefällt Ihnen auch
Warum bei 1stdibs einkaufen?
Nur geprüfte, professionelle Verkäufer
Voll versicherter weltweiter Versand