Ähnliche Artikel wie Lilies In The Sky
Mehr anzeigen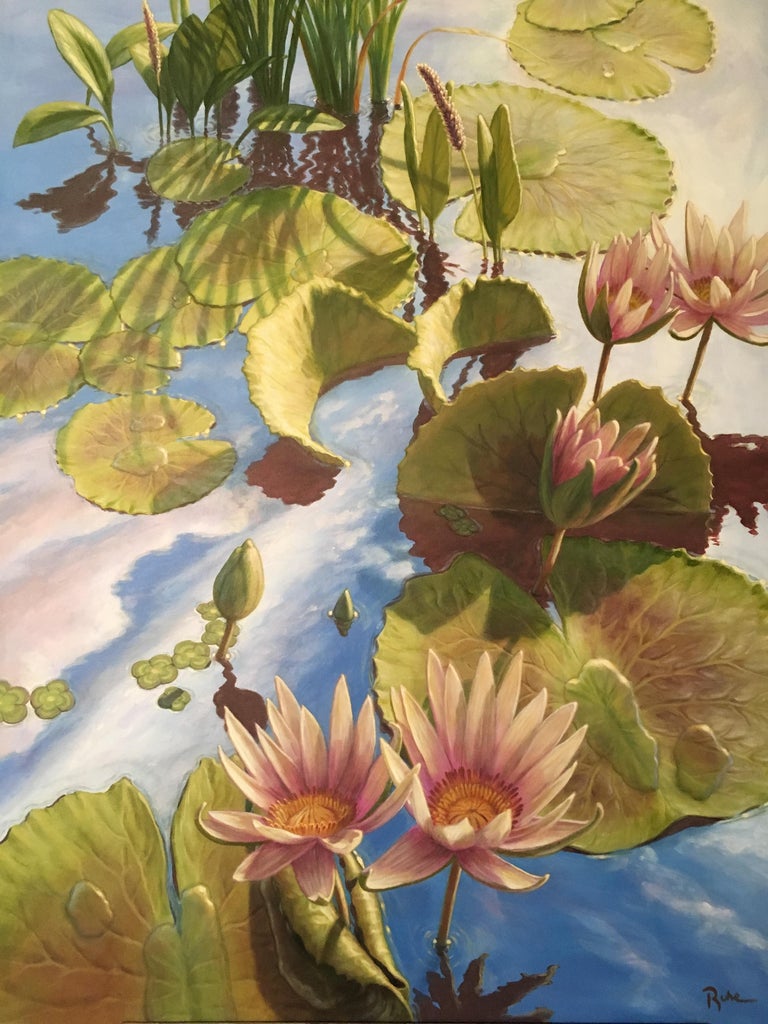 1 von 5 Bildern
Beschreibung
Diese Artikelbeschreibung wurde ursprünglich in englischer Sprache geschrieben.
'LILIES IN THE SKY" David Ruhe is a contemporary realist nature painter. Gallery Representations Sanibel Art & Frame Sanibel, Florida 2013-Present Gingerbread Square Gallery Key West Florida 2013-Present H. Allen Holmes Hobe Sound, Florida 2012--Present Gallery Morada Islamorada, Florida 2011-2013 Meghan Candler Gallery Vero Beach, Florida 2009-Present Renata Metelska Gallery Hobe Sound, Florida 2009-2011 Hughes Gallery Boca Grande, Florida 2009-2014 Patricia Cloutier Gallery Tequesta, Florida 2005-2010 Pinckney Simons Gallery Beaufort, South Carolina 2007-2008 Eisenhauer Gallery Block Island & Martha's Vineyard, MA 2007-2008 Scalzo Gallery Saint Petersburg, Florida 2006-2007 Addison Gallery Bonita Springs, Florida 2004-2006 Sanibel Gallery Sanibel Island, Florida 2003-2004 Lighthouse Station Gallery Bethany Beach, Delaware 2001 Preston Tyler Gallery Saint George Island, Florida 2001 The Zoo Gallery Destin, Florida 2000 Stellar Gallery Jacksonville, Florida 2000 Macarthur Gallery Tampa, Florida 1999 Black Orchid Gallery Sanibel Island, Florida 1998 West Wind Gallery Sanibel Island, Florida 1998 Alliance of the Arts Fort Myers, Florida 1995 The Griffin Gallery Matlacha, Florida 1990-1992 Accolades Ocean Sotheby's Solo Exhibition Islamorada January 2012-February 2012 Hilton Head National Juried Art Exhibition 2003 Honorable Mention for "La Femme Belle" Hilton Head National Juried Art Exhibition 2004 Honorable Mention for "Flotsam and Jetsam" International Hemingway Festival of the Arts Sanibel Island, Florida 1999 Grand Prize for "Waiting" International Hemingway Festival of the Arts Sanibel Island, Florida 1998 Grand Prize for "Summer Shower" Public Collections Seacoast National Bank Palm Beach Gardens, Florida "Angel's Gate" The Sanctuary Palm Beach, Florida for Peacock & Lewis Architects "Among the Angels" Charitable Contributor CROW Sanibel Island, Florida With John Grey Painting ARTS FOR ACT Women's Abuse Treatment Center Fort Myers, Florida Red Cross, Martin County, Florida Show House The Connections Project 2 Florida Keys Art Council Morada Way Art District Islamorada, Florida Island Dolphin Care Key Largo, Florida Mariner's Hospital Tavernier, Florida Publications The Islander 2014 "Sanibel Artist Noted for Whimsy is Gaining a Following" Island Sun February 2014 "Artist's Whimsical Work Captures The Imagination" Gulf and Main 2004 "Twigs" Treviso Naples, Florida Art Trends October 2000 "Ruhe, Personal Visions" Island Reporter March 1999 "Ruhe Predicts Artistic Success" Member of Big Arts Sanibel Island Private Collections Paintings are included in Private collections throughout Florida and throughout the United States, the Grand Cayman Islands and Paris, France.
Details
Künstler

Herstellungsjahr
Material

Kunstbewegung & Stil
Zustand

Abmessungen

H 40 in. x W 30 in. x D 1.5 in.

H 101.6 cm x W 76.2 cm x D 3.81 cm
Galerie-Standort

Referenznummer
Unser Versprechen an Sie:
Falls Sie nicht glücklich sind, wie ein Artikel angekommen ist, arbeiten wir mit Ihnen und dem Verkäufer, um zu einer optimalen Lösung zu kommen.
Mehr erfahren
Versand, Retouren & Zahlung
Preise variieren je nach Ziel und Komplexität

Versandmethoden basieren auf der Artikelgröße, Typ, Zerbrechlichkeit und spezifischen Eigenschaften.

Versandkosten basieren auf den Lieferantenkosten, Lieferentfernung und Komplexität der Verpackung.

Der Artikel kann innerhalb von 3 Tagen ab Lieferung zurückgeschickt werden.

Detailansicht
1stdibs akzeptiert die folgenden Zahlungsarten
Verkäufer bei 1stdibs seit 2015
Standort: West Palm Beach, FL
Warum bei 1stdibs einkaufen?
Nur geprüfte, professionelle Verkäufer
Voll versicherter weltweiter Versand