Ähnliche Artikel wie Yellow and Magenta with Red and Black Line
Mehr anzeigen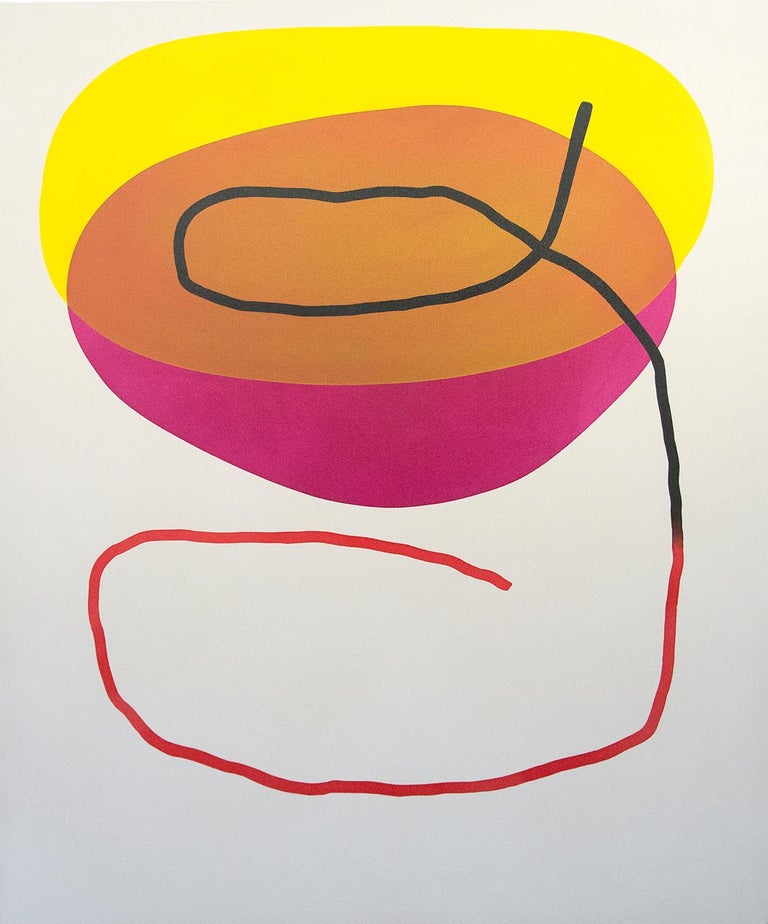 1 von 10 Bildern
Aron Hill

Yellow and Magenta with Red and Black Line

2019
Beschreibung
Overlapping rounds of acid yellow and magenta intersect with a looped line of red and black in this bold, enigmatic abstraction by Aron Hill. In his paintings, Aron Hill (b. 1977, Calgary, AB) finds conceptual company in the late Modernist work of Jack Bush and William Perehudoff. Hill uses bright flat colors on prepared raw canvas to create enigmatic hard edged shapes in playful narratives. He infuses the restrained space of the minimalist canvas with dynamic forms shifting easily out of abstraction to create designed landscapes and enigmatic still life paintings. Hill obtained a BFA in Interdisciplinary Studies from the Alberta College of Art and Design and his MFA from Goldsmiths College, University of London in 2006. He has exhibited across Canada and in Dubai. His work is held in private and corporate collections.
Details
Künstler

Herstellungsjahr
Material

Kunstbewegung & Stil
Zustand

Abmessungen

H 58 in. x W 48 in.

H 147.32 cm x W 121.92 cm
Galerie-Standort

Referenznummer
Unser Versprechen an Sie:
Falls Sie nicht glücklich sind, wie ein Artikel angekommen ist, arbeiten wir mit Ihnen und dem Verkäufer, um zu einer optimalen Lösung zu kommen.
Mehr erfahren
Versand, Retouren & Zahlung
Preise variieren je nach Ziel und Komplexität

Versandmethoden basieren auf der Artikelgröße, Typ, Zerbrechlichkeit und spezifischen Eigenschaften.

Versandkosten basieren auf den Lieferantenkosten, Lieferentfernung und Komplexität der Verpackung.

Der Artikel kann innerhalb von 7 Tagen ab Lieferung zurückgeschickt werden.

Detailansicht
1stdibs akzeptiert die folgenden Zahlungsarten
Verkäufer bei 1stdibs seit 2013
Warum bei 1stdibs einkaufen?
Nur geprüfte, professionelle Verkäufer
Voll versicherter weltweiter Versand