Ähnliche Artikel wie Sophia Loren Icon II
Mehr anzeigen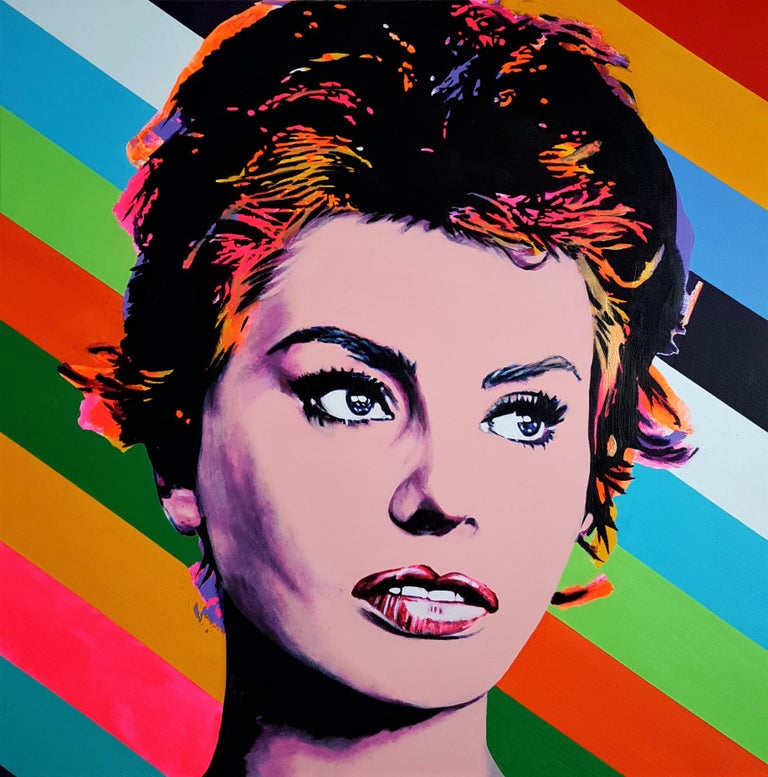 1 von 14 Bildern
Beschreibung
An original signed acrylic on canvas painting by American artist Jack Graves (1988-) titled "Sophia Loren Icon II", 2019. Hand signed, titled, and dated by Graves on verso. The canvas was hand built and stretched onto the stretcher bars by Graves. Part of Graves' 2019 "Icon" series. Canvas size: 36" x 36". Mint condition. Sofia Villani Scicolone (1934-), Dame of the Grand Cross, OMRI, known by her stage name Sophia Loren, is an Italian film actress and singer. Encouraged to enroll in acting lessons after entering a beauty pageant, Loren began her film career in 1950 at age 16. Jack Graves is an American artist, born in 1988 in Jacksonville, Florida. From and early age Jack has developed a talent for creating unique and original works of art. Winning departmental awards during his early primary education, and while studying at home and abroad at Hampden-Sydney College in Virginia and at Newcastle University in England. Over the past several years Jack has been painting professionally, developing a wide audience and base of collectors worldwide. In 2014 he was recognized by the critical review, "Internationale KUNST HEUTTE". Today his paintings are featured in numerous galleries, on "1st dibs" and "The Highboy", two international digital fine art platforms, as well as his own website. Jack describes his art style as "Eclecticism", "a work that juxtaposes two or more different art styles, one from the past and new ones I develop for the future." This approach has evolved, culminating in a completely new series of paintings he calls the "Icon Series". In this series he incorporates an idealized, almost photo-realistic face of an international super-star model or celebrity, an "Icon", within a matrix of an otherwise totally abstract expressionist composition, which makes the iconic image dazzle. The new "Icon Series" has been met with tremendous success with designers, galleries and fine art collectors from Hong Kong to Manhattan, selling over 40 works in a matter of months of its debut in 2017.
Details
Künstler

Herstellungsjahr
Material

Kunstbewegung & Stil
Zustand

Abmessungen

H 36 in. x W 36 in.

H 91.44 cm x W 91.44 cm
Galerie-Standort

Referenznummer
Unser Versprechen an Sie:
Falls Sie nicht glücklich sind, wie ein Artikel angekommen ist, arbeiten wir mit Ihnen und dem Verkäufer, um zu einer optimalen Lösung zu kommen.
Mehr erfahren
Versand, Retouren & Zahlung
Preise variieren je nach Ziel und Komplexität

Versandmethoden basieren auf der Artikelgröße, Typ, Zerbrechlichkeit und spezifischen Eigenschaften.

Versandkosten basieren auf den Lieferantenkosten, Lieferentfernung und Komplexität der Verpackung.

Der Artikel kann innerhalb von 3 Tagen ab Lieferung zurückgeschickt werden.

Detailansicht
1stdibs akzeptiert die folgenden Zahlungsarten
Verkäufer bei 1stdibs seit 2015
Warum bei 1stdibs einkaufen?
Nur geprüfte, professionelle Verkäufer
Voll versicherter weltweiter Versand