Ähnliche Artikel wie Kipp Soldwedel Operation Statue of Liberty Oil Painting
Mehr anzeigen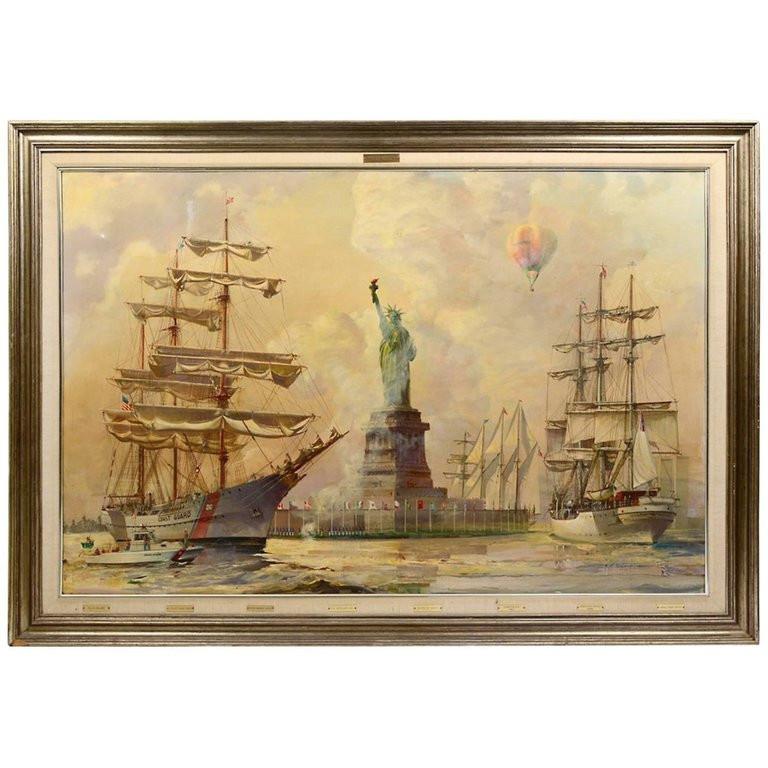 1 von 10 Bildern
Kipp Soldwedel

Kipp Soldwedel Operation Statue of Liberty Oil Painting

1985
Beschreibung
Diese Artikelbeschreibung wurde ursprünglich in englischer Sprache geschrieben.
Kipp Soldwedel (American 1913-1999) "Operation Liberty" Statue of Liberty Oil on Canvas The artist painted this work for the 100th Anniversary of the Statue of Liberty in 1986. The Twin Towers also appear in the far right of the image. Signed and dated lower right. Verso signed, dated July 4, 1986, inscribed with artist's copyrights and dedicated lower right. This was painted in 1985. Please note this painting hung in the Rotunda of the Statue of Liberty Monument on Liberty Island, New York Harbor on July 4, 1988. Without frame measuring 48" high by 70" wide. With frame: 58" high x 80" wide Marine artist Kipp Soldwedel studied fine arts at Yale University and was awarded four Beaux Arts medals. He received a scholarship to the American Academy in Rome. During World War II, he was a flight instructor and meteorologist for the United States Air Force. Kipp Soldwedel is most well known for his maritime battle scenes though he did paint over 150 portraits of celebrities. His illustrations appeared in magazines such as National Geographic, Time, Life, and Town and Country. Many of his paintings depicted the tall ships. He was the known as one of the greatest modren masters of Marine Paintings.
Details
Künstler

Herstellungsjahr
Details zum Zustand

Geringfügiges Ausbessern des Gesichts einer sitzenden Frau. Ansonsten in sehr gutem Zustand.

Abmessungen

H 58 in. x W 80 in. x D 3 in.

H 147.32 cm x W 203.2 cm x D 7.62 cm
Galerie-Standort

Referenznummer
Unser Versprechen an Sie:
Falls Sie nicht glücklich sind, wie ein Artikel angekommen ist, arbeiten wir mit Ihnen und dem Verkäufer, um zu einer optimalen Lösung zu kommen.
Mehr erfahren
Versand, Retouren & Zahlung
Preise variieren je nach Ziel und Komplexität

Versandmethoden basieren auf der Artikelgröße, Typ, Zerbrechlichkeit und spezifischen Eigenschaften.

Versandkosten basieren auf den Lieferantenkosten, Lieferentfernung und Komplexität der Verpackung.

Der Artikel kann innerhalb von 7 Tagen ab Lieferung zurückgeschickt werden.

Detailansicht
1stdibs akzeptiert die folgenden Zahlungsarten
Über den Verkäufer
Neu bei 1stdibs
In den letzten sechs Monaten beigetreten.
Verkäufer bei 1stdibs seit 2019
Vielleicht gefällt Ihnen auch
Warum bei 1stdibs einkaufen?
Nur geprüfte, professionelle Verkäufer
Voll versicherter weltweiter Versand