Ähnliche Artikel wie "Wave on Shore" photorealistic oil painting of blue/green waves in the ocean
Mehr anzeigen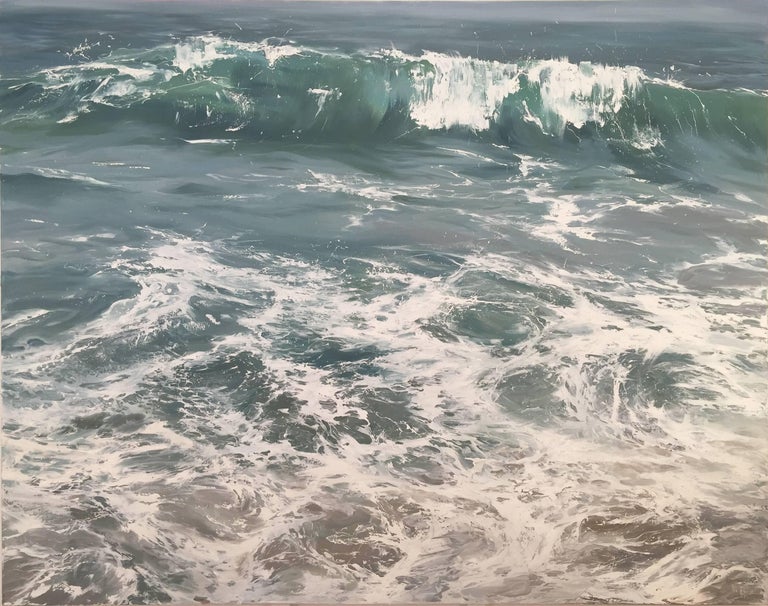 1 von 4 Bildern
Annie Wildey

"Wave on Shore" photorealistic oil painting of blue/green waves in the ocean
Beschreibung
Diese Artikelbeschreibung wurde ursprünglich in englischer Sprache geschrieben.
The rhythm of the waves marks time, like the breath. Moment to moment, its intensity fluctuates like emotion. Thoughts linger and pass, like a veil of fog. At the shore I am reminded to be present. It provides a place for contemplation and reflection. I identify with the strength and vulnerability of the ocean when a storm is brewing or passing, when the surf is up, when the fog looms or is lifting, when the horizon is obscured, or the sky begins to clear, I find beauty in these moments of transition. I bring this experience into the studio as I interpret the smells, sounds, feelings, and energy of the water or the quiet movement of fog. The process is fluid, moving between freedom and control, accident and intention, as I push and pull the paint to convey and realize my visual and emotional experiences. BIOGRAPHY Annie is a British painter and printmaker. She moved to New York City in 1989 and worked at the British Consulate. Art remained a part of her life during those years, but in 2006 she left and begin a new chapter, returning to a life with art at the very center and enrolled in an MFA program at the The New York Academy of Art. This provided the instruction, immersion and creative freedom to develop her skills and artistic voice and proved to be a fruitful time bringing with it several awards including a Post-graduate Fellowship, Prince of Wales Scholarships, and travel awards to Normandy, France and St Barts, in the French West Indies. After the fellowship Annie left New York for the East End of Long Island and spent two wonderful years in the quiet hamlet of Orient, as Artist-in-Residence at the William Steeple Davis House. It was here that Annie met and became a studio assistant to Master Printmaker Dan Welden and continues to assist him at workshops in the North East, including Haystack School of Crafts in Maine, Provincetown Fine Arts Work Center, and Montserrat College of Fine Arts. In 2011 Annie left the East End of LI and moved to Mystic Ct, where she maintains a studio at The Velvet Mill, in Stonington Ct. Annie's work has been exhibited both nationally and internationally, venues include: The National Museum of China: The Mall Galleries, London, UK; The Heckscher Museum, NY, and The University of Connecticut. Her work is included in The Drawing Center's Viewing Program and can also be found in the book: Drawing Space, Form and Expression by Enstice, Wayne and Melody Peters.
Details
Zustand

Abmessungen

H 48 in. x W 60 in.

H 121.92 cm x W 152.4 cm
Galerie-Standort

Referenznummer
Unser Versprechen an Sie:
Falls Sie nicht glücklich sind, wie ein Artikel angekommen ist, arbeiten wir mit Ihnen und dem Verkäufer, um zu einer optimalen Lösung zu kommen.
Mehr erfahren
Versand, Retouren & Zahlung
Preise variieren je nach Ziel und Komplexität

Versandmethoden basieren auf der Artikelgröße, Typ, Zerbrechlichkeit und spezifischen Eigenschaften.

Versandkosten basieren auf den Lieferantenkosten, Lieferentfernung und Komplexität der Verpackung.

Der Artikel kann innerhalb von 2 Tagen ab Lieferung zurückgeschickt werden.

Detailansicht
1stdibs akzeptiert die folgenden Zahlungsarten
Verkäufer bei 1stdibs seit 2015
Vielleicht gefällt Ihnen auch
Warum bei 1stdibs einkaufen?
Nur geprüfte, professionelle Verkäufer
Voll versicherter weltweiter Versand