Ähnliche Artikel wie Untitled, Pop Art, Birch Wood, Dimensional, Female, Figurative, Blonde Blue Eyes
Mehr anzeigen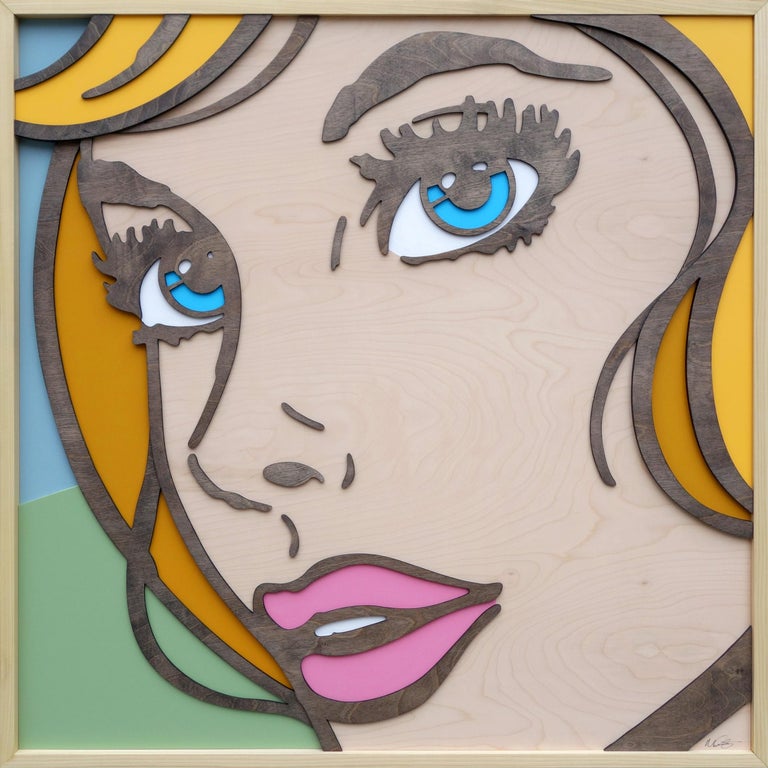 1 von 11 Bildern
Mitch McGee

Untitled, Pop Art, Birch Wood, Dimensional, Female, Figurative, Blonde Blue Eyes

2019
Beschreibung
Diese Artikelbeschreibung wurde ursprünglich in englischer Sprache geschrieben.
Untitled, Layered, Stained and Painted Birch Wood Artwork by Texas Artist, Mitch McGee. This female figurative Pop Artwork is 36x36x1.5. The influences for Mitch McGee's own artwork came from the style of Pop Art legend, Roy Lichtenstein, but the Houston artist, went on to create his own style and establish his unique voice. Today, his creativity exists in that space between painting and sculpture. In his Birch series, McGee uses pieces of wood, each illustrated, hand cut and stained or painted to create dimensional pieces. Each painting is filled with thick layers and subtle shadows. There is a warmth created by the imperfection of the birch and its grain that creates an emotional connection. Each painting is a labor of love, taking 40 to 50 hours or more to complete. McGee has created original works inspired by Superhero comics, Sports icons, as well as romantic moments using thick lines and bold colors to bring these scenes to life in his own way. Each artwork is filled with humor, irony, compassion or seduction. His artwork has been exhibited throughout Texas since 2001 and in New York with Elisa Contemporary Art since 2012. In 2013, Mitch McGee's artwork was featured in the March issue of Dwell Magazine, in W Magazine in October, and a solo exhibit at 1st Dibs in NYC. His work is public and private collections throughout the world.
Details
Künstler

Herstellungsjahr
Material

Kunstbewegung & Stil
Zustand

Abmessungen

H 36 in. x W 36 in. x D 1.5 in.

H 91.44 cm x W 91.44 cm x D 3.81 cm
Galerie-Standort

Referenznummer
Unser Versprechen an Sie:
Falls Sie nicht glücklich sind, wie ein Artikel angekommen ist, arbeiten wir mit Ihnen und dem Verkäufer, um zu einer optimalen Lösung zu kommen.
Mehr erfahren
Versand, Retouren & Zahlung
Preise variieren je nach Ziel und Komplexität

Versandmethoden basieren auf der Artikelgröße, Typ, Zerbrechlichkeit und spezifischen Eigenschaften.

Versandkosten basieren auf den Lieferantenkosten, Lieferentfernung und Komplexität der Verpackung.

Der Artikel kann innerhalb von 3 Tagen ab Lieferung zurückgeschickt werden.

Detailansicht
1stdibs akzeptiert die folgenden Zahlungsarten
Verkäufer bei 1stdibs seit 2015
Warum bei 1stdibs einkaufen?
Nur geprüfte, professionelle Verkäufer
Voll versicherter weltweiter Versand