Ähnliche Artikel wie Bees
Mehr anzeigen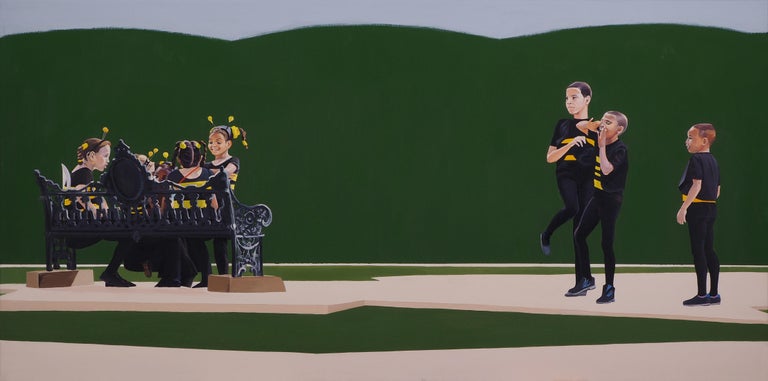 1 von 4 Bildern
Beschreibung
Diese Artikelbeschreibung wurde ursprünglich in englischer Sprache geschrieben.
Julita Malinowska Born in Otwock in 1979. Studied in the Art Department of the University of Maria Curie-Sklodowska in Lublin from 1999-2000, and then from 2000-2005 in the Painting Department of the Academy of Fine Arts in Cracow. Received a Sokrates/Erasmus scholarship in 2003 for Wolverhampton University in the UK. Graduated (MA degree) from the Painting Department in 2005 with distinction. From 2008 till 2011 was making Doctoral studies (PhD degree) at the Academy of Fine Arts in Cracow. In December 2012 defended PhD degree. In 2005 won Second Prize at The Samsung Art Master Paintings Contest "The True Colours" and in 2006 City of Cracow Creative Scholarship. In 2008 took part in Artist in Residence programm in Tammisaari/ Finland. Artodyssey "Julita Malinowska's paintings belong to those, which once seen - are never forgotten. The open spaces, sometimes cool and bright, at other times heavily saturated with contrasting light, create a landscape in which, like a counterpoint, we come across a figure – sometimes one, perhaps two or more. The synthetic construction of form, clean contours, and strong divisions are elements which at first sight are the defining characteristics of the artist's style. It is impossible to pass one by and remain indifferent to the subdued harmony flooding these spaces which not totally defined. The drawings, however, are somewhat different. Although they contain the same motifs, at times even the same compositions – the value strategems employed by Julita create a sense of foreboding in a world already balancing on the edge. The painterly and graphic form constructed by the artist is itself thought- provoking . The heightened tones, the light which at times goes off the scale and the almost classic contours lead us to look at Malinowska's work through the prism of classicism and the great art theories of the 17th century. Such references are quite rare in the painting of today and beyond – in art. The search for a language allowing the artist to deal with universal issues and fundamental questions in order to understand the sense of not only art, but also life, has not been too popular a phenomenom in art over the last century. The artist has, however, for the last few years quite consciously defined the sphere of her search. It could first be seen in the diploma cycle of paintings, the summary of her years of study. "The role of the painting defined then and the concious selection of formal sources became the starting point for further artistic exploration, which I have been following carefully ever since."
Details
Künstler

Herstellungsjahr
Material

Kunstbewegung & Stil
Zustand

Abmessungen

H 19.69 in. x W 39.38 in. x D 1.58 in.

H 50 cm x W 100 cm x D 4 cm
Galerie-Standort

Referenznummer
Unser Versprechen an Sie:
Falls Sie nicht glücklich sind, wie ein Artikel angekommen ist, arbeiten wir mit Ihnen und dem Verkäufer, um zu einer optimalen Lösung zu kommen.
Mehr erfahren
Versand, Retouren & Zahlung
Preise variieren je nach Ziel und Komplexität

Manche Artikel könnten einen besonderen Umgang oder Verpackung erfordern. Fordern Sie ein Versandangebot an um zu sehen, welche Optionen für Ihre Versandadresse verfügbar sind.

Der Artikel kann innerhalb von 14 Tagen ab Lieferung zurückgeschickt werden.

Detailansicht
1stdibs akzeptiert die folgenden Zahlungsarten
Verkäufer bei 1stdibs seit 2018
Vielleicht gefällt Ihnen auch
Warum bei 1stdibs einkaufen?
Nur geprüfte, professionelle Verkäufer
Voll versicherter weltweiter Versand