Spirit by Jazzu, Large Figurative Art Brut Mixed Media on Canvas Painting
Ähnliche Artikel anzeigen
Mehr anzeigen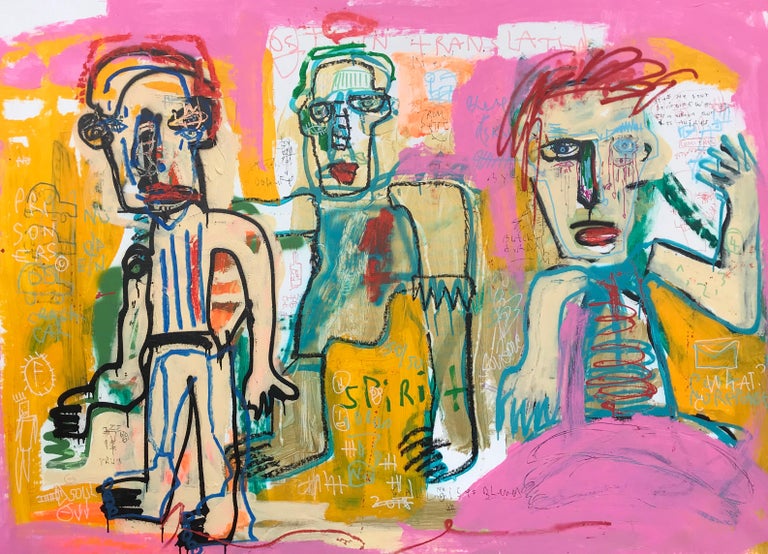 1 von 14 Bildern
Jazzu

Spirit by Jazzu, Large Figurative Art Brut Mixed Media on Canvas Painting

2018
Beschreibung
Diese Artikelbeschreibung wurde ursprünglich in englischer Sprache geschrieben.
'Spirit' is a large contemporary figurative Art Brut mixed media on canvas painting created by French artist Jazzu in 2018. Featuring a vibrant palette made of pink, yellow, blue, cream and red among other colors, the painting strikes with its undeniable presence. Three characters, naïvly portrayed, are looking at us directly, inviting us in. The pink background on which they are painted allows their childlike figures to stand out perfectly while the bold gestures and writings give an additional sense of energy to the ensemble. Unframed, this large horizontal Art Brut figurative painting will be a powerful decorative accent in any home. Jazzu is a self-taught French artist who was born in Toulouse in 1983. His work derives from his positive and negative experiences as a Social Worker in France, during which time he became sensitive to his inner feelings that generated both anger and affection to the world around him. Filled with energy, his art reflects his raw emotions and what has now been termed Art Brut. He fuels his canvases with writing, pasting and collage and uses his medium to express his feelings in any way he sees fit. Jazzu has a great following in Europe, as he is represented by galleries in Paris, Deauville, Barcelona and Toulouse. One of our favorite quotes about him is by a gallerist in Paris who wrote: 'Les toiles de Jazzu parlent comme la trompette de Miles Davis pouvait pleurer ou rire, parce qu'elles ont de l'enfant ce que Sartre appelait un monstre que les adultes fabriquent avec leurs regrets.' Roughly translated : Jazzu's work speaks in the same language that Miles Davis' music could make you laugh or cry, and what Sartre called the monster that adults create with their regrets or childhood.
Details
Künstler

Herstellungsjahr
Abmessungen

H 47 in. x W 64 in.

H 119.38 cm x W 162.56 cm

Galerie-Standort
Referenznummer

Verkäufer-Referenznummer
Unser Versprechen an Sie:
Falls Sie nicht glücklich sind, wie ein Artikel angekommen ist, arbeiten wir mit Ihnen und dem Verkäufer, um zu einer optimalen Lösung zu kommen.
Mehr erfahren
Versand, Retouren & Zahlung
Preise variieren je nach Ziel und Komplexität

Versandmethoden basieren auf der Artikelgröße, Typ, Zerbrechlichkeit und spezifischen Eigenschaften.

Versandkosten basieren auf den Lieferantenkosten, Lieferentfernung und Komplexität der Verpackung.

Der Artikel kann innerhalb von 3 Tagen ab Lieferung zurückgeschickt werden.

Detailansicht
1stdibs akzeptiert die folgenden Zahlungsarten
Verkäufer bei 1stdibs seit 2017
Warum bei 1stdibs einkaufen?
Nur geprüfte, professionelle Verkäufer
Voll versicherter weltweiter Versand