Ähnliche Artikel wie UPTOWN
Mehr anzeigen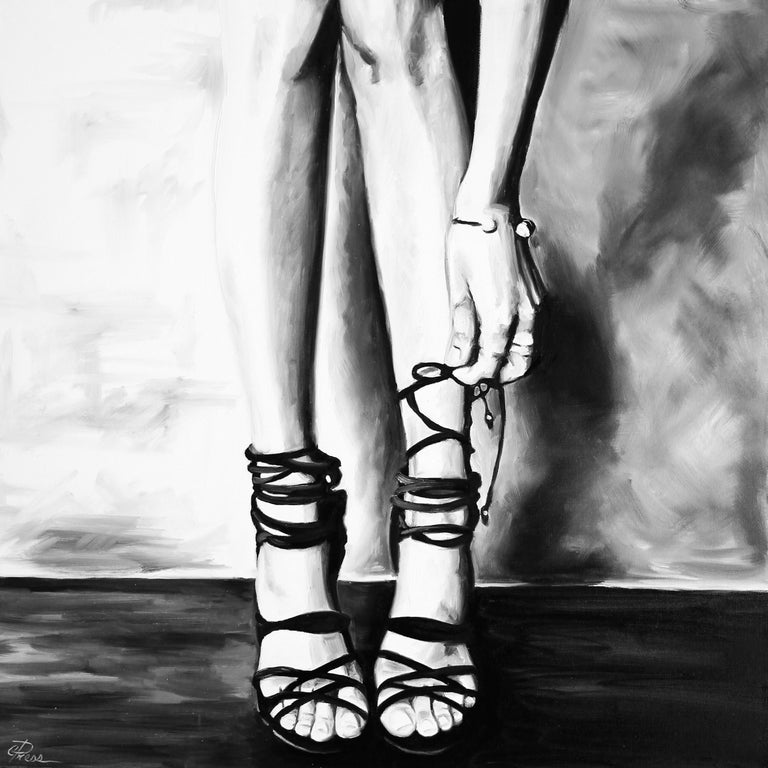 1 von 1 Bildern
Beschreibung
Diese Artikelbeschreibung wurde ursprünglich in englischer Sprache geschrieben.
photorealistic black and white oil painting of a woman bare legs and sexy sandals Very New Wave POP influenced. About the Artist: Cindy Press is a visual artist living and working in New York. She was born and raised in Philadelphia where she graduated with a BFA in Fashion Illustration from Moore College Of Art And Design. Cindy had a successful career as a fashion designer working with artists such as Peter Max, best known for his work in the 60's, she interpreted his paintings into wearable art. Cindy has recently returned to her art practice after taking time off to raise her two daughters. "My original goal was to create paintings that are simply striking and beautiful, getting back to my roots of fashion illustration. As I started my process of reinvention I found myself drawn to images of women that are edgy and sexy. Collecting clippings from magazines and editorials as inspiration, I work in a realistic manner depicting portraits and figures of females. When I begin to work I notice a peculiar shift in my thought process. I am no longer concerned about the beauty of the image but instead how it speaks to me, what does the expression or pose represent to me? My focus changes entirely as I consider a history of experiences while I paint. I think about my life, my family, and friends. The relationships, the love, the hurt, the anguish and my own personal conflicts come into play. There is so much more behind a person's appearance. Through the cult of beauty in contemporary mass media I am investigating the psychological complexity of women."
Details
Künstler

Herstellungsjahr
Material

Kunstbewegung & Stil
Zustand

Abmessungen

H 24 in. x W 24 in. x D 1.5 in.

H 60.96 cm x W 60.96 cm x D 3.81 cm
Galerie-Standort

Referenznummer
Unser Versprechen an Sie:
Falls Sie nicht glücklich sind, wie ein Artikel angekommen ist, arbeiten wir mit Ihnen und dem Verkäufer, um zu einer optimalen Lösung zu kommen.
Mehr erfahren
Versand, Retouren & Zahlung
Preise variieren je nach Ziel und Komplexität

Versandmethoden basieren auf der Artikelgröße, Typ, Zerbrechlichkeit und spezifischen Eigenschaften.

Versandkosten basieren auf den Lieferantenkosten, Lieferentfernung und Komplexität der Verpackung.

Der Artikel kann innerhalb von 3 Tagen ab Lieferung zurückgeschickt werden.

Detailansicht
1stdibs akzeptiert die folgenden Zahlungsarten
Verkäufer bei 1stdibs seit 2013
Standort: Easthampton, NY
Warum bei 1stdibs einkaufen?
Nur geprüfte, professionelle Verkäufer
Voll versicherter weltweiter Versand