Ähnliche Artikel wie NUDE Painting realism "Origin I"
Mehr anzeigen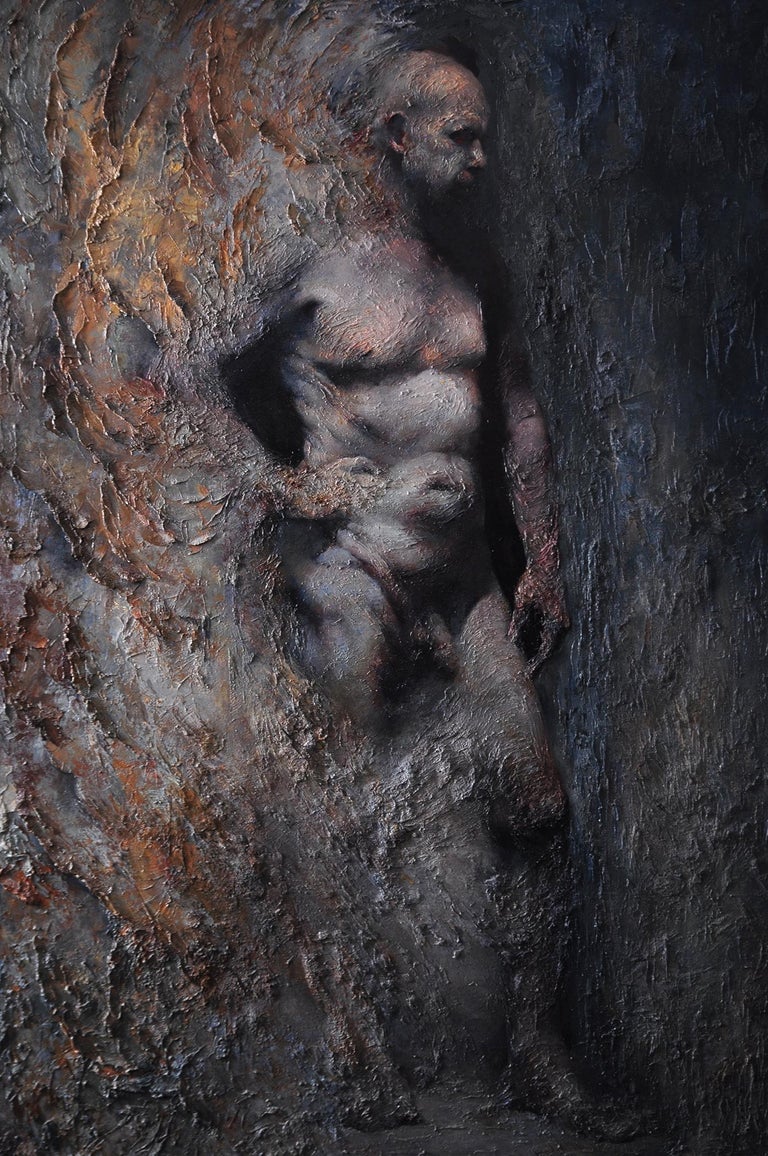 1 von 4 Bildern
Hakchul Kim

NUDE Painting realism "Origin I"

2018
Beschreibung
Dark colours, male nude, classic realism. Photos of installation are examples only of his work. The major talking point in Kim's artwork is "Humanity". The professional painting project "Story of Origin" is a long journey and epic for seeking the essence of mankind. The message that He wants to convey through his artworks, which depict human bodies, is the resistance against the loss of human nature. Moreover, His artworks engage with ways to preserve our human nature. He is trying to express the preciousness of human nature, which reveals itself through depicting human body parts without embellishment as part of nature. The human nature that he communicates with the optimism about Human potential and in accordance with that caution of itself. He is trying to dedicate about creative artwork with rooted agony for the completeness of artistic merit. He believes it can be full of vitality in the essence of Fine Art and painter. Especially, He has inspired by Michelangelo,Rembrandt, and Van Gogh. He is learning the human beauty by Michelangelo, learning the lights and shade of the color by Rembrandt, and learning about artist life by Van Gogh. He does not intend to be exactly them, He felts to their views of life, artistic presentation, and attitudes to art are matched his direction in his Fine Arts and life. He always remember to hard work with feelings and emotions in Fine Arts. It is austere purity or sublime for art and painter's conviction and struggle.
Details
Künstler

Herstellungsjahr

Material
Kunstbewegung & Stil

Zustand

Abmessungen

H 96 in. x W 67 in. x D 1 in.

H 243.84 cm x W 170.18 cm x D 2.54 cm
Galerie-Standort

Referenznummer

Verkäufer-Referenznummer
Unser Versprechen an Sie:
Falls Sie nicht glücklich sind, wie ein Artikel angekommen ist, arbeiten wir mit Ihnen und dem Verkäufer, um zu einer optimalen Lösung zu kommen.
Mehr erfahren
Versand, Retouren & Zahlung
Preise variieren je nach Ziel und Komplexität

Versandmethoden basieren auf der Artikelgröße, Typ, Zerbrechlichkeit und spezifischen Eigenschaften.

Versandkosten basieren auf den Lieferantenkosten, Lieferentfernung und Komplexität der Verpackung.

Der Artikel kann innerhalb von 3 Tagen ab Lieferung zurückgeschickt werden.

Detailansicht
1stdibs akzeptiert die folgenden Zahlungsarten
Über den Verkäufer
Neu bei 1stdibs
In den letzten sechs Monaten beigetreten.
Verkäufer bei 1stdibs seit 2018
Warum bei 1stdibs einkaufen?
Nur geprüfte, professionelle Verkäufer
Voll versicherter weltweiter Versand