The Medusa II - textured contemporary painting, colorful strokes, round format
Ähnliche Artikel anzeigen
Mehr anzeigen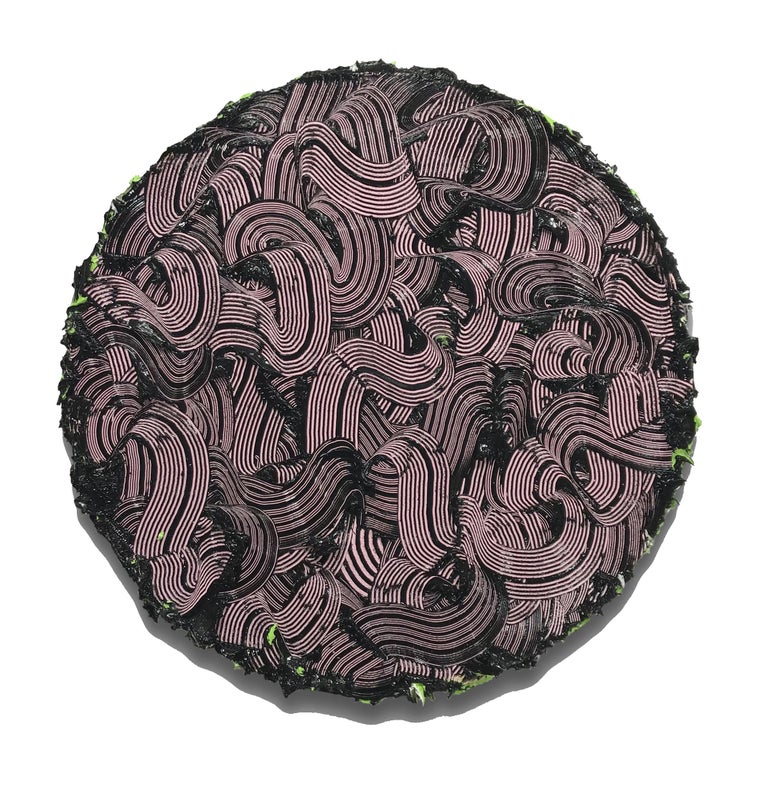 1 von 4 Bildern
Tim Nikiforuk

The Medusa II - textured contemporary painting, colorful strokes, round format

2019
Beschreibung
Diese Artikelbeschreibung wurde ursprünglich in englischer Sprache geschrieben.
This beautiful contemporary high textured abstract painting is great for a classic and contemporary setting. The variation of colors and rich texture would greatly bring a space to life. Tim Nikiforuk Born: 1975 Lives and works: San Diego, CA Tim Nikiforuk is a Canadian artist whose work seeks to inhabit, and work within, the space between painting and sculpture. Best known for his richly textured, vividly colored applications of gel or oils over substrates such as vinyl and panel, Nikiforuk infuses his paintings with a sense of immediacy, energy, and movement. In his latest Mythos series Nikiforuk imagines, and strives to make real, the drama, theatrics and energy of Greco-­‐Roman mythology. Works like The Rape of the Sabine Woman and The Birth of Gaea, exhibit a sense of spontaneous gesture and fluidity of brushwork. The influence of artists such as Robert Ryman and Jason Martin reflect his concern for a practice rooted in process-­‐based abstraction. "My strongest work is that which is anchored in composition," he reflected. "I have a deep concern for the fluidity and movement of the marks I make, each one must work in harmony with its neighbor." Nikiforuk received his BFA from the University of Calgary in 1999 and his MFA from the University of Connecticut in 2001. He currently lives and works in San Diego, CA.
Details
Künstler

Tim Nikiforuk (1975, Canadian)

Herstellungsjahr
Material

Kunstbewegung & Stil
Zustand

Abmessungen

H 36 in. x W 36 in. x D 1.5 in.

H 91.44 cm x W 91.44 cm x D 3.81 cm
Galerie-Standort

Referenznummer
Unser Versprechen an Sie:
Falls Sie nicht glücklich sind, wie ein Artikel angekommen ist, arbeiten wir mit Ihnen und dem Verkäufer, um zu einer optimalen Lösung zu kommen.
Mehr erfahren
Versand, Retouren & Zahlung
Preise variieren je nach Ziel und Komplexität

Versandmethoden basieren auf der Artikelgröße, Typ, Zerbrechlichkeit und spezifischen Eigenschaften.

Versandkosten basieren auf den Lieferantenkosten, Lieferentfernung und Komplexität der Verpackung.

Der Artikel kann innerhalb von 7 Tagen ab Lieferung zurückgeschickt werden.

Detailansicht
1stdibs akzeptiert die folgenden Zahlungsarten
Verkäufer bei 1stdibs seit 2017
Vielleicht gefällt Ihnen auch
Warum bei 1stdibs einkaufen?
Nur geprüfte, professionelle Verkäufer
Voll versicherter weltweiter Versand