Ähnliche Artikel wie sbc 169
Mehr anzeigen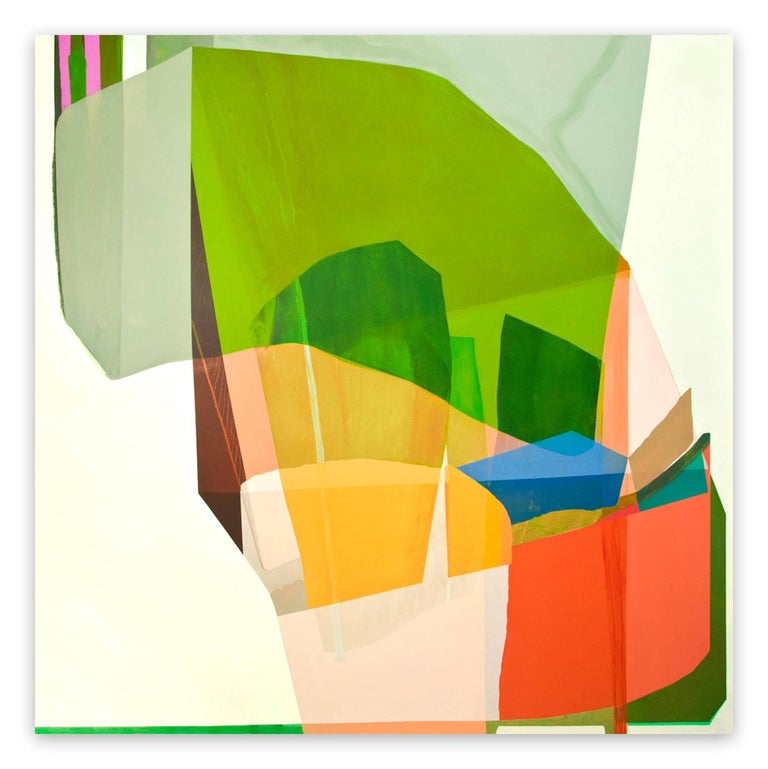 1 von 6 Bildern
Beschreibung
Acrylic on linen - Unframed Thus far, apart from two projects that produced paintings in series, the artist's paintings are not serial, functioning in relation to each other less like siblings and more like only children with lots of cousins. This acrylic painting on polyester exemplifies that only-child status, combining random source material from Cantrick's previous paintings. The extremely smooth surface of the polyester support permits particularly precise rendering and unique textural effects. Susan Cantrick is an American abstract painter whose primary interest is in painting as a structured visual response to sub-linguistic thinking. Her paintings are analogs of her pre-verbal perception that aim to be as articulate as possible, crystallizing the vitality and complexity of emergent cognition. She lives and works in Paris, France. Cantrick's essentially modernist painterly techniques, merging the gestural with the hard-edged, are mediated by post-modern digital interventions. Her hybrid practice favors a stylistic eclecticism that can belie its coherent underpinnings. The various processes she explores in her work combine elements of structure and freedom. For the last 10 years, she has been painting from digital studies that are generated from photo-fragments of her previous work. The results resemble what she characterizes as "a gamut of genealogies," paintings that share a common visual ancestry with their predecessors. She recently embarked on the challenge of returning to previously unfinished works, proceeding with new compositions imposed on the already inhabited space. Her various approaches investigate painting as state of mind, process, and object, revealing a connection to ideas about context and the renewal of identity. Alongside her painting practice, Cantrick creates small-format collages mounted on paper and panel that are often composed of alternate applications of paint and ink-jet printed imagery. Beyond a love of color and the sensuality of paint, Cantrick's process is driven and defined by her convictions about painting as a form of visual thinking rather than narration, illustration, or critique. As a painter, she thinks in terms of materializing the moment of her perceptual experience when thoughts begin to cohere but before they formulate themselves into language. Though she has occasionally used literature or photos from her environment as points of departure, specific external stimuli are rarely referenced. At the same time, she is aware of how the body and landscape have influenced her preoccupation with how to manipulate flat pictorial space -- how best to show its ambiguities and exploit its complexities.
Details
Künstler

Herstellungsjahr

Material
Kunstbewegung & Stil

Zustand

Details zum Zustand

Erste Hand, direkt aus dem Atelier des Künstlers geliefert
Abmessungen

H 39.38 in. x W 39.38 in.

H 100 cm x W 100 cm

Galerie-Standort

Referenznummer
Unser Versprechen an Sie:
Falls Sie nicht glücklich sind, wie ein Artikel angekommen ist, arbeiten wir mit Ihnen und dem Verkäufer, um zu einer optimalen Lösung zu kommen.
Mehr erfahren
Versand, Retouren & Zahlung
Preise variieren je nach Ziel und Komplexität

Versandmethoden basieren auf der Artikelgröße, Typ, Zerbrechlichkeit und spezifischen Eigenschaften.

Versandkosten basieren auf den Lieferantenkosten, Lieferentfernung und Komplexität der Verpackung.

Der Artikel kann innerhalb von 7 Tagen ab Lieferung zurückgeschickt werden.

Detailansicht
1stdibs akzeptiert die folgenden Zahlungsarten
Verkäufer bei 1stdibs seit 2017
Warum bei 1stdibs einkaufen?
Nur geprüfte, professionelle Verkäufer
Voll versicherter weltweiter Versand