Ähnliche Artikel wie Abstract Composition (Brown and Black)
Mehr anzeigen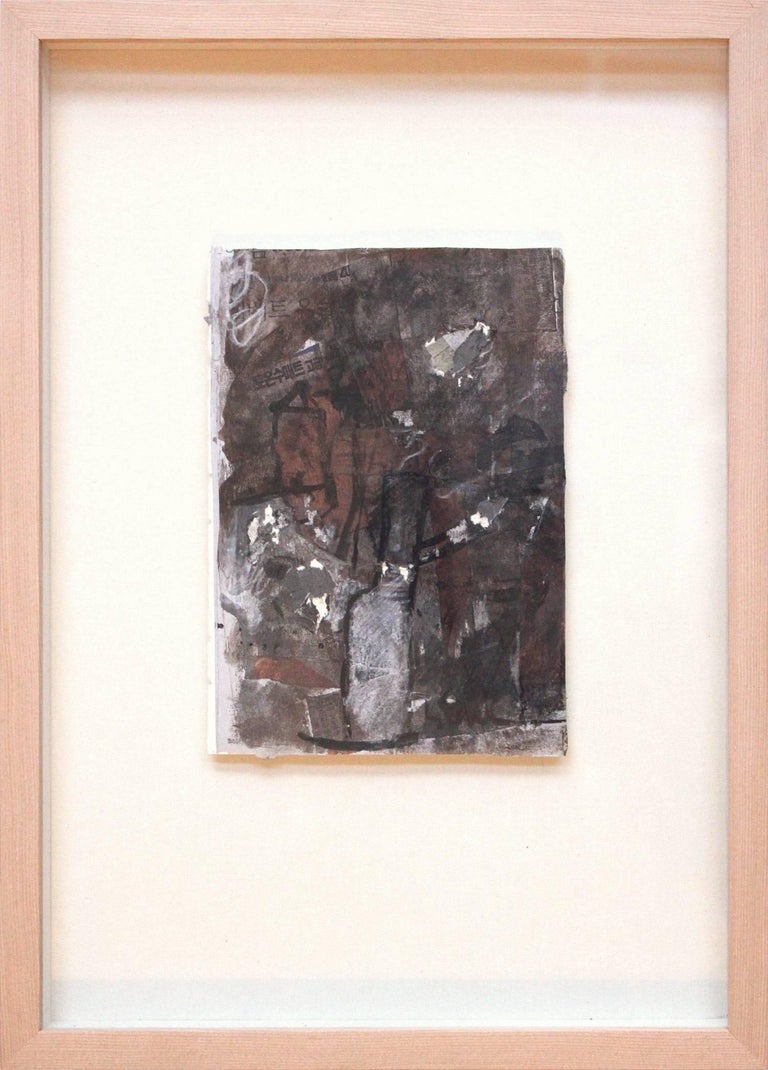 1 von 13
Suki Maguire

Abstract Composition (Brown and Black)

2014
Beschreibung
Diese Artikelbeschreibung wurde ursprünglich in englischer Sprache geschrieben.
This piece is an abstract composition done with mixed media, oil and acrylic paints on paper. The artist explores an incredible world filled with color and expressive brushstrokes. The lines and texture create a mature abstract composition as Suki Maguire has been painting in this field since the 1970's. Her joy is the expression and we can find these notes displayed vividly in this piece. This piece comes displayed in a modern light wood floating frame under glass and is signed lower right. The painting measures 8 x 6 in Framed measures 17 x 12.25 in Suki Maguire (Kim Jong Sook) was born in Seoul, Korea in 1949. She grew up in Seoul, and always displayed a propensity for the arts. As largely self-taught, her style reflects a strength and a passion that grew out of these struggles, as the Korean War broke out on 1950. However, after finishing school, the demands of work and family all precluded her from becoming seriously involved in her beloved art. Over a quarter of a century of teaching at the Seoul British School, has allowed her some outlet for her creative impulses through instructing the children or setting up seasonal displays at the school. Later, she felt it was time to get serious about doing her own work, and she enrolled at Hong-ik University's Adult Education Art Program. There she had the precious opportunity of studying under some of Korea's most illustrious artists. Suki has always retained her own unique personal approach to painting. An illustration of this was her methodology in painting nudes, her first major area of focus in her re-discovered art career. She would go into a Korean public bathhouse for women, without brush or camera, where she would employ her hands and arms to sketch invisibly, her chosen subject in her artistic minds eye. Later this creation of her very fecund imagination was to be rendered on canvas. Unorthodox; yet effective, Suki treats us to a series of works that tantalizes the imagination with bold strokes of dark and light, hinting at shapes both human and ethereal and pulling us through the two-dimensional surface of the canvas into the mysterious depths of a multidimensional world. Her works resonate with strong, masculine strokes, vibrant colors, and passionate themes. There is a great potential for discovery in Maguire's world of symbols, but a passing glance will not do, you have to allow your gaze to linger on this part and that of each painting so that your subconscious will have the opportunity to retrieve the elusive forms that seem to be hiding within the more obvious shapes. This holds true even in those works that incorporate letters of the Korean or Latin alphabet, which serve as glyphs bearing some symbolic meaning that goes beyond the mere representation of sound. She has exhibited internationally in Seoul, Nantucket, New York and Italy. Her styles and materials have ranged from realism to abstract, from water and oil colors to acrylics and coffee grounds. The common factor is that when looking at her pieces you can spend some time letting your mind play within each painting and you'll come away with a much richer understanding of what Suki Maguire's art has to show at a simple glance. Lilac Gallery Collection. This original artwork includes a Certificate of Authenticity issued by the Gallery. The piece will be stamped from Lilac Gallery on its verso.
Details
Künstler

Herstellungsjahr

Material
Kunstbewegung & Stil

Zustand

Zeitraum
Abmessungen

H 17 in. x W 12.25 in.

H 43.18 cm x W 31.12 cm

Galerie-Standort

Referenznummer
Verkäufer-Referenznummer
Unser Versprechen an Sie:
Falls Sie nicht glücklich sind, wie ein Artikel angekommen ist, arbeiten wir mit Ihnen und dem Verkäufer, um zu einer optimalen Lösung zu kommen.
Mehr erfahren
Versand, Retouren & Zahlung
Preise variieren je nach Ziel und Komplexität

Versandmethoden basieren auf der Artikelgröße, Typ, Zerbrechlichkeit und spezifischen Eigenschaften.

Versandkosten basieren auf den Lieferantenkosten, Lieferentfernung und Komplexität der Verpackung.

Der Artikel kann innerhalb von 7 Tagen ab Lieferung zurückgeschickt werden.

Detailansicht
1stdibs akzeptiert die folgenden Zahlungsarten
Verkäufer bei 1stdibs seit 2015
Vielleicht gefällt Ihnen auch
Warum bei 1stdibs einkaufen?
Nur geprüfte, professionelle Verkäufer
Voll versicherter weltweiter Versand