Ähnliche Artikel wie Untitled 067: 1970s Mid-Century Gestural Abstract Painting in Pastels & Red
Mehr anzeigen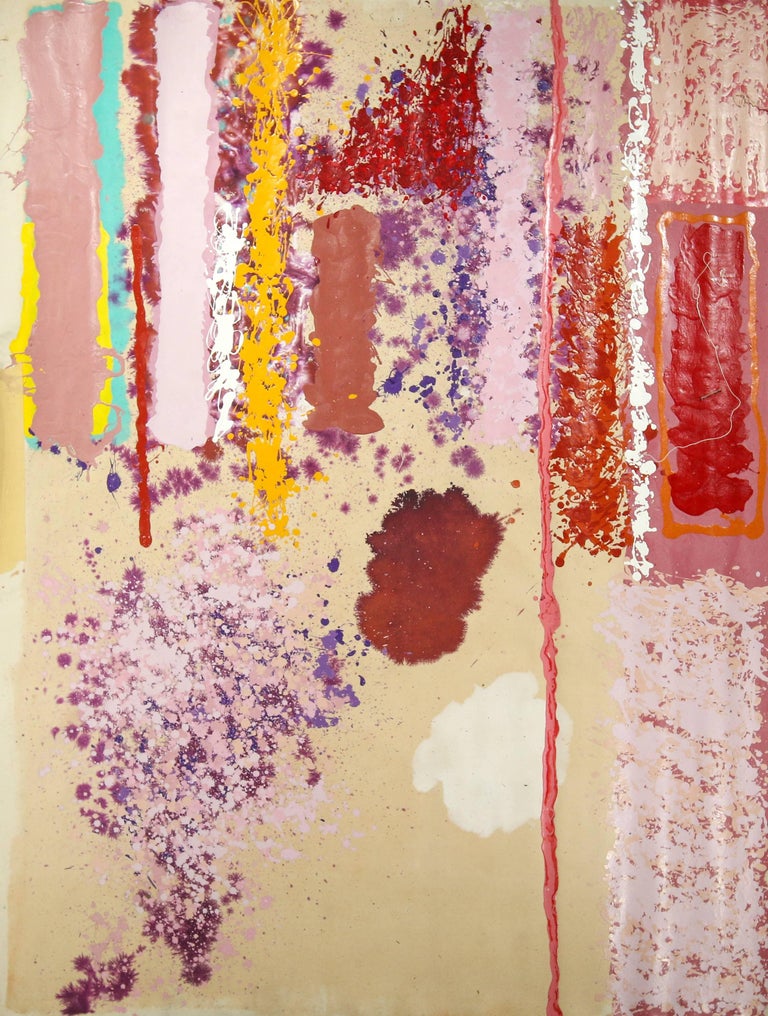 1 von 9 Bildern
Edward Avedisian

Untitled 067: 1970s Mid-Century Gestural Abstract Painting in Pastels & Red

c.1975
Beschreibung
Diese Artikelbeschreibung wurde ursprünglich in englischer Sprache geschrieben.
87 x 65 inches, acrylic on non-stretched canvas Genuine Abstract Expressionist painting c.1975 by Edward Avedisian. Mr. Avedisian was best known for his work in the 1960s: brilliantly colored, boldly composed canvases that combined Minimalism's rigor, Pop's exuberance and the saturated tones of Color Field painting. He was one of the most arresting and inventive color painters working in the 1960s and 1970s in New York City. In his later work, he demonstrates an increased confidence in the possibilities of pure color manipulation, enabling him to resolve a sense of conflict between figure and ground. A broad simplification of format, a breakdown of the clear figure-ground relationship, a looser more lyrical handling of the surface produce pictures free to operate with an enhanced optical and emotive vitality. The spatial complexity of the picture, with its illusive and evocative quality of atmospheric richness, results from this symphonic palette of subtle pinks; salmon, peach and blush pinks contrast harmoniously with deep reds and eggplant purple. A virtuoso handling of the paint as if it were watercolor incorporates both the ephemeral qualities and the luminosity which one associates with that medium into these large scale paintings. In this later work, Avedisian allows this extraordinary and romantic sense of color to create an optical space of fullness and sensuousness while no longer limiting the organization of the surface to the relationship of a given figure to field. This new freedom of structuring the canvas surface has produced paintings of impressive quality. About the Artist: In the 1960's, Edward Avedisian was one of the youngest of those luminaries producing a grand new abstract painting. Shown first at Ivan Karp and Dick Bellamy's Hansa Gallery and then at Robert Elkon in New York City, Avedisian's insouciant mix of pop playfulness, color field cool and high formalist style put his art in a unique, and at the time generously rewarded, position. Paintings made it onto the cover of Artforum in January 1969 and were purchased by all the major museums. His were among the few abstract works shown as representative of America's post-war achievement at Expo 67 in Montreal alongside Jasper Johns, Ellsworth Kelly, Roy Lichtenstein, Robert Motherwell, Kenneth Noland, and Frank Stella. This exhibit comprised a cornerstone in histories of the period written by Barbara Rose, among others. Edward Avedisian moved to Hudson, NY in the later part of his life and essentially exited the art world. Paintings of this period moved toward landscape and figuration. The artist passed away in 2007. Influences for the color-field work included artists such as Mark Rothko and Barnett Newman, while later paint splatter, lyrical abstract work of the 70s and 80s were influenced by fellow artist Jackson Pollock. Of his contemporaries in New York, the most prominent included Helen Frankenthaler and John Hoyland in London. Museum Collections: Albright-Knox Art Gallery, Buffalo, New York Brooklyn Museum, New York Chrysler Art Museum, Norfolk, Virginia Denver Art Museum, Colorado Flint Institute of Arts, Michigan Jack S. Blanton Museum of Art, Austin, Texas The Larry Aldrich Museum, Ridgefield, Connecticut Metropolitan Museum of Art, New York Minneapolis Institute of Arts Minneapolis Society of Fine Arts Neuberger Museum of Art, State University of New York, Purchase Los Angeles County Museum, California Neuberger Museum, SUNY, Purchase, New York Parrish Art Museum, Water Mill, New York *Above description supported by text from the January 1969 issue of Artforum. Photos included here are of the artist c. 1960s in his Manhattan studio; the cover of the Artforum Magazine from 1969; and pages from the catalog printed for American Painting Now Dec. 1967 - Jan 2968 sponsored by the Institute of Contemporary Art organized by Alan Solomon.
Details
Künstler

Herstellungsjahr

Material
Kunstbewegung & Stil

Zustand

Details zum Zustand

This painting is currently non-stretched and will ship rolled in a tube. Any wrinkles visible in these images will disappear once the canvas is pulled taught.
Zeitraum

Abmessungen

H 87 in. x W 65 in. x D 2 in.

H 220.98 cm x W 165.1 cm x D 5.08 cm

Galerie-Standort
Referenznummer
Unser Versprechen an Sie:
Falls Sie nicht glücklich sind, wie ein Artikel angekommen ist, arbeiten wir mit Ihnen und dem Verkäufer, um zu einer optimalen Lösung zu kommen.
Mehr erfahren
Versand, Retouren & Zahlung
Preise variieren je nach Ziel und Komplexität

Versandmethoden basieren auf der Artikelgröße, Typ, Zerbrechlichkeit und spezifischen Eigenschaften.

Versandkosten basieren auf den Lieferantenkosten, Lieferentfernung und Komplexität der Verpackung.

Der Artikel kann innerhalb von 3 Tagen ab Lieferung zurückgeschickt werden.

Detailansicht
1stdibs akzeptiert die folgenden Zahlungsarten
Verkäufer bei 1stdibs seit 2013
Vielleicht gefällt Ihnen auch
Warum bei 1stdibs einkaufen?
Nur geprüfte, professionelle Verkäufer
Voll versicherter weltweiter Versand