Ähnliche Artikel wie 'Cut Loose', Contemporary Geometric Abstract Oil & Gouache Mixed Media Painting
Mehr anzeigen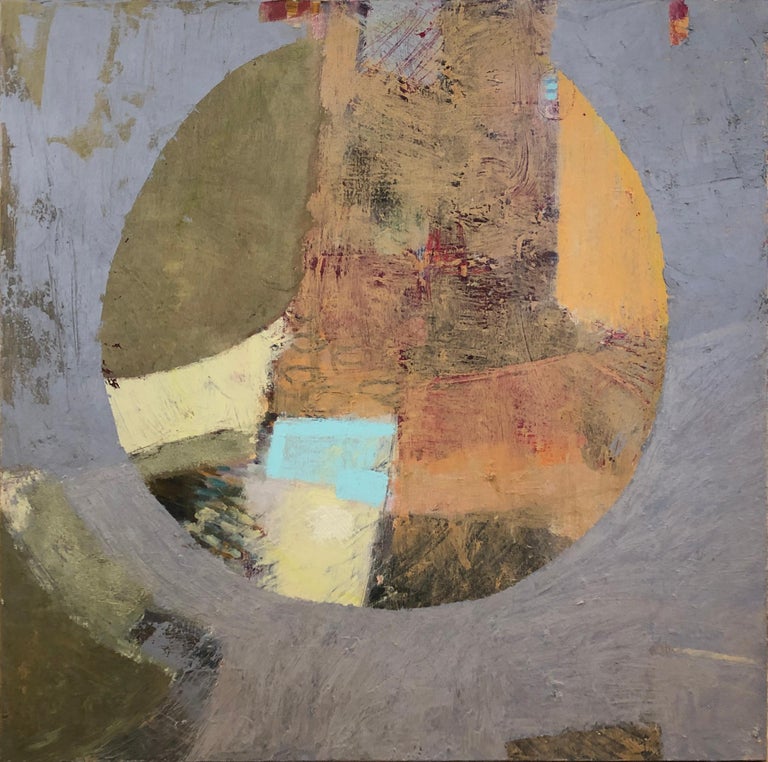 1 von 6 Bildern
Christine Averill-Green

'Cut Loose', Contemporary Geometric Abstract Oil & Gouache Mixed Media Painting

2018
Beschreibung
Diese Artikelbeschreibung wurde ursprünglich in englischer Sprache geschrieben.
Ready to hang with gallery-wrapped canvas sides painted silver. Metallics reflect and change colors within varying light. ARTIST BIO: Christine Averill-Green is a resident of the Capital District and has been exhibiting her artwork in galleries and museums in Upstate New York for over 40 years. Christine received her B.A. in Art with a double minor in Music/Theatre from Russell Sage College and then went on to receive her M.S. in Art Education from the College of Saint Rose. Artists such as Richard Diebenkorn, Euan Eglow, Antonio Lopez Garcia, and her teachers Catherine Kehoe and Stanley Bielen have influenced Christine's artwork. ARTIST STATEMENT: "My work ranges from the representational to the abstract, and often combines the two styles. I love to paint in a textured and layered manner; striving to make the images fanciful but bold. Some of my paintings take almost a year to complete, as I am constantly building thin layer upon thin layer of paint until I achieve the desired effect. This technique reflects my fascination with the textures and layers, colors and mysteries of our own lives. Most of my work is influenced by medieval frescoes (the gold and color combinations) and Asian art (the simplicity). Above all, in every single painting I do, I abide by the words of Claude Monet: "When you go out to paint, try to forget what objects you have before you....merely think here is a little square of blue, here an oblong of pink, here a streak of yellow and paint it just as it looks to you." - Christine Averill-Green Abstract, geometric, gold, metallic, platinum, lavender, moon, trees, night, twilight, blue, layers, modern, simple, minimal, neutral, nature, shape, branches, winter, subtle, silver, oil, gouache, red, blue, teal, floral, purple, lavender, cyan, aqua, circle, stripes, lines, shapes, tropical, flowers, influence: Richard Diebenkorn, green, contemporary, abstract art
Details
Künstler

Herstellungsjahr

Material
Kunstbewegung & Stil

Zustand

Abmessungen

H 36 in. x W 36 in. x D 1.5 in.

H 91.44 cm x W 91.44 cm x D 3.81 cm
Galerie-Standort

Referenznummer

Verkäufer-Referenznummer
Unser Versprechen an Sie:
Falls Sie nicht glücklich sind, wie ein Artikel angekommen ist, arbeiten wir mit Ihnen und dem Verkäufer, um zu einer optimalen Lösung zu kommen.
Mehr erfahren
Versand, Retouren & Zahlung
Preise variieren je nach Ziel und Komplexität

Versandmethoden basieren auf der Artikelgröße, Typ, Zerbrechlichkeit und spezifischen Eigenschaften.

Versandkosten basieren auf den Lieferantenkosten, Lieferentfernung und Komplexität der Verpackung.

Der Artikel kann innerhalb von 3 Tagen ab Lieferung zurückgeschickt werden.

Detailansicht
1stdibs akzeptiert die folgenden Zahlungsarten
Verkäufer bei 1stdibs seit 2014
Warum bei 1stdibs einkaufen?
Nur geprüfte, professionelle Verkäufer
Voll versicherter weltweiter Versand