Ähnliche Artikel wie Brimming Light By Brad Robertson, Large Vertical Field-Color Abstract Painting
Mehr anzeigen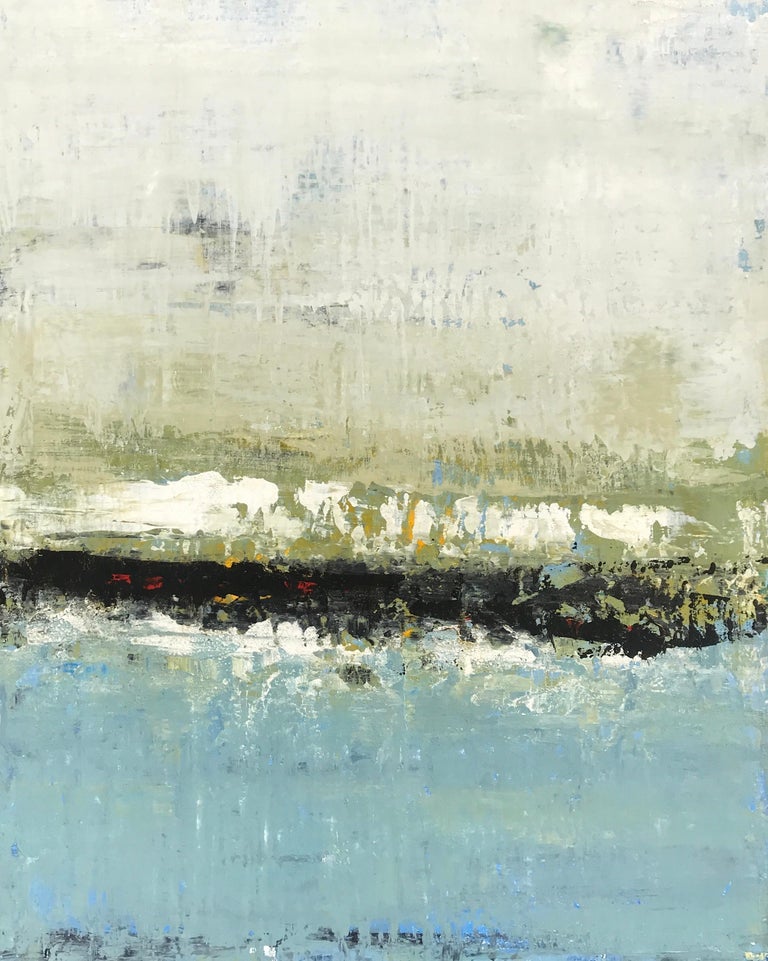 1 von 11 Bildern
Brad Robertson

Brimming Light By Brad Robertson, Large Vertical Field-Color Abstract Painting

2018
Beschreibung
Diese Artikelbeschreibung wurde ursprünglich in englischer Sprache geschrieben.
'Brimming Light' is a large abstract Color-Field mixed media on canvas painting of vertical format created by American artist Brad Robertson in 2018. Featuring a soft palette mostly made of blue, green and black tones accented with touches of red and yellow, this painting is made of several layers of various media, that give a great texture to the ensemble. Similar to Mark Rothko, Brad paints using the Color-Field technique characterized by the presence of large fields of solid color, that become the subject itself. The black layer symbolizes the horizon that separates the serene sky from the ground. Unframed, this vertical abstract mixed media on canvas painting is signed in the back. With its delicate palette and textured presence, this painting will be a great focal point in any home, perhaps placed above a sofa, a console table or an enfilade. Born and raised in the coastal Southeast, Brad Robertson paints with a distinctive style that invites the mind to wander across layers of color and texture as the eye might wander along the horizon, looking out across the water and into the depths of a Gulf Coast sunset. Robertson aims to evoke the eternal, looking for innovative ways to combine color and texture to create multi-layered shorelines, endless horizons and seeming portals of bold color. A direct expression of the landscape he calls home, he views every piece as a part of him. Brad says: "My work starts with unanswered questions. I want my paintings to give the impression of looking out into the distance but looking further than what's in front of you. I have spent more than a decade working to find innovative ways to combine color and texture to capture a sense of endlessness and the eternal. My aim is always to express a feeling more than a physical object. My art is the one thing that allows me to express myself. But there's still an element of mystery to it. It begins as an expression of my own life and my own experience but it's not until people look at my paintings and are able to define them in their own terms that I feel like my work has accomplished its purpose."
Details
Künstler

Brad Robertson (American)

Herstellungsjahr

Material
Kunstbewegung & Stil

Zustand

Abmessungen

H 60 in. x W 48 in.

H 152.4 cm x W 121.92 cm
Galerie-Standort

Referenznummer

Verkäufer-Referenznummer
Unser Versprechen an Sie:
Falls Sie nicht glücklich sind, wie ein Artikel angekommen ist, arbeiten wir mit Ihnen und dem Verkäufer, um zu einer optimalen Lösung zu kommen.
Mehr erfahren
Versand, Retouren & Zahlung
Preise variieren je nach Ziel und Komplexität

Versandmethoden basieren auf der Artikelgröße, Typ, Zerbrechlichkeit und spezifischen Eigenschaften.

Versandkosten basieren auf den Lieferantenkosten, Lieferentfernung und Komplexität der Verpackung.

Der Artikel kann innerhalb von 3 Tagen ab Lieferung zurückgeschickt werden.

Detailansicht
1stdibs akzeptiert die folgenden Zahlungsarten
Verkäufer bei 1stdibs seit 2017
Warum bei 1stdibs einkaufen?
Nur geprüfte, professionelle Verkäufer
Voll versicherter weltweiter Versand