Ähnliche Artikel wie Cucumbers & Kohlrabi (Color Still Life Photograph of Purple & Green Vegetables)
Mehr anzeigen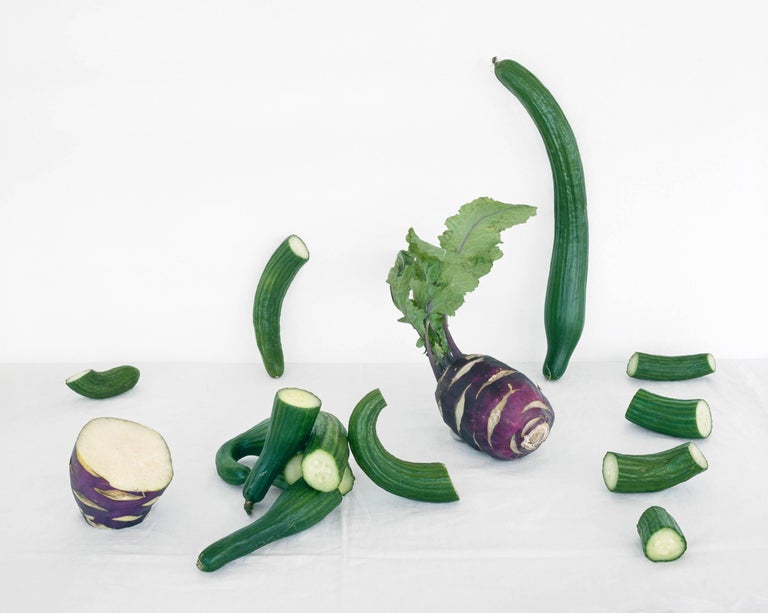 1 von 9 Bildern
David Halliday

Cucumbers & Kohlrabi (Color Still Life Photograph of Purple & Green Vegetables)

2013
Beschreibung
Diese Artikelbeschreibung wurde ursprünglich in englischer Sprache geschrieben.
Contemporary color still life print of purple and green vegetables archival pigment print in artist made white painted wood frame, 37 x 44 inches in framed This horizontal color still photograph of purple kohlrabi and green cucumbers on a white background was made by Hudson Valley based photographer David Halliday. The minimalist inspired, contemporary food still life features the vegetables on a crisp white background where color and shape are made the central focus. The vegetables stand upright while some lay on their side, creating an ethereal and minimalist view of the common still life photograph. This color photograph is complimented with a handmade white washed wood frame and has non-glare glass and a sturdy wire for instant hanging. About the work: David Halliday's photographs are about beauty, pure and simple. His primary subjects are carefully composed still lifes, portraits and landscapes which he shoots in black and white film with only natural light. He is a purist behind the lens, rarely manipulating his negatives in any way and a master in the darkroom. His work has an ethereal quality that's translated not only through the subject, but also by the warm sepia tones he uses in his printing. About the artist: David Halliday first gained renown for his sepia-toned silver prints of elegant, meticulously-composed still lifes. His more recent color work maintains the same intimate and simple beauty but also creates a visceral connection for the viewer. Like a painter, he emphasizes volumes, balances, texture and areas of subtle shading. Born in Glen Cove, New York in 1958, Halliday attended Syracuse University and pursued further studies under the tutelage of Arnold Newman. He has exhibited widely in solo and group exhibitions throughout the United States and Europe. In 2002, the Contemporary Arts Center in New Orleans exhibited a retrospective of his work and in 2012, he exhibited at the Ogden Museum of Southern Art, New Orleans. Halliday's work is included in numerous public and private collections including the New Orleans Museum of Art; the Museum of Fine Arts, Houston, and the New Britain Museum of Art.
Details
Künstler

Herstellungsjahr

Material
Kunstbewegung & Stil

Zustand

Zeitraum
Abmessungen

H 37 in. x W 44 in. x D 2 in.

H 93.98 cm x W 111.76 cm x D 5.08 cm

Galerie-Standort

Referenznummer
Unser Versprechen an Sie:
Falls Sie nicht glücklich sind, wie ein Artikel angekommen ist, arbeiten wir mit Ihnen und dem Verkäufer, um zu einer optimalen Lösung zu kommen.
Mehr erfahren
Versand, Retouren & Zahlung
Preise variieren je nach Ziel und Komplexität

Versandmethoden basieren auf der Artikelgröße, Typ, Zerbrechlichkeit und spezifischen Eigenschaften.

Versandkosten basieren auf den Lieferantenkosten, Lieferentfernung und Komplexität der Verpackung.

Der Artikel kann innerhalb von 3 Tagen ab Lieferung zurückgeschickt werden.

Detailansicht
1stdibs akzeptiert die folgenden Zahlungsarten
Verkäufer bei 1stdibs seit 2013
Vielleicht gefällt Ihnen auch
Warum bei 1stdibs einkaufen?
Nur geprüfte, professionelle Verkäufer
Voll versicherter weltweiter Versand