Ähnliche Artikel wie Coco Fronsac, Les presents apotropaïque, 2011
Mehr anzeigen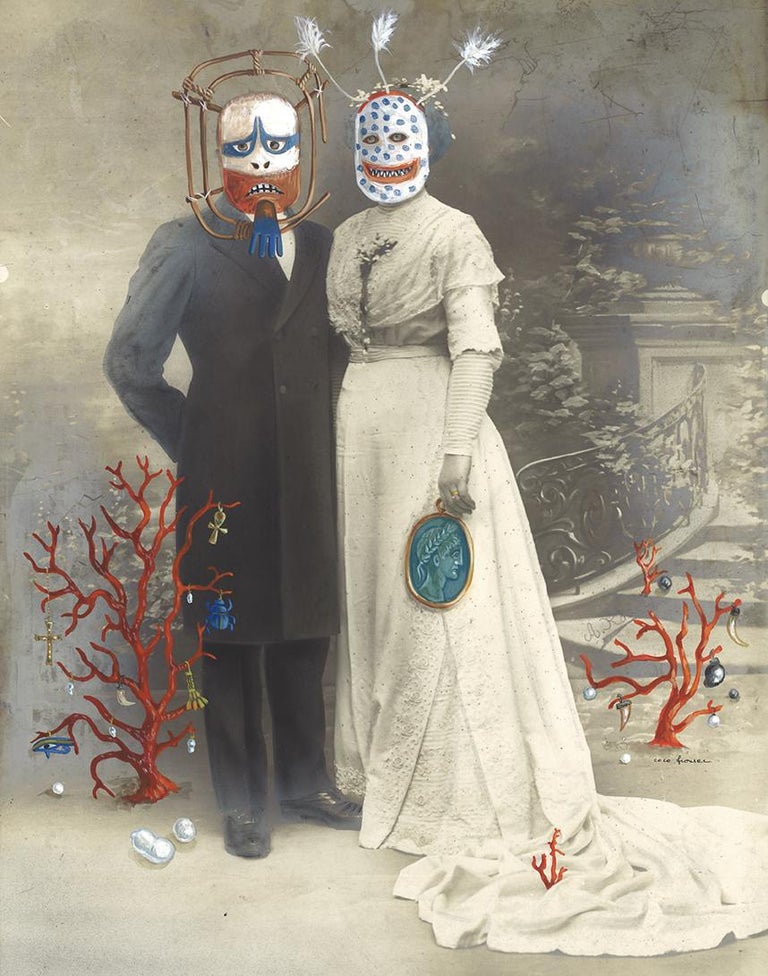 1 von 6 Bildern
Coco Fronsac

Coco Fronsac, Les presents apotropaïque, 2011

2011
Beschreibung
Diese Artikelbeschreibung wurde ursprünglich in englischer Sprache geschrieben.
Coco Fronsac. Les presents apotropaïque. 2011. Mixed media on original photograph. Signed on print recto. Stamped on print verso. Edition 1 of 1 (unique). Image Size: 12 x 10". Framed size: 27 x 23" with linen matte and museum glass. Coco Fronsac paints non-European occidental masks on Western vernacular photographs from the beginning of the last century. A dichotomy is developed between the early forms from the continents of Africa, Oceania, America, and Asia, and the standardized nature of photographic portraits as they occurred a century ago. Showing surreal scenes that plunge us into a dreamlike and comical world with the difference between ritual and tradition, juxtaposing and creating opposing characters along with flora and other embellishments. For the artist, the portraits represent the family relationship and the different stages of development of the individual Western person like herself (birth, communion, military service, marriage) in context with non-Western rituals she respects in order to bring a commonality to the human experience. Coco Fronsac plays with the viewers vision of time, to better project themselves into a new fluctuating, living, subjective reality. The vernacular photographs themselves go back in time, the paintings she mixes over the photographs typically go back to indigenous cultures she admires with quite accuracy, and she imbues a contemporary approach to both subjects bringing a new meaning and dichotomy of where humanity finds itself in the present. Coco Fronsac is collected and shown in major museums in Europe, most recently in 2018 where she exhibited in Powermask at the Wereldmuseum in Rotterdam curated by Walter van Beirendonck, with contributions by art historian Alexandra van Dongen and anthropologist Sonja Wijs. The exhibition devoted much attention to the ways in which, both in the past and present, the mask has been and still is a source of inspiration for international visual artists, photographers and fashion designers, such as Pablo Picasso, Louise Bourgeois, James Ensor, Keith Haring, Jean Paul Gaultier, Viktor & Rolf Coco Fronsac, Charles Fréger, and Phyllis Galemb. The exhibition culminated into a hardcover book by the same name.
Details
Künstler

Herstellungsjahr

Material
Kunstbewegung & Stil

Zustand

Abmessungen

H 27 in. x W 23 in. x D 1 in.

H 68.58 cm x W 58.42 cm x D 2.54 cm
Galerie-Standort

Referenznummer

Verkäufer-Referenznummer
Unser Versprechen an Sie:
Falls Sie nicht glücklich sind, wie ein Artikel angekommen ist, arbeiten wir mit Ihnen und dem Verkäufer, um zu einer optimalen Lösung zu kommen.
Mehr erfahren
Versand, Retouren & Zahlung
Preise variieren je nach Ziel und Komplexität

Versandmethoden basieren auf der Artikelgröße, Typ, Zerbrechlichkeit und spezifischen Eigenschaften.

Versandkosten basieren auf den Lieferantenkosten, Lieferentfernung und Komplexität der Verpackung.

Der Artikel kann innerhalb von 2 Tagen ab Lieferung zurückgeschickt werden.

Detailansicht
1stdibs akzeptiert die folgenden Zahlungsarten
Verkäufer bei 1stdibs seit 2018
Verbände:
Association of International Photography Art Dealers
Vielleicht gefällt Ihnen auch
Warum bei 1stdibs einkaufen?
Nur geprüfte, professionelle Verkäufer
Voll versicherter weltweiter Versand