Ähnliche Artikel wie Nizza ( 44 x 69" / 112 x 175cm )
Mehr anzeigen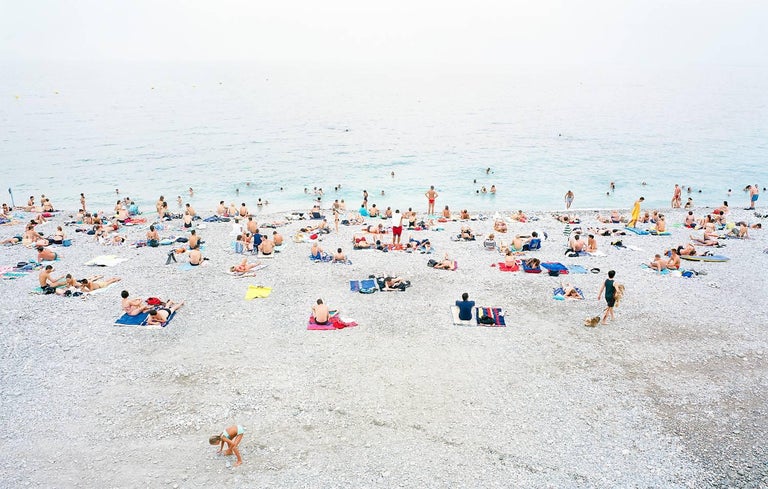 1 von 10 Bildern
Frank Schott

Nizza ( 44 x 69" / 112 x 175cm )

2006
Beschreibung
Diese Artikelbeschreibung wurde ursprünglich in englischer Sprache geschrieben.
Nizza by Frank Schott 44 x 69 inches (112 x 175cm) edition of 10 signed 48 x 75.5 inches (122 x 192cm) edition of 7 signed 25.5 x 40 inches (65 x 102cm) edition of 25 signed archival fine art pigment print signed & numbered by artist on certificate label _____________________________________ Frank Schott has been taking photographs since the age of 15, capturing the iconic punk bands and influential musicians of the 80s. Schott attended the prestigious Academy of Arts in Cologne, studying under Professor Arno Jansen, who was an early influence. Moving to California in 1998, Schott's work has evolved to include the epic landscapes of the American West as well as architectural, conceptual and more formal environments from both home and his travels. Influenced by a number of photographic piers and precursors such as Candida Höfer, Andreas Gursky. Jeff Wall, Gregory Crewdson, Hiroshi Sugimoto and Massimo Vitali, Schott's images successfully blend technical, conceptual and formal rigor with a decisive sense of composition and color. Schott's images have an iconic sensibility and give us a bird's eye view onto humanity and its constructs. The specific is edged towards the abstract, often revealing the compelling and disjunctive moment where nature meets man. Frank Schott was born in Cologne, Germany in 1962. He currently lives and works in San Francisco. _____________________________________ Edition EKTAlux offers an evolving curated selection of collectable large-scale photography in strictly limited editions, while working closely with each artist to guarantee state-of-the-art museum level print and framing quality. Custom / larger print sizes available on request. Images can be printed with white border [ 2" L prints & 4" XL prints ] and artist signed on front upon request. [ beach scene in Nice, France, on a hazy summer day ]
Details
Künstler

Herstellungsjahr

Material
Kunstbewegung & Stil

Zustand

Zeitraum
Abmessungen

H 44 in. x W 69 in. x D 0.03 in.

H 111.76 cm x W 175.26 cm x D 0.77 mm

Galerie-Standort

Referenznummer
Verkäufer-Referenznummer

Weitere Editionen & Größen

25.5 x 40 inches (65 x 102cm) edition of 25 signedPrice:

1.900 $

48 x 75.5 inches (122 x 192cm) edition of 7 signedPrice:

5.200 $
Unser Versprechen an Sie:
Falls Sie nicht glücklich sind, wie ein Artikel angekommen ist, arbeiten wir mit Ihnen und dem Verkäufer, um zu einer optimalen Lösung zu kommen.
Mehr erfahren
Versand, Retouren & Zahlung
Preise variieren je nach Ziel und Komplexität

Versandmethoden basieren auf der Artikelgröße, Typ, Zerbrechlichkeit und spezifischen Eigenschaften.

Versandkosten basieren auf den Lieferantenkosten, Lieferentfernung und Komplexität der Verpackung.

Der Artikel kann innerhalb von 7 Tagen ab Lieferung zurückgeschickt werden.

Detailansicht
1stdibs akzeptiert die folgenden Zahlungsarten
Verkäufer bei 1stdibs seit 2015
Standort: San Francisco, CA
Vielleicht gefällt Ihnen auch
Warum bei 1stdibs einkaufen?
Nur geprüfte, professionelle Verkäufer
Voll versicherter weltweiter Versand