Ähnliche Artikel wie Trulla caemetarii in manu Domini - Original Lithograph by Salvador Dalì - 1964
Mehr anzeigen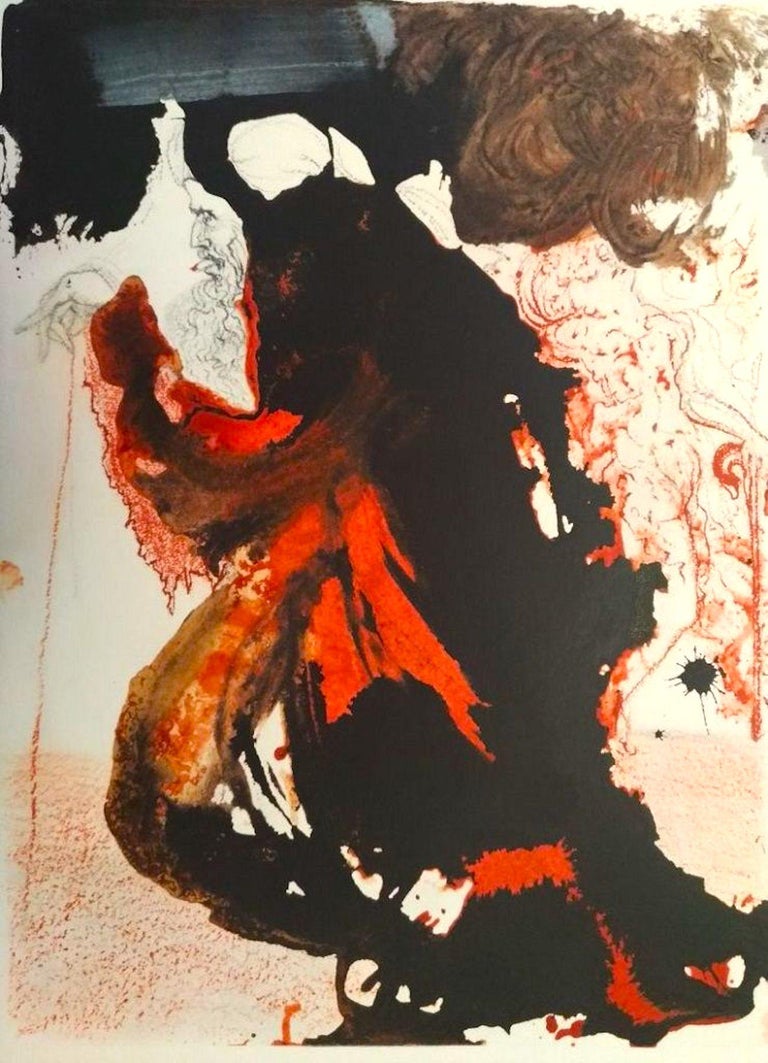 1 von 4 Bildern
Salvador Dalí

Trulla caemetarii in manu Domini - Original Lithograph by Salvador Dalì - 1964

1964
Beschreibung
Diese Artikelbeschreibung wurde ursprünglich in englischer Sprache geschrieben.
Trulla caemetarii in manu domini is an original artwork realized by Salvador Dalí in 1964. It is part of Biblia Sacra vulgatæ editionis published by Rizzoli-Mediolani between 1967 and 1969. Color lithograph on heavy rag paper. Perfect conditions. The artwork represents a standing figure in the center of the composition; the title refers to a verse of the Book of Amos: "I place a plunger in the middle of my People, Israel; I will not forgive him anymore". The figure represented in the artwork, in fact, has a vertical plunger in his hand. The plunger could be interpreted as a malediction to the People of Israel. The lithograph is part of the imponent work Biblia Sacra vulgatæ editionis published by Rizzoli-Mediolani between 1967 and 1969. It was illustrated by Salvador Dalí with a suite of 105 colored lithographs after water-color artworks. The paper sheets are signed and dated on plate, and each of them comes with a Japanese paper tissue with a printed biblical quotation. The works also demonstrate Dalí's artistic spontaneity in the use of the "bulletism" technique, a Dalinian invention where an arquebus (a type of ancient gun) is loaded with ink-filled capsules and then fired against blank sheets of paper. In 1963, Biblia Sacra was commissioned by Giuseppe Albaretto, a very pious man, who was one of Dalí's closest friends and patrons between the 1950s and the 1960s. Giuseppe Albaretto and his wife Mara commissioned several of Dalí's works, and became important publishers of his etchings and lithographs, including the Biblia Sacra. Through these commissions, Albaretto hoped that Dalí would reconcile with religion. The friendship between the Albarettos and Salvador Dalí provided the art world with some of the most spectacular Surrealist artworks. These works are a few of the most desirable graphic works ever created by the artist. In the preface of the work, the publisher asserts that the lithographs "configure, in both a universal and a personal way, the dynamic vision that characterizes the relationship between men and God". Salvador Dalí (Figueres, 1904 – Figueres, 1989) is considered one of the most versatile and prolific artists of the XX century and the founding father of Surrealism. In the course of his long career, he successfully experimented with sculpture, fashion, writing, and filmmaking. In his early use of organic morphology, his work bears the stamp of Pablo Picasso and Joan Miró. His work is also characterized by a fascination with classical art, manifested in the realistic style and religious symbolism of his latest works. Dalí was born near Barcelona to a middle class family. He soon demonstrated an interest in art, and, at the age of 18, he attended the Special Painting, Sculpture and Engraving School of San Fernando in Madrid. His eccentricity was notorious, and at first even more famous than his works. When he traveled to Paris, he met Pablo Picasso in his studio and took inspiration from Cubism. In 1928, he collaborated with Buñuel on Un Chien Andalou, which eventually became a manifest of Surrealism. Surrealists considered recruiting Dalí into their circle. In the next years, Dalí's paintings illustrated his theories about paranoia. He painted bodies, corps, objects that reflected sexuality, anxiety and fear. In the 1950s, Dalí's paintings focused on religious themes reflecting his interest in the supernatural. During that period, he stayed at the St. Regis hotel, where he met Andy Warhol, another eccentric personality that was considered a modern influence for the setting Dalí produced earlier. Dalí epitomizes the idea that life is the greatest form of art; André Breton said about him: "It is with Dalí that, for the very first time, the windows of the mind are wide open".
Details
Künstler

Herstellungsjahr

Material
Kunstbewegung & Stil

Zustand

Details zum Zustand

Insurance may be requested by customers as additional service, contact us for more information.
Zeitraum

Abmessungen

H 19.1 in. x W 13.78 in. x D 0.04 in.

H 48.5 cm x W 35 cm x D 1 mm

Galerie-Standort
Referenznummer

Verkäufer-Referenznummer
Unser Versprechen an Sie:
Falls Sie nicht glücklich sind, wie ein Artikel angekommen ist, arbeiten wir mit Ihnen und dem Verkäufer, um zu einer optimalen Lösung zu kommen.
Mehr erfahren
Versand, Retouren & Zahlung
Preise variieren je nach Ziel und Komplexität

Versandmethoden basieren auf der Artikelgröße, Typ, Zerbrechlichkeit und spezifischen Eigenschaften.

Versandkosten basieren auf den Lieferantenkosten, Lieferentfernung und Komplexität der Verpackung.

Der Artikel kann innerhalb von 14 Tagen ab Lieferung zurückgeschickt werden.

Detailansicht
1stdibs akzeptiert die folgenden Zahlungsarten
Verkäufer bei 1stdibs seit 2017
Vielleicht gefällt Ihnen auch
Warum bei 1stdibs einkaufen?
Nur geprüfte, professionelle Verkäufer
Voll versicherter weltweiter Versand