Ähnliche Artikel wie Cat and Canary by Will Barnet
Mehr anzeigen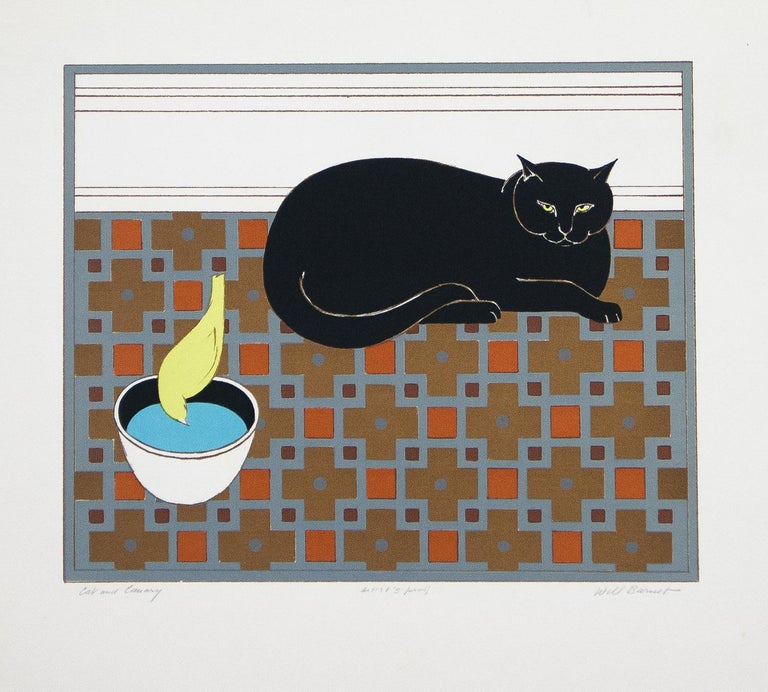 1 von 5 Bildern
Will Barnet

Cat and Canary by Will Barnet

c.1980
Beschreibung
Cat and Canary by Will Barnet shows a black cat with yellow eyes lounging next to a canary drinking out of a water bowl on a brown, orange and grey geometrical background done in simple clean lines that "makes us experience the interplay between the personal and the universal" a quote from the American historian and biographer James Thomas Flexner about Barnet's work. While remaining representational, the simple elegance of the figures and their flat surfaces reflect Barnet's exploration with abstraction. This original serigraph is an artist's proof ( A. P. ) signed and titled in pencil by the artist and in excellent condition. paper size 20.50 x 24.75 image 14.50 x 17.50 American artist Will Barnet (1911-2012 ) worked in many mediums including painting, water color, drawings and prints. During his life time he moved thru various movements from his early social realist work to his final signature style of clean lines and carefully placed volumes of solid color in a kind of minimalist representational approach. His work is in most public collections in the United Sates including the Metropolitan Museum of Art, the National Gallery of Art, the Whitney Museum of American Art, the Museum of Fine Arts, Boston, the Philadelphia Museum of Art, the Jewish Museum, and the San Francisco Museum of Modern Art. He has had over eighty solo exhibitions in museums all over America and has been the recipient of numerous awards including the first Artist's Lifetime Achievement Award Medal given on the occasion of the National Academy of Design's 175th anniversary among many others.
Details
Künstler

Herstellungsjahr
Abmessungen

H 20.50 in. x W 24.75 in.

H 52.07 cm x W 62.87 cm

Galerie-Standort
Referenznummer
Unser Versprechen an Sie:
Falls Sie nicht glücklich sind, wie ein Artikel angekommen ist, arbeiten wir mit Ihnen und dem Verkäufer, um zu einer optimalen Lösung zu kommen.
Mehr erfahren
Versand, Retouren & Zahlung
Preise variieren je nach Ziel und Komplexität

Versandmethoden basieren auf der Artikelgröße, Typ, Zerbrechlichkeit und spezifischen Eigenschaften.

Versandkosten basieren auf den Lieferantenkosten, Lieferentfernung und Komplexität der Verpackung.

Der Artikel kann innerhalb von 7 Tagen ab Lieferung zurückgeschickt werden.

Detailansicht
1stdibs akzeptiert die folgenden Zahlungsarten
Verkäufer bei 1stdibs seit 2017
Warum bei 1stdibs einkaufen?
Nur geprüfte, professionelle Verkäufer
Voll versicherter weltweiter Versand