Ähnliche Artikel wie "Marilyn Donuts" One-of-a-kind photographic arrangement of Donuts on Rag paper
Mehr anzeigen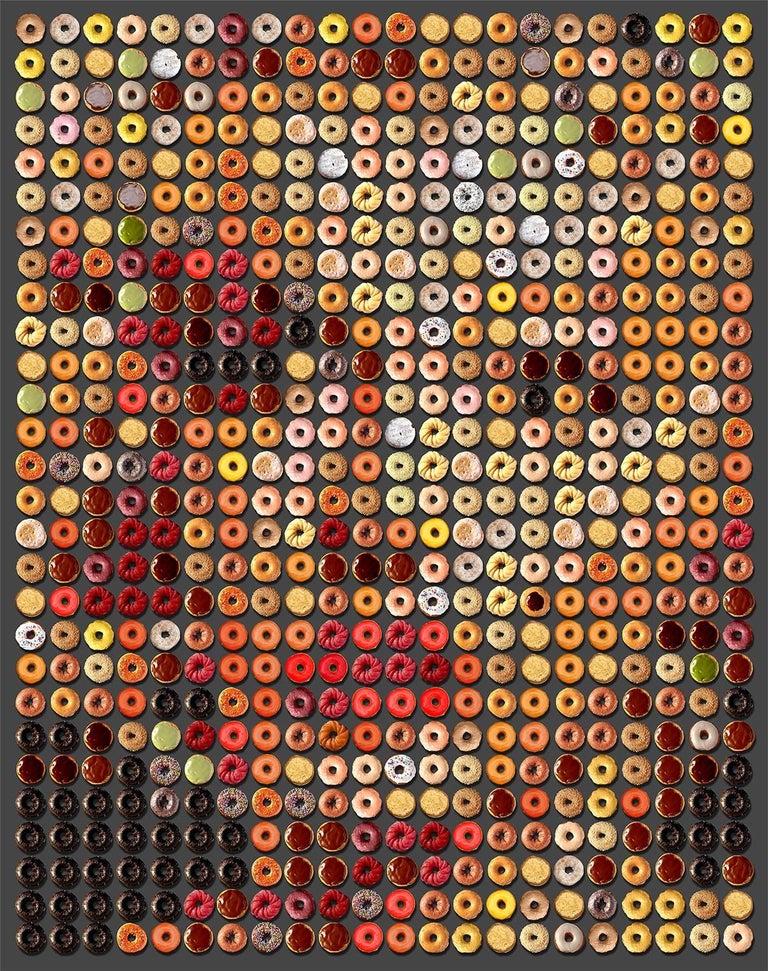 1 von 7 Bildern
Candice CMC

"Marilyn Donuts" One-of-a-kind photographic arrangement of Donuts on Rag paper

2018
Beschreibung
Diese Artikelbeschreibung wurde ursprünglich in englischer Sprache geschrieben.
You have read about the extraordinary donut portraits by Candice CMC on social media world-wide and we are excited and proud to represent her work. This one of a kind photo arrangement titled "Marilyn Donuts" is printed on 100% rag paper by Candice CMC paper size measures 43x35". Framed size is 46x38". The Photographic arrangements of Candice CMC receive an immediate response on the part of the viewer. The work consists of 616 sharp-focus photographic images of donuts. Candice CMC uses the the donuts as her palette, as if she were creating the portrait with oil paints. Candice first photographs the donuts and then studies the characteristics of each so that she can arrange them according to their tones, colors, values and intensity to create the iconic portrait. She chooses the correct placement of just the right donut for each area of the artwork. The art was created to appear as a pop art image of hundreds of random donuts. The WOW factor comes when you go to look at the artwork through a camera and see the donuts small and the portrait appears. Collectors are amazed by this and can't understand how it's done. All they know is that they want one for their home or office. At the gallery, collectors come in and see Candice CMC's donuts and say, we love donuts and then we tell them to take a picture of it with their phone, they hold up their phone and we immediately hear Oh Wow! Born and raised in New York and residing in Southampton, Candice has earned degrees in graphic design, advertising art, and photography. Always interested in fine art, Candice decided to turn her graphic design expertise into a new form of fine art photography. By photographing hundreds of enticing donuts in varying flavors and colors and using them as her palette, she has created iconic portraits of Marilyn Monroe, Einstein, Alfred E. Neuman, Van Gogh, and Dorothy from The Wizard of Oz, among others. By composing these portraits, Candice is forging a unique style of photography and creating unique, one of a kind, works of art. Candice CMC's work has been featured in prestigious Art Fairs in Miami and New York, as well as several distinguished galleries. Her unique art hangs in many corporate and private collections.
Details
Künstler

Herstellungsjahr
Material

Kunstbewegung & Stil
Zustand

Abmessungen

H 46 in. x W 38 in. x D 2 in.

H 116.84 cm x W 96.52 cm x D 5.08 cm
Galerie-Standort

Referenznummer
Unser Versprechen an Sie:
Falls Sie nicht glücklich sind, wie ein Artikel angekommen ist, arbeiten wir mit Ihnen und dem Verkäufer, um zu einer optimalen Lösung zu kommen.
Mehr erfahren
Versand, Retouren & Zahlung
Preise variieren je nach Ziel und Komplexität

Versandmethoden basieren auf der Artikelgröße, Typ, Zerbrechlichkeit und spezifischen Eigenschaften.

Versandkosten basieren auf den Lieferantenkosten, Lieferentfernung und Komplexität der Verpackung.
1stdibs akzeptiert die folgenden Zahlungsarten
Verkäufer bei 1stdibs seit 2015
Standort: Southampton, NY
Vielleicht gefällt Ihnen auch
Warum bei 1stdibs einkaufen?
Nur geprüfte, professionelle Verkäufer
Voll versicherter weltweiter Versand