Ähnliche Artikel wie MARTIN WHATSON: Framed - Hand painted screen print on paper Street art, Graffiti
Mehr anzeigen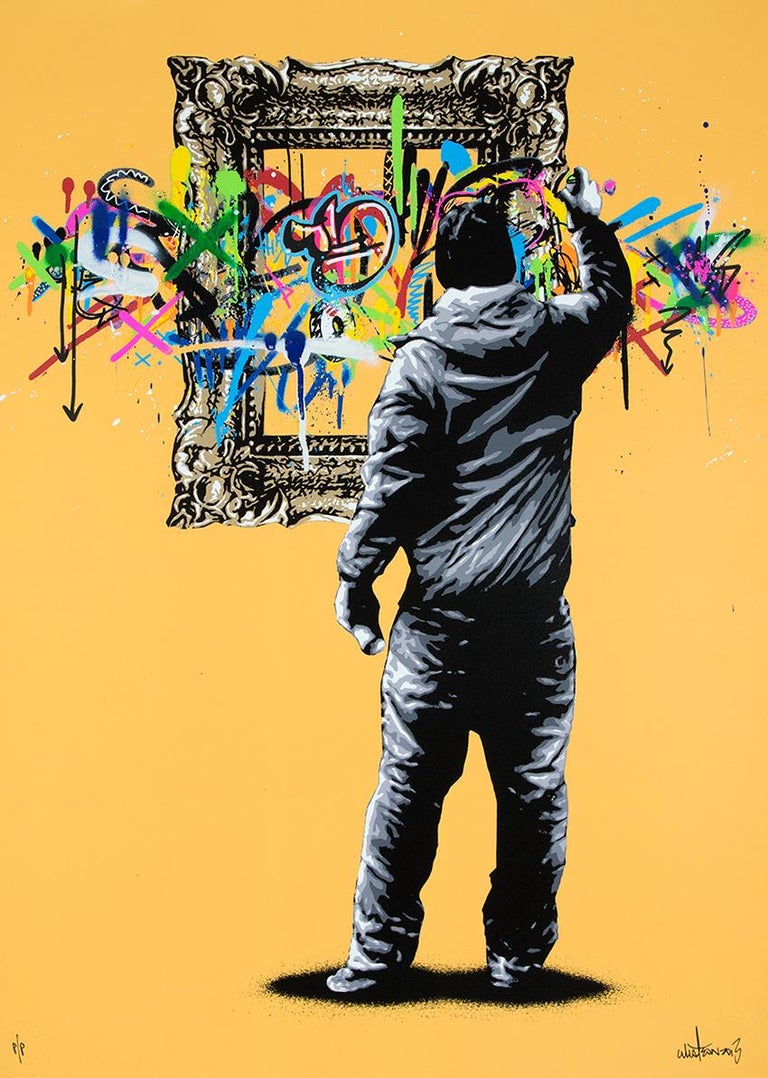 1 von 9 Bildern
Martin Whatson

MARTIN WHATSON: Framed - Hand painted screen print on paper Street art, Graffiti

2013
Beschreibung
Diese Artikelbeschreibung wurde ursprünglich in englischer Sprache geschrieben.
Framed (Hand finished) Date of creation: 2013 Medium: Screen print, inks & spray paint Media: Somerset paper Edition: 10 + P/P Size: 70 x 50 cm Observations: 14 colour screen print on 300 gsm Somerset paper. This work is a printer's proof hand finished with inks and spray paint and created aside of the main edition, limited to only 10 copies. It comes signed, stamped and numbered P/P by the artist. Martin Whatson created this work in 2013 and got to paint a mural with this image in Blackpool, United Kingdom, for the Sand, Sea and Spray festival. "Framed" has become one of the flagship works of this Norwegian artist today, being this particular print an exclusive hand finished printers proof, created on a yellow background and hand finished by the artist.
Details
Künstler

Martin Whatson (1984, Norwegian)

Herstellungsjahr
Material

Kunstbewegung & Stil
Zustand

Abmessungen

H 27.56 in. x W 19.69 in. x D 0.08 in.

H 70 cm x W 50 cm x D 2 mm
Galerie-Standort

Referenznummer
Unser Versprechen an Sie:
Falls Sie nicht glücklich sind, wie ein Artikel angekommen ist, arbeiten wir mit Ihnen und dem Verkäufer, um zu einer optimalen Lösung zu kommen.
Mehr erfahren
Versand, Retouren & Zahlung
Preise variieren je nach Ziel und Komplexität

Versandmethoden basieren auf der Artikelgröße, Typ, Zerbrechlichkeit und spezifischen Eigenschaften.

Versandkosten basieren auf den Lieferantenkosten, Lieferentfernung und Komplexität der Verpackung.

Der Artikel kann innerhalb von 14 Tagen ab Lieferung zurückgeschickt werden.

Detailansicht
1stdibs akzeptiert die folgenden Zahlungsarten
Verkäufer bei 1stdibs seit 2018
Vielleicht gefällt Ihnen auch
Warum bei 1stdibs einkaufen?
Nur geprüfte, professionelle Verkäufer
Voll versicherter weltweiter Versand