Ähnliche Artikel wie Trojan Horse - The horses of Dali - Lithograph - Surrealist - 1983
Mehr anzeigen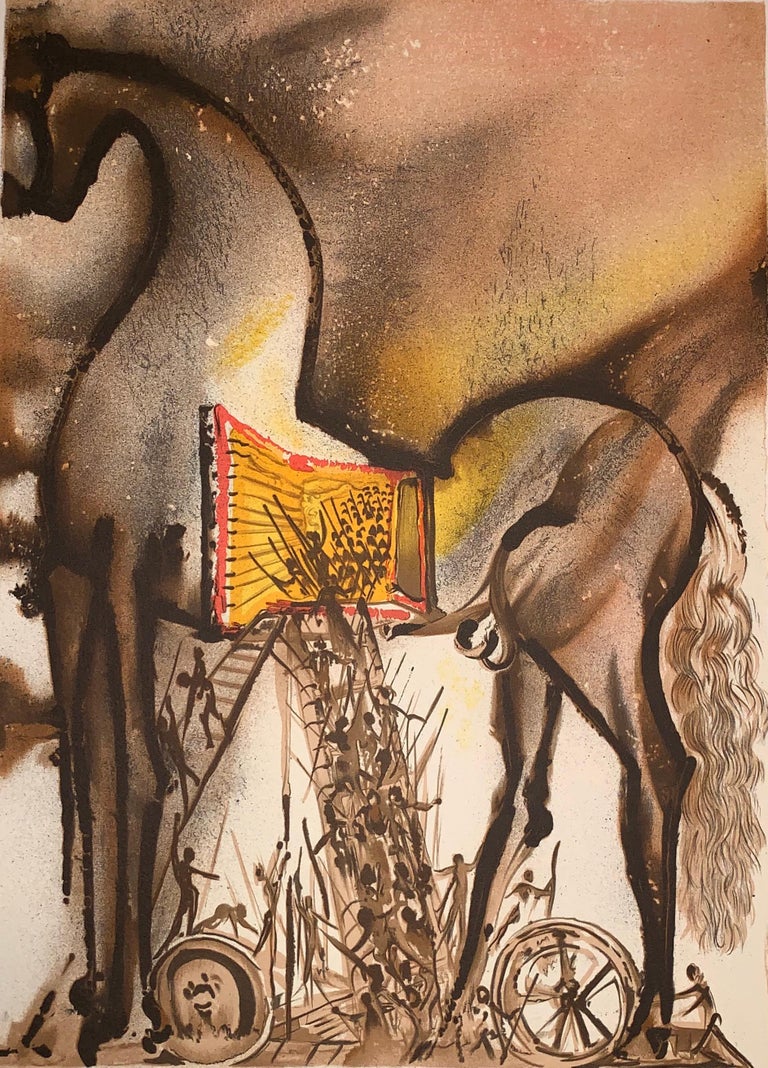 1 von 8 Bildern
(after) Salvador Dali

Trojan Horse - The horses of Dali - Lithograph - Surrealist - 1983

1983
Beschreibung
Diese Artikelbeschreibung wurde ursprünglich in englischer Sprache geschrieben.
Color lithograph plate-signed by Salvador Dali from the edition of 4 980 published by Armand & Georges Israel in 1983. This edition was printed during the lifetime of Salvador Dali and with his consent. Each lithograph was authorized, supervised and validated by Salvador Dali and by the SPADEM, the copyright protection and collection society formed by visual artists and their heirs in France. Artwork entirely made in France: from the production of the Vélin d'Arches paper in Arches in the Vosges department, to the traditional lithographic printing process, one drawing for each different color, one color per press run. Each lithograph was printed at Claude Jobin's workshop in Paris, dimensions 56,5 cm x 36,5 cm, and features the copyright of the SPADEM and the dry stamp of the publishers Armand & Georges Israel. The 18 lithographs composing « Les Chevaux de Dali » (The Horse of Salvador Dali) portfolio were created after 25 gouaches paintings that Salvador Dali painted during 1971. The horse theme was frequently used by Dali throughout his career. The horse is seen as a symbol of beauty and elegance as well as a symbol for strength and rawness. This portfolio is an homage to the animal itself and all the symbols it represents in modern culture, mythology and history of humanity and art.
Details
Künstler

Herstellungsjahr

Material
Kunstbewegung & Stil

Zustand

Zeitraum
Abmessungen

H 14.57 in. x W 22.45 in.

H 37 cm x W 57 cm

Galerie-Standort

Referenznummer
Unser Versprechen an Sie:
Falls Sie nicht glücklich sind, wie ein Artikel angekommen ist, arbeiten wir mit Ihnen und dem Verkäufer, um zu einer optimalen Lösung zu kommen.
Mehr erfahren
Versand, Retouren & Zahlung
Preise variieren je nach Ziel und Komplexität

Versandmethoden basieren auf der Artikelgröße, Typ, Zerbrechlichkeit und spezifischen Eigenschaften.

Versandkosten basieren auf den Lieferantenkosten, Lieferentfernung und Komplexität der Verpackung.

Der Artikel kann innerhalb von 14 Tagen ab Lieferung zurückgeschickt werden.

Detailansicht
1stdibs akzeptiert die folgenden Zahlungsarten
Über den Verkäufer
Neu bei 1stdibs
In den letzten sechs Monaten beigetreten.
Verkäufer bei 1stdibs seit 2019
Vielleicht gefällt Ihnen auch
Warum bei 1stdibs einkaufen?
Nur geprüfte, professionelle Verkäufer
Voll versicherter weltweiter Versand