Le Viol d'Europe (The Rape of Europa)
Ähnliche Artikel anzeigen
Mehr anzeigen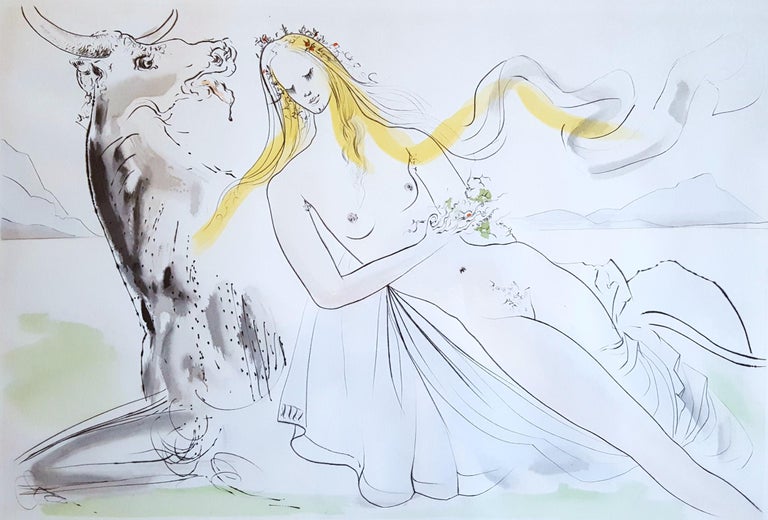 1 von 16 Bildern
Salvador Dalí

Le Viol d'Europe (The Rape of Europa)

1971
Beschreibung
Diese Artikelbeschreibung wurde ursprünglich in englischer Sprache geschrieben.
An original signed drypoint etching with hand-coloring on Rives wove paper by Spanish artist Salvador Dali (1904-1989) titled "Le Viol d'Europe (The Rape of Europa)", 1971. Hand pencil signed by Dali lower right, and numbered lower left. Limited edition: 36/150. Portfolio: Hommage a Albrecht Durer (Suite mythologique nouvelle). Printed at the studio of J.Rigal and published by Vision Nouvelle, Paris, France, 1971. Reference: catalogue raisonne: 'The Official Catalog of the Graphic Works of Salvador Dali': A.F.66.71-8.I. Exquisitely framed with real gold-leaf moulding & filet, and all archival fabric rag mats. Framed size: 31" x 38". Image size: 15.5" x 23". A faint line of toning outside plate margins from previous framing. Otherwise this etching is a strong impression and in overall excellent condition. Rare. Note: We are specialists in Salvador Dali's Original Prints, having personally worked with his cataloger Albert Field in the 1980's, we unconditionally guarantee all of our prints to be Authentic. Salvador Dalí (May 11, 1904 – January 23, 1989), was a prominent Spanish Catalan surrealist painter born in Figueres, Spain. Dalí was a skilled draftsman, best known for the striking and bizarre images in his surrealist work. His painterly skills are often attributed to the influence of Renaissance masters. His best-known work,The Persistence of Memory, was completed in August 1931. Dalí's expansive artistic repertoire included film, sculpture, and photography, in collaboration with a range of artists in a variety of media. Dalí attributed his "love of everything that is gilded and excessive, my passion for luxury and my love of oriental clothes" to an "Arab lineage", claiming that his ancestors were descended from the Moors. Dalí was highly imaginative, and also enjoyed indulging in unusual and grandiose behavior. His eccentric manner and attention-grabbing public actions sometimes drew more attention than his artwork, to the dismay of those who held his work in high esteem, and to the irritation of his critics.
Details
Künstler

Herstellungsjahr
Material

Kunstbewegung & Stil
Zustand

Abmessungen

H 31 in. x W 38 in.

H 78.74 cm x W 96.52 cm
Galerie-Standort

Referenznummer
Unser Versprechen an Sie:
Falls Sie nicht glücklich sind, wie ein Artikel angekommen ist, arbeiten wir mit Ihnen und dem Verkäufer, um zu einer optimalen Lösung zu kommen.
Mehr erfahren
Versand, Retouren & Zahlung
Preise variieren je nach Ziel und Komplexität

Versandmethoden basieren auf der Artikelgröße, Typ, Zerbrechlichkeit und spezifischen Eigenschaften.

Versandkosten basieren auf den Lieferantenkosten, Lieferentfernung und Komplexität der Verpackung.

Der Artikel kann innerhalb von 3 Tagen ab Lieferung zurückgeschickt werden.

Detailansicht
1stdibs akzeptiert die folgenden Zahlungsarten
Verkäufer bei 1stdibs seit 2015
Standort: Saint Augustine, FL
Vielleicht gefällt Ihnen auch
Warum bei 1stdibs einkaufen?
Nur geprüfte, professionelle Verkäufer
Voll versicherter weltweiter Versand