Ähnliche Artikel wie Palatial
Mehr anzeigen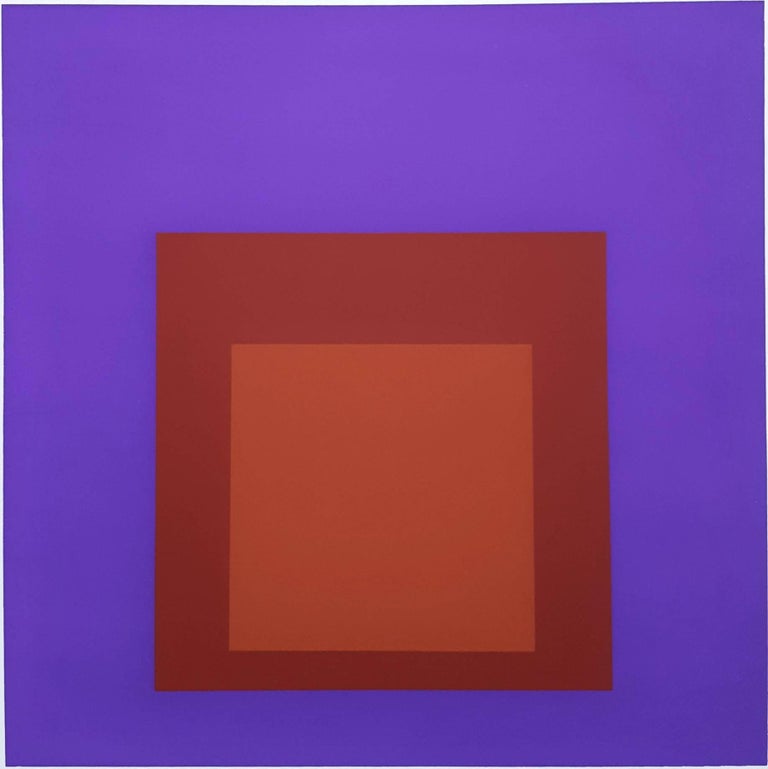 1 von 13 Bildern
Beschreibung
Diese Artikelbeschreibung wurde ursprünglich in englischer Sprache geschrieben.
An original signed screenprint on Rives BFK paper by German-American artist Josef Albers (1888-1976) titled "Palatial", 1965. Comes from the 1965 'Soft Edge - Hard Edge' portfolio. Hand pencil signed and dated by Albers lower right and titled and numbered lower left. Our example: Limited edition: 36/50. There was also an unsigned edition of 250 printed on Mohawk Superfine Bristol paper. Printed at Sirocco Screenprints, New Haven and published by Ives-Sillman, Inc., New Haven. Ives-Sillman chopmark lower right. 'Soft Edge - Hard Edge' portfolio: There are six unnumbered title pages. A poem by Albers, "When I paint, I think and see," is on the second title page. Portfolios of both editions are numbered on the fourth page. Signed examples of 'Palatial" rarely hit the market, many are in permanent museum collections including the National Gallery of Art, Art Institute of Chicago, and the Metropolitan Museum of Art in New York City. Reference: Catalog Raisonné: "The Prints of Josef Albers" by Danilowitz No. 165.2, page 108. Provenance: ex-private collection - Spartanburg, South Carolina. Sheet size: 17" x 17". Image size: 11" x 11". The screen printing is in excellent condition. Scarce. Josef Albers, (born March 19, 1888, Bottrop, Ger.—died March 25, 1976, New Haven, Conn., U.S.) painter, poet, sculptor, teacher, and theoretician of art, important as an innovator of such styles as Colour Field painting and Op art. From 1908 to 1920 Albers studied painting and printmaking in Berlin, Essen, and Munich and taught elementary school in his native town of Bottrop. In 1920 he enrolled at the newly formed Bauhaus, which was to become the most important design school in Germany. His most important creations of that period included compositions made of coloured glass, as well as examples of furniture design, metalwork, and typography. After 1925, when he became a "master" at the Bauhaus, Albers explored a style of painting characterized by the reiteration of abstract rectilinear patterns and the use of primary colours along with white and black. In 1933, when the Nazi government closed the Bauhaus, Albers left Germany for the United States. On the recommendation of architect Philip Johnson, Albers organized the fine-arts curriculum at Black Mountain College in North Carolina, where he taught until 1949. The next year he began a 10-year tenure as chairman of the art department of Yale University. Over the course of his time at these two schools, he counted among his students Eva Hesse, Robert Rauschenberg, and Kenneth Noland. After moving to the United States, Albers concentrated on several series of works that systematically explored the effects of perception. In his series of engravings on plastic Transformations of a Scheme (1948–52) and in the series of drawings Structural Constellations (1953–58), he created complex linear designs, each subject to many possible spatial interpretations. His best-known series of paintings, Homage to the Square (begun in 1950 and continued until his death), restricts its repertory of forms to coloured squares superimposed onto each other. The arrangement of these squares is carefully calculated so that the colour of each square optically alters the sizes, hues, and spatial relationships of the others. These works were exhibited worldwide and formed the basis of the first solo exhibition given to a living artist at the Metropolitan Museum of Art, New York City, in 1971. He died in 1976.
Details
Künstler

Herstellungsjahr

Material
Kunstbewegung & Stil

Zustand

Zeitraum
Abmessungen

H 17 in. x W 17 in.

H 43.18 cm x W 43.18 cm

Galerie-Standort

Referenznummer
Unser Versprechen an Sie:
Falls Sie nicht glücklich sind, wie ein Artikel angekommen ist, arbeiten wir mit Ihnen und dem Verkäufer, um zu einer optimalen Lösung zu kommen.
Mehr erfahren
Versand, Retouren & Zahlung
Preise variieren je nach Ziel und Komplexität

Versandmethoden basieren auf der Artikelgröße, Typ, Zerbrechlichkeit und spezifischen Eigenschaften.

Versandkosten basieren auf den Lieferantenkosten, Lieferentfernung und Komplexität der Verpackung.

Der Artikel kann innerhalb von 3 Tagen ab Lieferung zurückgeschickt werden.

Detailansicht
1stdibs akzeptiert die folgenden Zahlungsarten
Verkäufer bei 1stdibs seit 2015
Standort: Saint Augustine, FL
Vielleicht gefällt Ihnen auch
Warum bei 1stdibs einkaufen?
Nur geprüfte, professionelle Verkäufer
Voll versicherter weltweiter Versand