Ähnliche Artikel wie Dark Blue with Red (VI.7)
Mehr anzeigen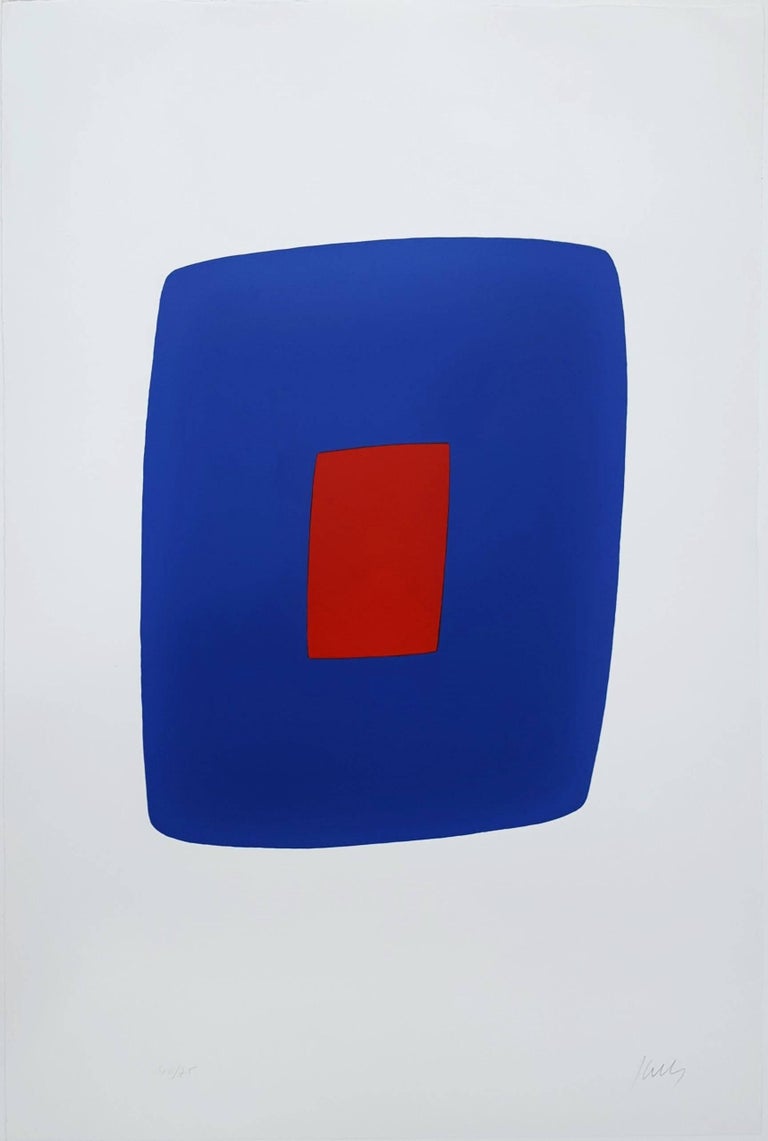 1 von 13 Bildern
Ellsworth Kelly

Dark Blue with Red (VI.7)

1964
Beschreibung
Diese Artikelbeschreibung wurde ursprünglich in englischer Sprache geschrieben.
An original signed lithograph on Rives BFK wove paper by American artist Ellsworth Kelly (1923-2015) titled "Dark Blue with Red (VI.7)", 1964. Limited edition: 75 and 10 artist's proofs. Our example is 40/75. Hand pencil signed and numbered by Kelly lower left and right. RIVES watermark upper right and BFK watermark lower right. Printed by Marcel Durassier at Imprimerie Maeght, Levallois-Perret. Published by Maeght Editeur, Paris, France in 1964. Comes from the "Suite of Twenty-Seven Color Lithographs" Portfolio executed 1964-1965. Reference: "The Prints of Ellsworth Kelly: A Catalogue Raisonne: (Axsom 10, page 43); Waldman 1971, No. 15, 257. This artwork is archivally framed, floated, museum mounted in a contemporary metal frame. Framed size: 36.25" x 24.75". Sheet size: 35.25" x 23.5". Zero toning, strong colors, in excellent condition. When Kelly was in France in late 1964, he began two major series of lithographs for Aime and Marguerite Maeght, who were Parisian publishers of art books and fine-art-prints and co-owners of the Galerie Maeght. The first set of prints, the "Suite of Twenty-Seven Color Lithographs", was published in early 1965. The second group, twenty-eight prints, the "Suite of Plant Lithographs" (cat. nos. 32-59), was completed in the spring of 1966. Although the image has no precedent in the paintings or sculptures, it is related to an unexecuted metal cutout sculpture for which a pencil drawing survives (EK No.64.16). The forms of this lithograph are related to "Blue with Yellow" (cat. No. 31), which was published in an edition avant lettre and as a poster that announced an exhibition of the "Suite of Twenty-Seven Lithographs" at the Galerie Maeght in June 1965. Ellsworth Kelly (May 31, 1923 – December 27, 2015) was an American painter, sculptor, and printmaker associated with hard-edge painting, Color Field painting and minimalism. His works demonstrate unassuming techniques emphasizing simplicity of form, similar to the work of John McLaughlin and Kenneth Noland. Kelly often employed bright colors. He lived and worked in Spencertown, New York.
Details
Künstler

Herstellungsjahr

Material
Kunstbewegung & Stil

Zustand

Zeitraum
Abmessungen

H 36.25 in. x W 24.75 in.

H 92.08 cm x W 62.87 cm

Galerie-Standort

Referenznummer
Unser Versprechen an Sie:
Falls Sie nicht glücklich sind, wie ein Artikel angekommen ist, arbeiten wir mit Ihnen und dem Verkäufer, um zu einer optimalen Lösung zu kommen.
Mehr erfahren
Versand, Retouren & Zahlung
Preise variieren je nach Ziel und Komplexität

Versandmethoden basieren auf der Artikelgröße, Typ, Zerbrechlichkeit und spezifischen Eigenschaften.

Versandkosten basieren auf den Lieferantenkosten, Lieferentfernung und Komplexität der Verpackung.

Der Artikel kann innerhalb von 3 Tagen ab Lieferung zurückgeschickt werden.

Detailansicht
1stdibs akzeptiert die folgenden Zahlungsarten
Verkäufer bei 1stdibs seit 2015
Standort: Saint Augustine, FL
Vielleicht gefällt Ihnen auch
Warum bei 1stdibs einkaufen?
Nur geprüfte, professionelle Verkäufer
Voll versicherter weltweiter Versand