Ähnliche Artikel wie JAR 10.50 Carat Yellow Sapphire and 18 Karat Gold Ring
Mehr anzeigen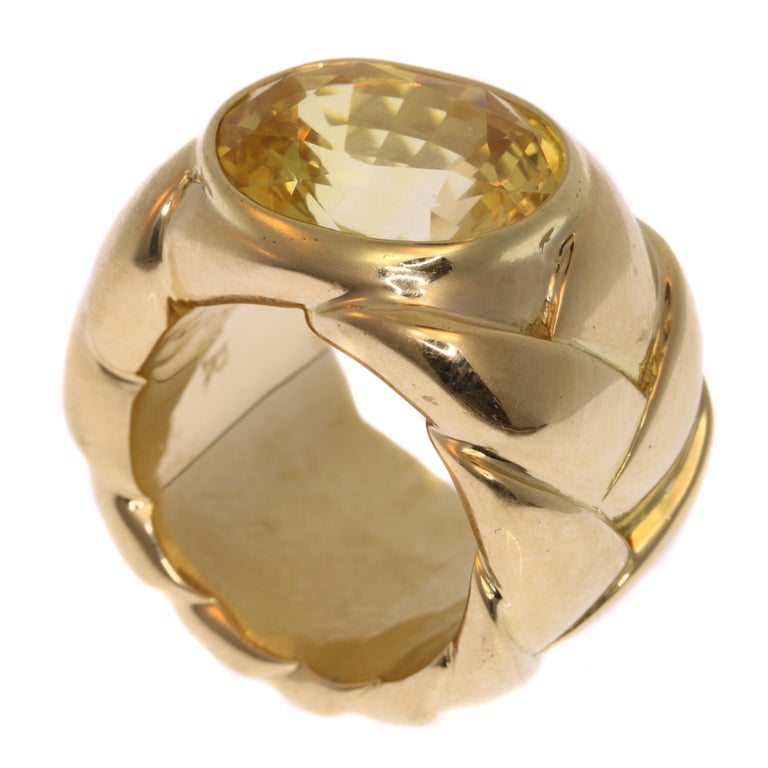 1 von 18 Bildern
JAR 10.50 Carat Yellow Sapphire and 18 Karat Gold Ring
Beschreibung
Diese Artikelbeschreibung wurde ursprünglich in englischer Sprache geschrieben.
This is something you wouldn't see much. A JAR jewel being offered in public. Normally owners of JAR jewelry cherish their jewel and hand it over to their offspring. And JAR himself, being extremely picky to who he would sell his pieces, also doesn't make it easier for the public to be able to obtain his pieces. But here we have one of JAR's earliest pieces, a wide yellow sapphire band ring in yellow gold made around 1980, echoing Bulgari's design aesthetic from that period; where JAR use to work before he opened his own high jewellery boutique at the famous Place Vendôme in Paris. Antique jewelry object group: ring Ring size Continental: 55 & 17½ , Size US 7¼ , Size UK: O - Free resizing, but because of the the way the ring is made, we cannot guarantee to make it on every size; so please ask in advance (only for extreme resizing we have to charge). Condition: very good condition Country of origin: France Style: Estate Period: ca. 1980 Material: 18K yellow gold Extra information: JAR - JAR short for Joel Arthur Rosenthal - was born in the Bronx, New York in 1943 under the name of Joel Arthur Rosenthal. The famous Paris-based jewellery designer JAR has been called "the Fabergé of our time" by designer Diane von Furstenberg. Or as David Bennett, chairman of Sotheby's Geneva, puts it, "trust the hype, in terms of creativity, JAR is without peers." These insights from people who know what they are talking about helps explaining the beyond-normal prices that JAR pieces have brought at auctions in recent years. After graduating from Harvard and after a short stay at Bulgari as salesman he spent most of his life in the French capital. In 1978 he opened his his own high jewellery boutique at the famous Place Vendome. A boutique without display window nor opened at regular hours. With craftsmen in France and Switzerland, JAR produces less than 100 jewels a year. Each is one-of-a-kind and excecuted with Rosenthal's meticulous attention to detail using the finest-quality gems. And being a true diva, he reserves the right to refuse to sell an item if he doesn't think it would look good on the intended wearer. Precious stones: One yellow sapphire with an estimated weight of ± 10.50ct. colour: vivid yellow. Treatment: most likely heat treated, natural sapphires are commonly enhanced by a thermal process. This is an accepted technique as long as it is mentioned by the seller. - All color stone weights are approximate since stones are not removed from their mounts to preserve the integrity of the setting. Birthstones: Sapphire is the birthstone (or month stone) for September. Signature: JAR Hallmarks: The French control mark for 18K gold representing an eagle's head that was in use in France from about 1838. Dimensions: band width 0,61 cm (0,24 inch) Weight: 51,40 gram (33,05 dwt)    Do you wish for a 360? view of this unique jewel? Just send us your request and we'll give you the direct link to the videoclip showing this treasure's full splendour as no picture can. Reference Nº: 17342-0231 - Copyright photography: Adin, fine antique jewelry - The jewelry on our pictures is NOT Photoshopped - Comes with certificate
Details
Hersteller

Im Stil von

Herkunft
Herstellungsjahr

Zeitraum

Zustand
Gewicht

Verkäufer-Standort

Verkäufer-Referenznummer
Referenznummer
Unser Versprechen an Sie:
Falls Sie nicht glücklich sind, wie ein Artikel angekommen ist, arbeiten wir mit Ihnen und dem Verkäufer, um zu einer optimalen Lösung zu kommen.
Mehr erfahren
Versand, Retouren & Zahlung
Preise variieren je nach Ziel und Komplexität

Versandmethoden basieren auf der Artikelgröße, Typ, Zerbrechlichkeit und spezifischen Eigenschaften.

Versandkosten basieren auf den Lieferantenkosten, Lieferentfernung und Komplexität der Verpackung.

Der Artikel kann innerhalb von 14 Tagen ab Lieferung zurückgeschickt werden.

Detailansicht
1stdibs akzeptiert die folgenden Zahlungsarten
Verkäufer bei 1stdibs seit 2018
Vielleicht gefällt Ihnen auch
Warum bei 1stdibs einkaufen?
Nur geprüfte, professionelle Verkäufer
Voll versicherter weltweiter Versand