Ähnliche Artikel wie Console Table Iron in Wood and Lacquered Metal
Mehr anzeigen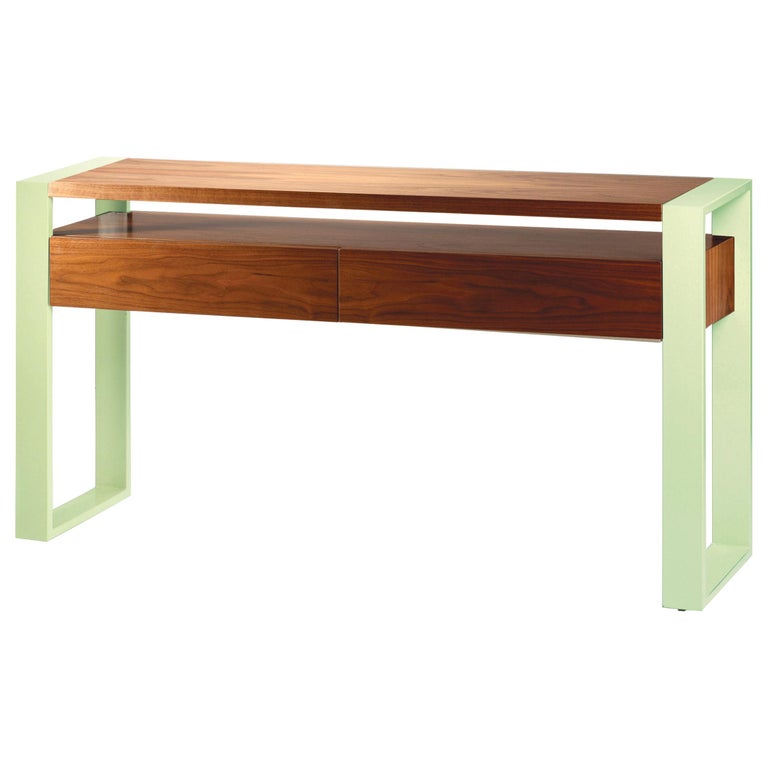 1 von 2 Bildern
Console Table Iron in Wood and Lacquered Metal
Geschätzte Herstellungsdauer
6-7 Wochen
Beschreibung
Iron console is a high quality product by Mambo Unlimited Ideas, crafted in natural walnut veneer and lacquered metal feet. The console is divided by one shelf and in two drawers and allows maximum functionality.
Zusätzliche Optionen
Choose from two color combinations: - Natural Walnut and Dream (green) lacquered metal - Natural Walnut and Spotted Black/Brown lacquered metal
Details
Hersteller

Mambo Unlimited Ideas (Designer)

Produktionsart

Produktionsdauer

Es wird 6-7 weeks dauern, diesen Artikel fertigzustellen
Im Stil von

Herkunft

Herstellungsjahr
Zeitraum

Materialien und Techniken

Zustand
Abmessungen

H 31.5 in. x W 59.06 in. x D 13.78 in.

H 80 cm x W 150 cm x D 35 cm

Verkäufer-Standort

Referenznummer
Unser Versprechen an Sie:
Falls Sie nicht glücklich sind, wie ein Artikel angekommen ist, arbeiten wir mit Ihnen und dem Verkäufer, um zu einer optimalen Lösung zu kommen.
Mehr erfahren
Versand, Retouren & Zahlung
Preise variieren je nach Ziel und Komplexität

Manche Artikel könnten einen besonderen Umgang oder Verpackung erfordern. Fordern Sie ein Versandangebot an um zu sehen, welche Optionen für Ihre Versandadresse verfügbar sind.
1stdibs akzeptiert die folgenden Zahlungsarten
Über den Verkäufer
Neu bei 1stdibs
In den letzten sechs Monaten beigetreten.
Verkäufer bei 1stdibs seit 2018
Warum bei 1stdibs einkaufen?
Nur geprüfte, professionelle Verkäufer
Voll versicherter weltweiter Versand