Dieser Pierre Jeanneret's Armchair, Hand-Sculpted Contemporary Reedition ist nicht mehr verfügbar.
Ähnliche Artikel anzeigen
Mehr anzeigen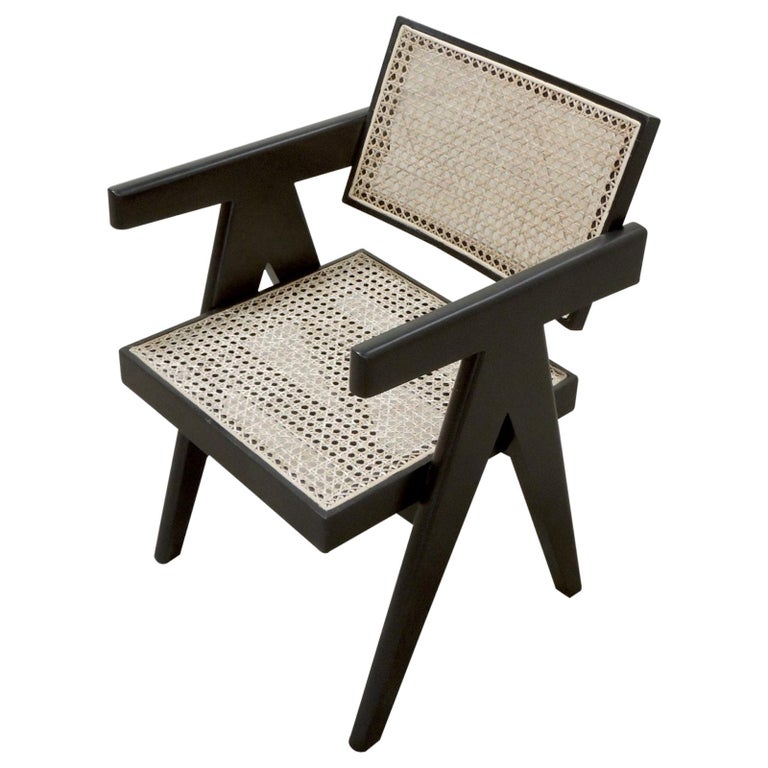 1 von 11
Pierre Jeanneret's Armchair, Hand-Sculpted Contemporary Reedition
Geschätzte Herstellungsdauer
4-5 Wochen
Beschreibung
Pierre Jeanneret's office armchair, hand-sculpted contemporary reedition Dimensions: H 70.0 x D 73.0 x W 57.0 Seat height 36.8 Arm height 58.1 A re-edition of the office cane chair. The teak is stained in this variant to give it an opaque black finish. The chair is completely handmade and nuances such as finger joints, inclination of the seat, bowed backrest, gentle rounding of edges along the length of the arms & legs - are given due attention in our edition. Rustic elements of the originals are preserved; for example, the cane is not coloured or polished and cane-work knots at the back of chairs are left exposed. The chair has been lacquered black and finished with a matte PU coat. Materials used Teak (Tectona Grandis) and natural cane. Pierre Jeanneret was the silent and unassuming hero of the Chandigarh story. He was born in Geneva on 22 March,1896. He graduated from the École des Beaux-Arts in Geneva and continued his architecture studies in the École Nationale Supérieure des Beaux-Arts in Paris. While in Paris, he reconnected with his older cousin and fellow architect Charles-Edouard Jeanneret, who by then had taken on the pseudonym Le Corbusier and was making a name for himself as an architect, painter, and intellectual. Le Corbusier took the young Jeanneret under his wing and introduced him to his circle of friends. By the early 1920s, they had entered into a formal partnership and thus began a collaboration that lasted until 1940. During this period they executed several important projects and developed a strong ideology of modernism. The relationship between Pierre Jeanneret and Le Corbusier was symbiotic. Corbusier valued Jeanneret's frankness; he was perhaps the only one in their team who could give him candid feedback and challenge his ideas. Jeanneret had a tremendous work ethic, practical knowledge of materials, sound architectural skills, an ability to get things done, and a modesty that complemented Corbusier's volatile temperament. Above all, Corbusier had immense trust in Jeanneret and knew that he could always count on his support. For Jeanneret, Corbusier was a genius and a hero who shared his hatred of bourgeois conservatism. He was shy and introverted by nature and this partnership allowed him to remain in the background. Jeanneret's role was critical in Corbusier's success and rising fame during this period. An important development during this period was the beginning of Jeanneret's interest in furniture. He collaborated with Corbusier and Charlotte Perriand, a young designer who had joined their firm in 1927, and together they designed a series of furniture made from recycled steel tubing. They subsequently designed furniture using hardwoods, creating their own distinctive style of joineries and leg styles. Jeanneret continued evolving these ideas, which culminated in the large number of distinctive furniture designs he created for Chandigarh. With the advent of the Second World War and the occupation of France, things changed in the world of Corbusier and Jeanneret. They had to leave Paris and each chose to take up different assignments – Corbusier with the pro-German Vichy government, and Jeanneret with a firm called BCC in Grenoble. It has often been speculated that political and idealogical differences caused the split; however, they clarified later that the decision was more for practical reasons. Jeanneret took up several assignments during the 1940s, including a stint in the US as designer for the furniture-manufacturing firm Knoll. When Le Corbusier took on the role of Chief Advisor to the Chandigarh Project, he convinced Pierre Jeanneret to take up a full-time position with him. Jeanneret first came to India in February 1951 and stayed on until August 1965. Jeanneret embraced India, its culture, and its people, with honesty and sincerity. He understood the local context, climate, materials, and designed buildings accordingly. Apart from his own designs, he was responsible for executing Corbusier's projects – no mean task considering Corbusier's sporadic unreasonableness and the reality of India. Corbusier only visited Chandigarh twice a year for brief periods, and the responsibility for the ambitious Capitol Project, which comprised several monuments including the Legislative Assembly, Secretariat, and High Court, fell on Jeanneret. He was appointed as the Chief Architect of Chandigarh in 1955, the Urban Planning Advisor to the Government of Punjab, and made the Head of the Chandigarh College of Architecture. He designed several civic buildings, private residences, schools, hostels, and university buildings. The Gandhi Bhawan, an auditorium within the Punjab University campus, is considered one of Jeanneret's finest buildings in Chandigarh. Jeanneret lived a simple and austere life in Chandigarh. He designed furniture for his home from simple local materials like bamboo, canvas, and rope. He became great friends with his cook and caretaker. In his spare time he built boats and sailed them on Sukhna Lake, near his house. By 1965 his health was failing and, unable to continue in Chandigarh, he went to Geneva where he was looked after by his niece. Pierre Jeanneret died on 4 December, 1967 in Geneva, and as per his wishes, his ashes were scattered on the waters of Sukhna Lake in his beloved Chandigarh. Jeanneret's true place in the architectural and design pantheon of the 20th century was recognised after his death. This humble and modest genius chose to live his life in the shadow of the great Le Corbusier, and would not have wished for it to be any different.   
Zusätzliche Optionen
Different finishes and editions are available.
Details
Hersteller

Produktionsart

Produktionsdauer

Es wird 4-5 weeks dauern, diesen Artikel fertigzustellen
Im Stil von

Herkunft

Herstellungsjahr
Zeitraum

Materialien und Techniken

Zustand
Abmessungen

H 30.75 in. x W 20.24 in. x D 23 in.

H 78.1 cm x W 51.4 cm x D 58.4 cm

Verkäufer-Standort

Collonge Bellerive, Geneve, CH

Referenznummer
Unser Versprechen an Sie:
Falls Sie nicht glücklich sind, wie ein Artikel angekommen ist, arbeiten wir mit Ihnen und dem Verkäufer, um zu einer optimalen Lösung zu kommen.
Mehr erfahren
Versand, Retouren & Zahlung
Preise variieren je nach Ziel und Komplexität

Versandmethoden basieren auf der Artikelgröße, Typ, Zerbrechlichkeit und spezifischen Eigenschaften.

Versandkosten basieren auf den Lieferantenkosten, Lieferentfernung und Komplexität der Verpackung.

Der Artikel kann innerhalb von 10 Tagen ab Lieferung zurückgeschickt werden.

Detailansicht
1stdibs akzeptiert die folgenden Zahlungsarten
Verkäufer bei 1stdibs seit 2015
Durchschnittliche Reaktionszeit:

1 Stunde
Standort: Collonge Bellerive, Geneve, CH
Vielleicht gefällt Ihnen auch
Warum bei 1stdibs einkaufen?
Nur geprüfte, professionelle Verkäufer
Voll versicherter weltweiter Versand