Ähnliche Artikel wie Hand Knotted Geometric Shapes Colorful Wool Rug, Design in Silk by Carpets CC
Mehr anzeigen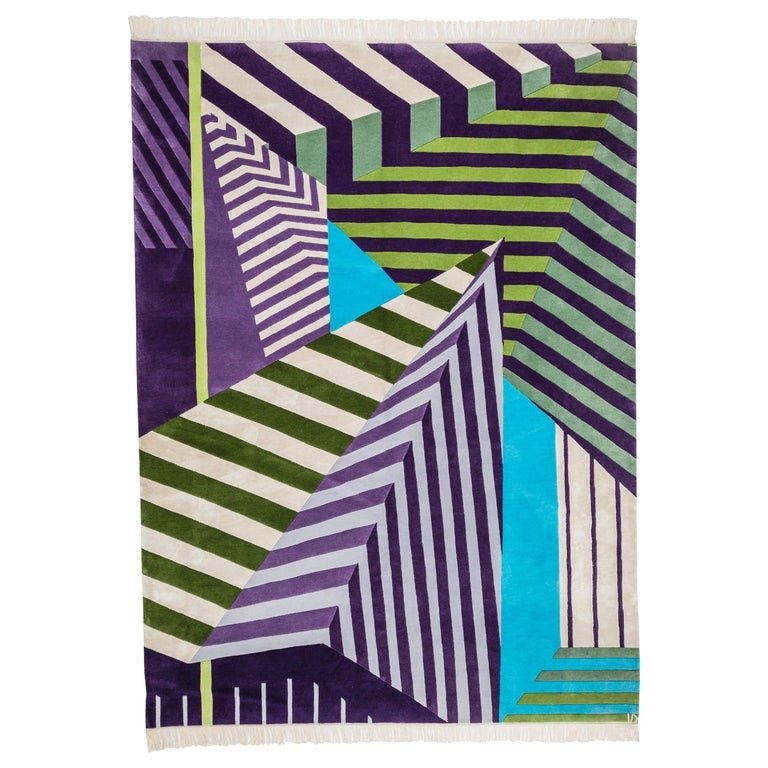 1 von 4 Bildern
Hand Knotted Geometric Shapes Colorful Wool Rug, Design in Silk by Carpets CC
Beschreibung
Design title: "Dubai Growing" Carpets CC carpets are bespoke in nature, using different kinds of wool and from multiple sources; India, Nepal and Afghanistan. The primary source of wool is from New Zealand, however Tibetan and Afghan wool are also used. The carpets are hand knotted by adults who have been trained over many years to create beautiful bespoke carpets. For accents, natural silk and/or bamboo silk can be added. Each wool thread is attached to the cotton warp, one by one, with 100 knots per square inch. The pile height is approx. 12mm to ensure the carpet has that luxurious, deep texture and plush feel.
Zusätzliche Optionen
Available in a per square meter price New Zealand Wool and Natural Silk Limited Edition of 10
Details
Hersteller

Carpets CC (Manufacturer)

Produktionsart

Produktionsdauer
Im Stil von

Herkunft

Herstellungsjahr
Zeitraum

Materialien und Techniken

Zustand
Abmessungen

W 6 ft. 7 in. x L 9 ft. 0 in.

W 200 cm x L 275 cm

Verkäufer-Standort

Referenznummer
Unser Versprechen an Sie:
Falls Sie nicht glücklich sind, wie ein Artikel angekommen ist, arbeiten wir mit Ihnen und dem Verkäufer, um zu einer optimalen Lösung zu kommen.
Mehr erfahren
Versand, Retouren & Zahlung
Preise variieren je nach Ziel und Komplexität

Manche Artikel könnten einen besonderen Umgang oder Verpackung erfordern. Fordern Sie ein Versandangebot an um zu sehen, welche Optionen für Ihre Versandadresse verfügbar sind.
1stdibs akzeptiert die folgenden Zahlungsarten
Verkäufer bei 1stdibs seit 2018
Warum bei 1stdibs einkaufen?
Nur geprüfte, professionelle Verkäufer
Voll versicherter weltweiter Versand