Ähnliche Artikel wie Valentina Katharine Hepburn Theatre Collection Jumpsuit Ensemble Museums, 1942
Mehr anzeigen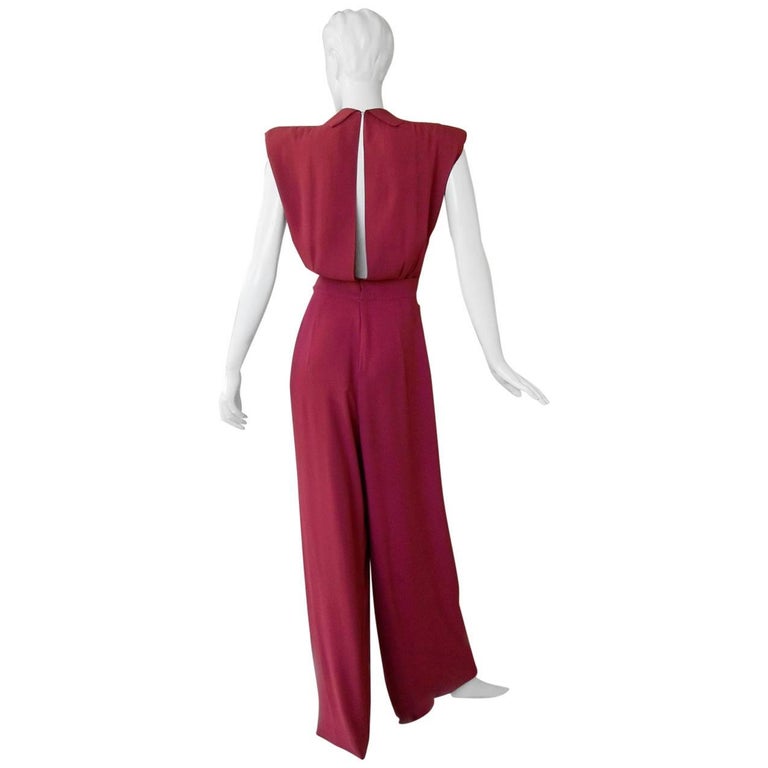 1 von 12 Bildern
Valentina Katharine Hepburn Theatre Collection Jumpsuit Ensemble Museums, 1942
Beschreibung
Diese Artikelbeschreibung wurde ursprünglich in englischer Sprache geschrieben.
This ensemble is from the Katharine Hepburn Theatre Collection. The leisure ensemble was designed by Valentina for Katharine Hepburn's role in the 1942 play "Without Love" at the St. James Theatre, in New York. It has been exhibited at the Museum of the City of New York 2009 Valentina exhibition: Valentina: American Couture and the Cult of Celebrity", the Iwami Museum, Japan in their 2006 exhibition Women & Sportswear: An Alternative History of the 20th Century. The ensemble fashioned of soft cranberry crepe silk was tailor made for Ms. Hepburn by Valentina and designed to be worn during the day or entertaining at home. Styled in Valentina's signature monochromatic style of cranberry crepe silk offset by white piping accent at collar and cuffs. The Jumpsuit is reminiscent of an aviator's suit, recreated with touches of femininity in the tulip style breast pockets and a most dramatic signature Valentina keyhole back. Shoulder pads for definition and balance and matching bodice and hip plackets to emphasize stylish detail. Attached belt for waist definition and the wide leg pants that give the illusion of a long evening dress. Valentina's signature matching wrap-a-round belted coat is simple, elegant and functionally designed with four (4) pockets and attached belt that ties on side. Man tailored yet with a touch of femininity. Both pieces unlined with painstaking hand detail and finished seams with all the hallmarks of fine couture detailing and sewing. Condition: Excellent; some light staining. Valentina labels in both jumpsuit and coat; Valentina and Hepburn signature written in ink on interior shoulder pad. Provenance: Katharine Hepburn KATHARINE HEPBURN Katharine Hepburn was, and is considered the number one Hollywood legend in the world. Her stage and screen career spanned seven decades. Born in 1907 in Hartford, Connecticut, her father was a doctor and her mother a suffragist, Hepburn died in 2003 at her home in Old Saybrook, Connecticut, at the age of 96. She was the winner of 4 Academy Awards and was nominated for 12 Oscars. Historically Significant Fashion As a Hollywood icon Katharine Hepburn not only made wearing pants acceptable, she made it fashionable. In many ways, Hepburn was instrumental in redefining femininity, causing a fundamental change in fashion ... away from the shaping and draping of the feminine form towards the creation of a feminized masculine silhouette. "In 1930, she wore pants and suits considered scandalous; today, they are sensational," said designer Calvin Klein, honoring Hepburn with a lifetime achievement award from the Council of Fashion Designers in 1986." "They have prompted generations of fashion designers to capture her vitality and spirit." VALENTINA Valentina Nicholaevna Sanina Schlee (1904 Kiev, Russia - 1989, New York City) was "Often called America's most glamorous dressmaker she was recognized to be one of the United States' top couturiers and theatre costume designers." (St. James Fashion Encyclopedia pg 391). "One of America's few resident couturiers -- perhaps the only one who can be mentioned in the same breath as Mainbocher and Charles James...". (Couture The Great Designers by Caroline Milbank pg. 177). Valentina had an elite and private clientele of faithful devotees from the opera, theatre, movies and New York society. She became famous by designing costumes for Katharine Hepburn for the original theatre version of "The Philadelphia Story" on Broadway in which Hepburn starred in 1939. In fact, five years after the play ended Valentina continued to receive large orders for clothes just like the ones worn by Ms. Hepburn in the play. Valentina Gowns, Inc was established in 1928 on New York's Upper East side. All Valentina's designs were created and overseen solely by her to the last detail and for this reason her fashions were available only through her own establishment (however, she did enjoy a brief association with I. Magnin). Valentina's business flourished for 30 years, patronized by the fashionable and wealthy. A Valentina fashion today is quite rare, as nothing was mass produced and her designs were coveted by a select elite. Valentina is a much sought after label, representing superior and couture sophistication and style. Prominent museums such as The Costume Institute at the Met possess Valentina designs in their permanent collection.
Details
Designer

Marke
Abnutzung

Wear consistent with age and use.

Verkäufer-Standort
Referenznummer
Unser Versprechen an Sie:
Falls Sie nicht glücklich sind, wie ein Artikel angekommen ist, arbeiten wir mit Ihnen und dem Verkäufer, um zu einer optimalen Lösung zu kommen.
Mehr erfahren
Versand, Retouren & Zahlung
Preise variieren je nach Ziel und Komplexität

Versandmethoden basieren auf der Artikelgröße, Typ, Zerbrechlichkeit und spezifischen Eigenschaften.

Versandkosten basieren auf den Lieferantenkosten, Lieferentfernung und Komplexität der Verpackung.
1stdibs akzeptiert die folgenden Zahlungsarten
Verkäufer bei 1stdibs seit 2011
Standort: Los Angeles, CA
Vielleicht gefällt Ihnen auch
Warum bei 1stdibs einkaufen?
Nur geprüfte, professionelle Verkäufer
Voll versicherter weltweiter Versand