Ähnliche Artikel wie Laying Nude with Blue Lance - Oil on Canvas by Antonio Feltrinelli - 1930s
Mehr anzeigen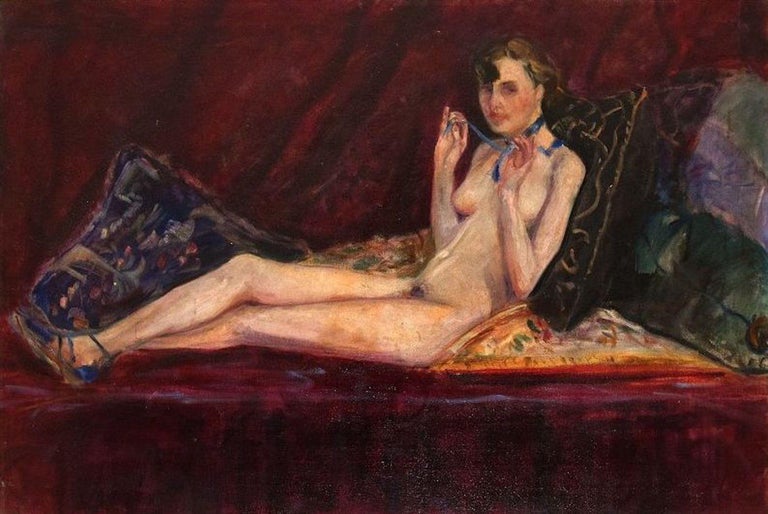 1 von 5
Antonio Feltrinelli

Laying Nude with Blue Lance - Oil on Canvas by Antonio Feltrinelli - 1930s

1930s
Beschreibung
Laying Nude with Blue Lace is an original artwork realized by the Italian artist Antonio Feltrinelli in the 1930s. Original oil on canvas. Beautiful original frame included (cm 140 x 190). Both of the work and the frame are in very good conditions. Very beautiful and representative work representing a lying female figure with a light bright blue lace. The figure wears only the lace and the shoes of the same bright and luminous color. She is lying in a dark red interior room on a sofa with big soft velvet pillows and with a dark heavy curtain of the same dark red color before her. Antonio Feltrinelli (Milan, 1887 – Gargnano, 1942) Antonio Feltrinelli was born in Milan on June 1, 1887 to Giovanni Feltrinelli, the nephew of Giacomo, who was the founder of the Feltrinelli partnership. Feltrinelli was not only a prominent figure in the Italian economic and financial field, but he was also a painter, who was characterized as a strong, impetuous hot colorist, and preferred still lifes, portraits and landscapes. He started his career in 1930 at La Permanente (Milan), where he exhibited a portrait and a still life that won him the Fornara award. That same year, Feltrinelli exhibited his work at the Venice Biennial and at the Pesaro Gallery in Milan. Together with other prominent avant-garde artists, he participated in various foreign exhibitions on modern Italian painting. He was varied and eclectic, full of inspiration and attracted to all art, history and life that which he believed could become a colorful painting, and for this reason he took on the most difficult subjects to paint. These paintings portrayed his admiration and deepest worship through his uses of raging colors, which matched his exceptional temperament. He chose risky themes, and his drawings were disorderly, violent and full of color. Feltrinelli's artistic person openly opposed his physical and social person. He was well educated, reserved and quiet, and had a prominent social position in society. This artist, who was both observant and a thinker, would come down from his luxurious studio as if he was coming down from an attic. He was enthusiastic and tormented by the art that seemed to want to take his life. His love for the arts and sciences pushed him to use his personal fortune to fund a great Italian cultural institution "similar to the Nobel Foundation". In addition, Antonio Feltrinelli made the Italian Academy the heir of his possessions and ordered that an inalienable and perpetual fund be created to reward work, education and intelligence. This artwork is shipped from Italy. Under existing legislation, any artwork in Italy created over 70 years ago by an artist who has died requires a licence for export regardless of the work's market price. The shipping may require additional handling days to require the licence according to the final destination of the artwork.
Details
Künstler

Antonio Feltrinelli (1887 - 1942, Italian)

Herstellungsjahr

Material
Kunstbewegung & Stil

Zustand

Details zum Zustand

Insurance may be requested by customers as additional service, contact us for more information.
Zeitraum

Abmessungen

H 39.38 in. x W 59.06 in. x D 0.6 in.

H 100 cm x W 150 cm x D 1.5 cm

Galerie-Standort
Referenznummer

Verkäufer-Referenznummer
Unser Versprechen an Sie:
Falls Sie nicht glücklich sind, wie ein Artikel angekommen ist, arbeiten wir mit Ihnen und dem Verkäufer, um zu einer optimalen Lösung zu kommen.
Mehr erfahren
Versand, Retouren & Zahlung
Preise variieren je nach Ziel und Komplexität

Versandmethoden basieren auf der Artikelgröße, Typ, Zerbrechlichkeit und spezifischen Eigenschaften.

Versandkosten basieren auf den Lieferantenkosten, Lieferentfernung und Komplexität der Verpackung.

Der Artikel kann innerhalb von 14 Tagen ab Lieferung zurückgeschickt werden.

Detailansicht
1stdibs akzeptiert die folgenden Zahlungsarten
Verkäufer bei 1stdibs seit 2017
Vielleicht gefällt Ihnen auch
Warum bei 1stdibs einkaufen?
Nur geprüfte, professionelle Verkäufer
Voll versicherter weltweiter Versand